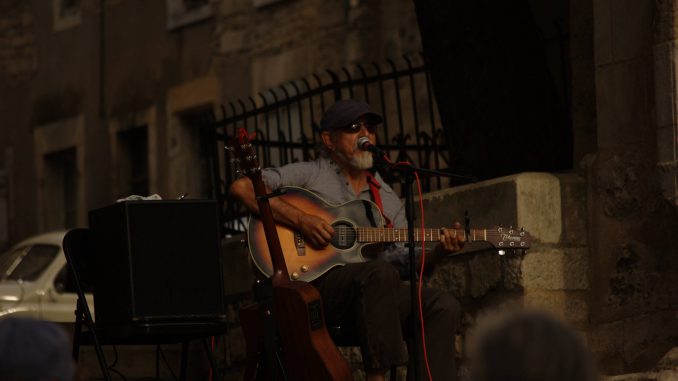 The Loire is France's last true, wild, untamed river, a meandering, sprawling affair that mirrors its US counterpart the Mississippi by frequently flooding, bursting its banks, claiming lives and capturing the imaginations of artists, musicians and top-flight wine-makers alike. Chateaux line its at times precipitous banks, pulling in tourists from every corner of the globe and providing glimpses of the glory that was and remains France. The small, rural town of La Charite sur Loire, sits on one bank, a pretty, medieval burg of quaint, tilting houses and towering spires and ramparts. For the past fourteen years, it has hosted the annual Blues-en-Loire music festival.
As a rule this is an intimate, warm-hearted event, a week-long gig that prefers to nurture and book locally produced talent rather than aiming too high and booking big-names at great expense. That said, it always grabs a few touring US and UK blues artists to beef up its substantial programme.
This year's US visitors included top-billing for Atlanta's soul-blues singer Sandra Hall who produced a live-wire, thumping, throbbing set full of punchy Tina Turner-like power and emotion backed by her strong vocal delivery and burning temperament. Her support band featured Spain's wonderful harp-playing sideman Victor Puertas, Cognac-based French guitarist Sam Mr Chang and bassist Fred Juglass. Mississippi's own Ms Nikki and the Memphis Soul Connexion also belted out a more soul-infused, Memphis-sounding set, while Brooklyn-born acoustic bluesman Mike Greene – himself a French resident these days – was partnered by his harp and guitar-playing Parisan buddy Youssef Remadna, a pairing that always hits the spot with an enormous amount of blues history, knowledge and downright swagger. This is a duo that works the stage, the audience, and knows how to quick-fire quip their way through the torrid heat of a packed hall on a sweltering summer day.
London's upcoming blues singer, Kyla Brox turned in a set that was confident, sultry and soulful.
From northern France, Scottish émigré Dik Banovich also produced three sets of spot-on acoustic blues, rich in tradition but also always shaped by humour and shades of Americana. Always a personal favourite with me, Banovich started learning his craft many moons ago out in Chicago, so it's no surprise to find he picks the acoustic blues with both flair and passion. His sets were always interesting, enjoyable and featured most of the material from his current album, 'Acoustic Roots and Blues,' a rewarding little gem of a disc well worth checking out.
Other bands covered the entire gamut of electric-fuelled and acoustic traditional blues music with visitors from the Netherlands/Holland in the shape of the Wildmen Blues Band – led by a raw, raucous power-house of a singer in blueslady Saskia de Nijs and whose set largely revolved around their current album, 'It's Freezing In My Heart.' From the deep south of France, Lyon-based Calvin Coal also put in a number of appearances with his Clapton-loving tributes to old Slowhand mixed together with material form his own self-written album, 'Judge and Condemn,' a current offering that has bags of merit and style.
Iain Patience