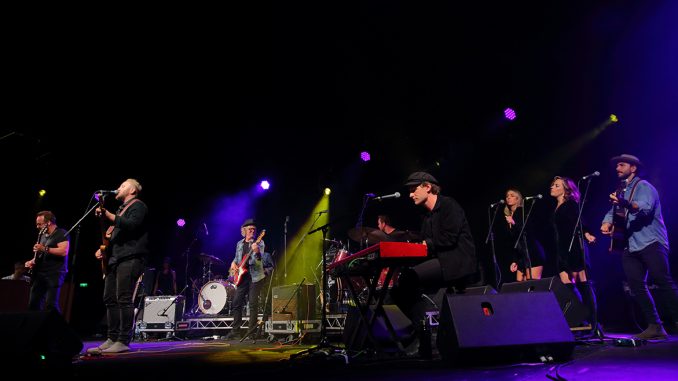 Bluesfest, Monday April 18, 2022 (Photos by Steve Ford).
The dreaded Covid struck the Rhythms helpers who were unable to staff our stall and thus it turned out that the duty fell to myself and my partner. So, while I probably saw the fewest number of acts that I have seen at any Bluesfest, the proximity of the Rhythms stall to the Mojo stage meant that we heard just about every act that played there! Plus, I got to meet many lovely Rhythms readers and subscribers and had some great chats.
Monday turned out to be another delightful day and because our reviewer Steve Bell had gone back to Brisbane it was time for me to rush to see as many acts as I could.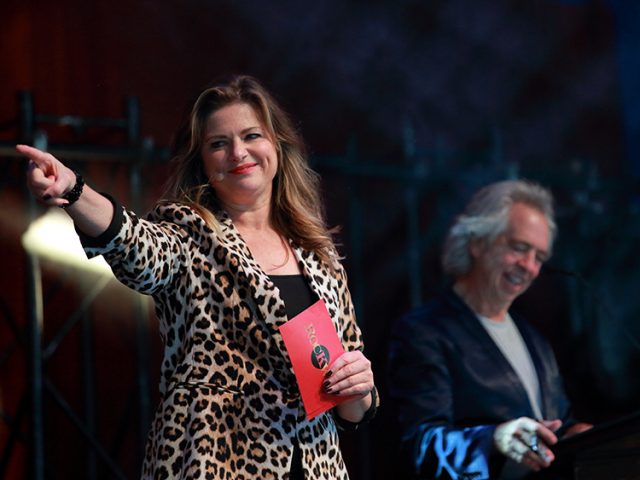 I always enjoy RocKwiz and this is where the day started at the Delta stage. It is a tried and true formula that Brian Nankervis and Julia Zemiro have developed but it works really well (sometimes brilliantly) every time, so why change it?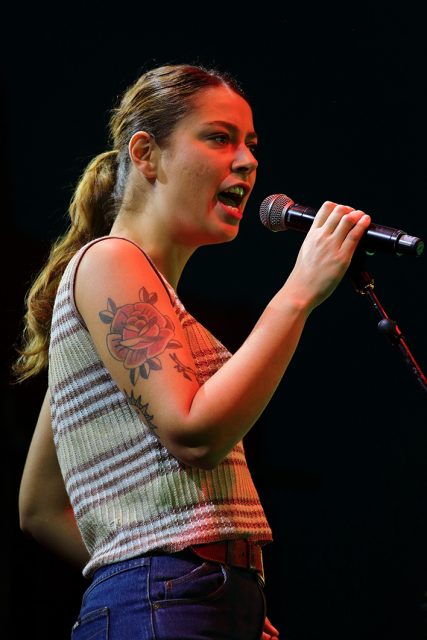 The hosts are blessed with an absolutely cracking band and always manage to get entertaining guests – in this case, Grace Cummings, Kevin Mitchell, Brian Cadd and Vika & Linda. Somehow, they also find some equally entertaining – and occasionally annoyingly knowledgeable – punters. It never ceases to amaze me how so many people retain so much trivial information about music, while I am flat out trying to remember what happened last week.
One nomination for best festival newcomer has to go to the 14-piece Melbourne band Fools whose huge sound was perfectly suited to the large Mojo stage.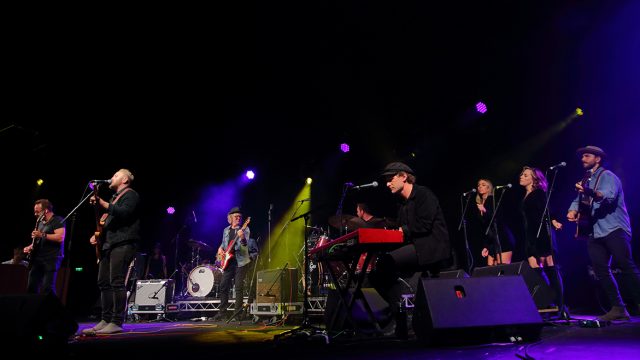 Great songs, great playing, great harmonies. What more could you want? Think Nathaniel Rateliffe & The Night Sweats, St Paul & The Broken Bones – but better. They are as soulful as the Teskey Brothers but way more up tempo. It is difficult to imagine fitting such a large group into too many venues but they are the perfect festival band!
My other nomination for newcomer would be Spinifex Gum, featuring the Marliya Choir and Emma Donovan, who were on the Mojo stage on opening night. The Cat Empire's Felix Riebl had a hand in putting this project together and the results are spectacular and inspirational. It would be a hard-hearted person who was not moved by their performance.
It is nice to see some of the newer acts elevated to the major stages along with the legends so it must have been a thrill for Emily Wurramurra to find herself on the Crossroads stage before Mick Thomas' Roving Commission.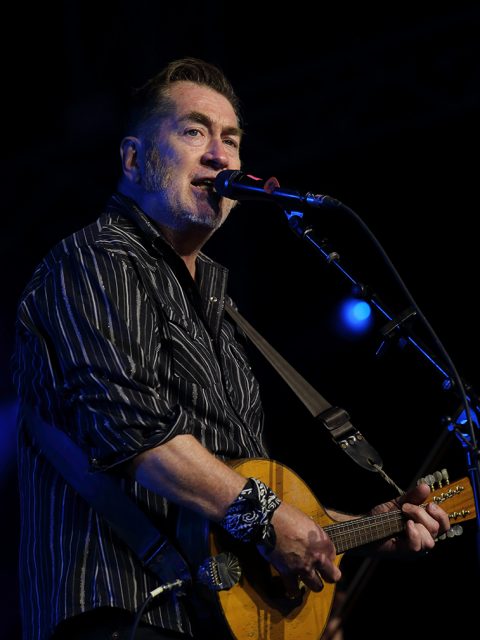 Glenn Shorrock was joined by Brian Cadd on the Mojo stage and it sounded like a '70s reunion for a while there. Thursday evening with Spectrum, Tamam Shud, Ross Wilson and Joe Camilleri on the Delta stage must have also caused a lot of audience flashbacks. One subscriber confessed that he thought he had been transported back to 1971!
By the way, reports of Anthony Albanese being booed vociferously on the Mojo stage on Sunday evening introducing Jimmy Barnes appear to be greatly exaggerated. From my vantage point, which admittedly was a fair distance, I hardly heard any booing and to be fair any politician would have copped it! (The reception quietened noticeably when Albo talked about his arts policy). Anyway, how many Barnsey fans – or music fans in general – would have wanted to have the vibe interrupted by politics?
Decades ago, I produced a radio broadcast of a music festival near Wyndham, WA. Troy Cassar-Daley was the headliner, many of the audience members literally walked out of the bush to see him. Even back then Cassar-Daley had that special spark and he showed it again on the Mojo stage where his ability to communicate with the audience is impressive, in the same way that on the Saturday night Kev Carmody had the audience spellbound on the Delta stage in one of the best shows I have ever seen him give.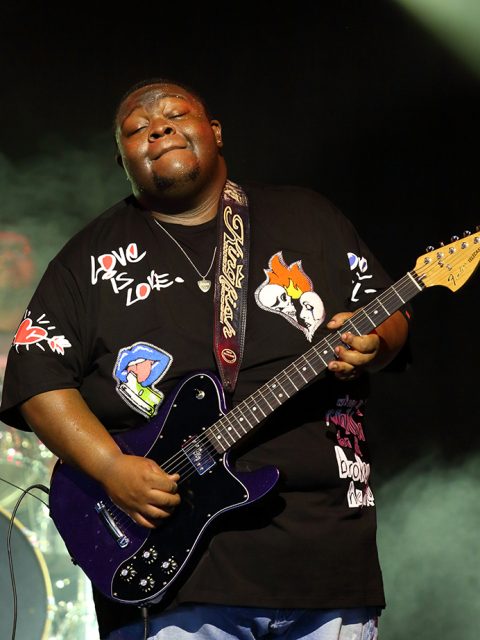 Christone 'Kingfish' Ingram, newly crowned Grammy winner for Best Contemporary Blues album, would also be a contender for best newcomer to Bluesfest this year. He managed to pull in a younger audience who could hardly believe his spectacular showmanship.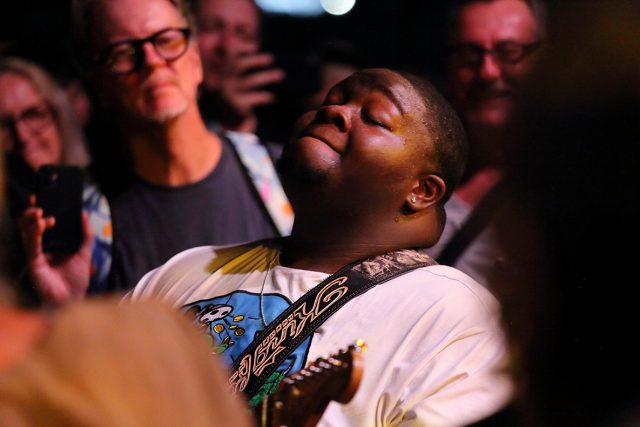 From Clarksdale, Mississippi, Ingram has got all the blues rock licks down perfectly and it is hard to believe he is just 23-years of age (his singing voice sounds about 20 years older!). We saw him a number of times and tonight on the Juke Joint stage he was just as full on, despite the cavernous sound.
Later, on the Juke Joint, the evening closed for us early when we caught yet another great set from The War & Treaty. Since they were last here in 2019, Michael and Tanya Trotter have refined their show and it is high energy from the start.
The opening song references The Temptations' 'Ain't Too Proud To Beg' and 'My Girl', so you know where they are coming from immediately. Later, when the ballads kick in they get the audience to sing along to 'Dock of The Bay.' They also manage to get the audience involved in every show in a way that is rare and usually only seasoned acts are able to do. News is that the forthcoming War & Treaty album is produced by Dave Cobb, Nashville's hottest producer; if the current shows are anything to go by this should send them to the upper echelons of success.
A few more general observations:
We managed to get bogged in the north carpark on Friday night (yes, I was driving). An attendant called for a tractor which arrived within 30 minutes and a cheery driver dragged us out. When we offered him payment he refused and said, 'Thanks for coming along and supporting Bluesfest.' How good is that? Does that restore your faith in human nature and make the $20 a day parking fee seem not so bad?
The stalls at Bluesfest have expanded significantly and some are amazing, some of them in shipping containers. (One also had a silent disco which was weird).
We didn't get a chance to sample a lot of the food stalls because we got fixated on the calamari (a bargain at $13) and the Chef's Platter at the Brazos Boys Brazilian BBQ (at $20, enough meat to make you feel almost guilty). Jerry's Smokehouse is also reported to be excellent. The continued absence of Byron Bay Gourmet Pies is a worry but there is Uncle Tom's Pies (who had a power blackout on Sunday night). I was unable to check out the vegetarian options!
The parking. Apart from Friday when we were caught in a 75-minute traffic jam from the Byron turn off – because of the many holiday makers heading north and festival-goers using the Mullumbimby exit – the parking worked extraordinarily well. When you see how many cars are on site the logistics seem mind-boggling. Of course, we would leave 15-minutes before the end of each night to make sure we got away smoothly.
The weather. For the most part the showers were intermittent and that makes life a lot easier. There were no prolonged periods of rain which meant that there was not nearly as much mud as there could have been. The old shoes I wore and prepared to throw away are still with us. However, there were some extensive muddy stretches around the back of the Crossroads and Juke Joint tents that could have used some sand, sawdust or gravel covering. A friend's partner got a gumboot stuck in the mud, injured her knee and was out for the rest of the festival. A flying squad with buckets of sand to take care of this and deal with the mud in the car park would be good in future.
The almost all-Australian line-up. This was a fabulous thing for the local music industry and is really one of the highlights of the festival's history so far. In the future this will go down as a watershed year.
The good vibes. It was great to meet so many enthusiastic Rhythms readers and subscribers and we hope we can do it again in 2023.