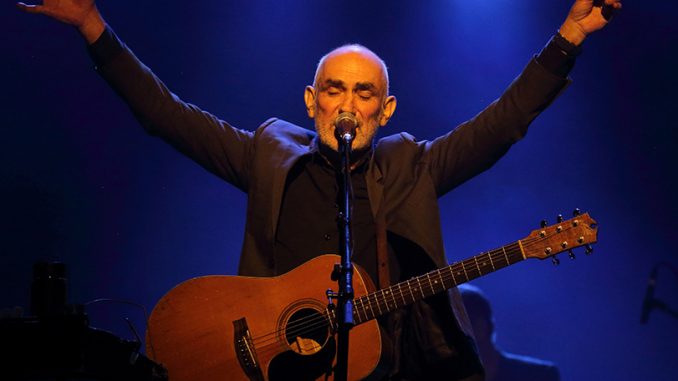 Reviewed by Steve Bell
Bluesfest 2022, Saturday April 16, 2022
It's overcast as we return to the Bluesfest site but fortunately the rain holds off for most of the day allowing for another unfettered smorgasbord of top-notch roots music. Heading to the Juke Joint upon arrival we catch the end of the set by rising Warnindhilyagwa artist Emily Wurramurra. I remember first seeing her here at Bluesfest's Indigenous offshoot Boomerang Festival about five years ago and being super-impressed but she's grown exponentially as an artists since then, commanding the stage with complete authority as her closing track 'Pretty Pretty' manages to prompt a dance frenzy while remaining an empowering First Nations narrative, a nice double to finish the set.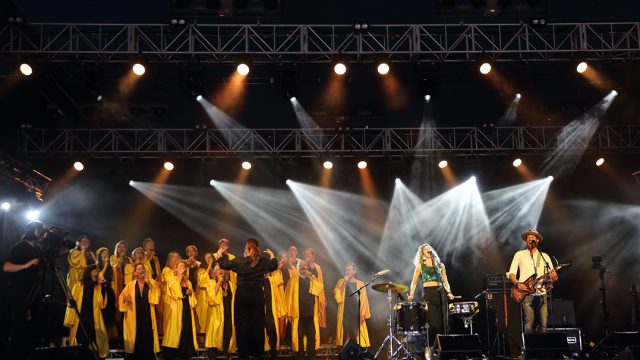 Heading over to the Mojo tent we catch the final few numbers from WA duo Mama Kin Spender, who've enlisted the help of a gospel choir to bring their sound to life, Mama Kin pounding away on her standing drums as they close it out with a stirring rendition of 'Air Between Us'.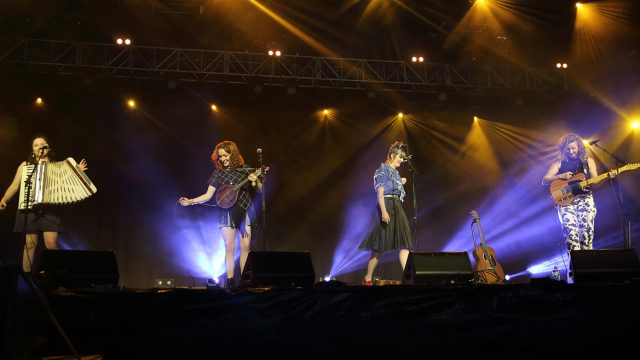 Sydney alt-folk four-piece All Our Exes Live In Texas are always a delightful festival proposition, the four singer-songwriters lined up along the front of the stage, each armed with their weapon of choice – accordion, mandolin, ukelele and guitar – which allow for fascinating song arrangements, their main strengths though being their gorgeous harmonies and overt group camaraderie. They exude a genuine love of playing music together which further elevates their already gorgeous songs like the country noir of 'The Devil's Part', the pathos-heavy 'I'm Gonna Get My Heart Cut Out' and the gently lilting 'When The Sun Comes Up' which has the whole tent swaying softly in unison, a nice sight in and of itself.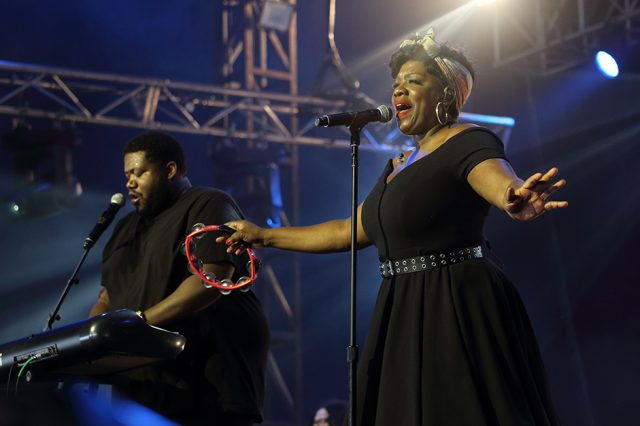 Over at the Delta tent Michigan husband-and-wife outfit The War And Treaty are back at their spiritual Southern Hemisphere home away from home, having quickly become Bluesfest institutions since their inaugural appearance in 2019 with their good-time, gospel-tinged soul revue. Both Michael Trotter Jr and Tania Blunt look like they're having so much fun up there that it's genuinely contagious, proving pure entertainers from go to woah as they goad the crowd into call-and-response participation like complete pros.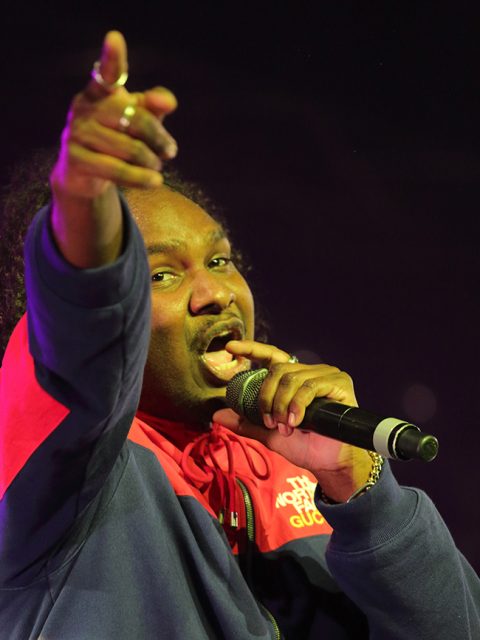 Over on the massive Crossroads stage Milingimbi-Maningrida rapper Baker Boy is in full flight, running around the stage like a dervish as he whips the large crowd into a joyous frenzy. He debuts his new reworking of the Bernrad Fanning solo hit 'Wish You Well' and it goes down a treat, but the massive set highlight comes towards the back-end when he pulls out his super-energetic Like A Version cover of Blur's 'Song 2', which whips the throng even higher than before and somehow segues into the refrain of that old chestnut 'Who Let The Dogs Out', highly entertaining stuff.
Then it's back to the Delta stage for an intimate audience with legendary Bundjalung singer-songwriter Kev Carmody, whose between-song yarns prove an imperative part of his immense charm. he welcomes John Butler onto the stage to play slide guitar on 'I've Been Moved', before offering gorgeous solo renditions of 'Moonstruck' and 'Images Of London'. He welcomes back Butler and some vocalists to finish his set with the iconic track he co-penned with Paul Kelly, 'From Little Things Big Things Grow' which as always proves incredibly inspiring, and at the set's conclusion we're surprised by a rare appearance from Bluesfest Festival Director Peter Noble, who gives a short but powerful speech about the importance of the man we've just been privileged to witness before awarding him a special trophy, a truly beautiful left-field festival moment.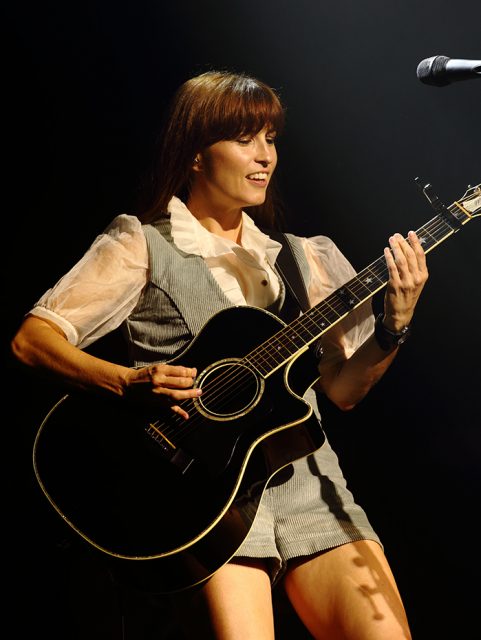 Dusk is falling now and over in the Mojo tent Melbourne singer-songwriter Missy Higgins has a massive crowd wrapped around her finger, bringing out her friend Kate Miller-Heidke to lend her distinctive vocals to 'Don't Ever' then leading her band through old chestnut 'The Special Two' and new single 'The Collector'. There's so much reverence for the affable festival veteran and the crowd hijacks the performance when ske breaks out her classic 'Scar' – the whole tent belting out the chorus en masse – and keeping the communal spirit going through closing number 'Steer'.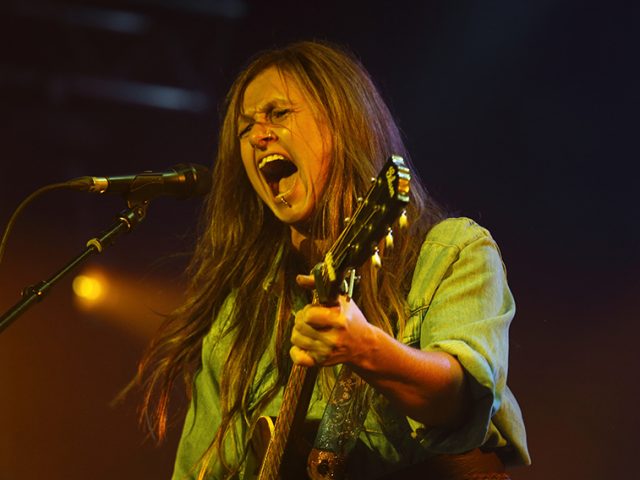 Kasey Chambers is another artist with a wealth of festival experience and it's nice to get some authentic country music into the mix, yodelling away through 'If I Were You' then pulling out the big guns of 'Not Pretty Enough' early in proceedings, still prompting a massive singalong response. She radiates fun and positivity and it's channelled straight back at her by her ravenous fans, who delight in her tunes like 'Pony', 'A Little Bit Lonesome' and early hit 'The Captain'.
We take the chance to hit the Mojo tent to catch the start of UK electronic act Morcheeba, who emerge in a wash of red lights and immediately bring an air of sultry sophistication to proceedings, vocalist Skye Edwards possessing an amazing voice which dominates their lush aural vistas.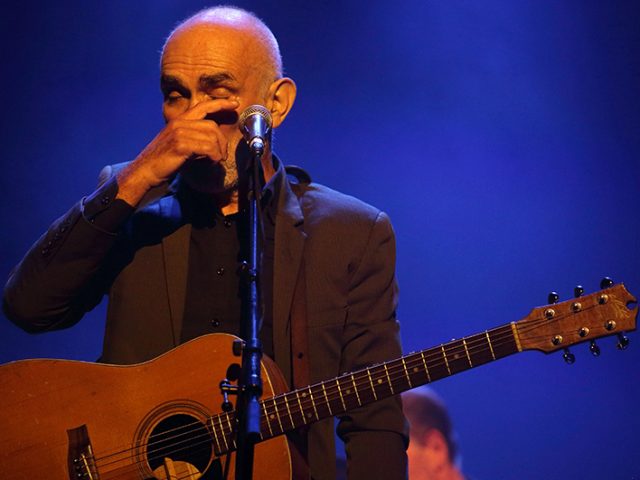 But sadly we can't stay long as it's back to the Crossroads tent to catch the headlining set by Australia's unofficial poet laureate Paul Kelly, who emerges with his band and kicks off with a jubilant take on 'Finally Something Good' – showing off the chops of his incredible band in the process, who are a finely-honed machine even factoring in that they've got a ringer bassist tonight (because COVID, of course) – and at the song's conclusion the great man is so moved by being back in action that he actually tears up and has to take a moment to gather himself, another incredibly moving micro-moment. Next up he gives an impassioned speech about the importance of the much-missed Chris Bailey who passed away recently and we're treated to a perfect cover of The Saints' 'In The Mirror', before pulling out a couple of his own Aussie classics in the form of 'Before Too Long' and 'Careless'. His canon is seemingly bottomless and he casually runs through banger after banger – 'Love Never Runs On Time', 'Northern Rivers', 'Firewood & Candles', 'Our Sunshine' – before Linda Bull takes lead vocals on a powerhouse rendition of the gorgeous 'Smells Like Rain'. The beautiful melancholy of 'From St Kilda To Kings Cross' gives time for a brief moment of reflection which is quickly washed away when the timeless 'To Her Door' ignites the crowd back into action, the Kelly gang bringing things home in a cavalcade of gold with 'Dumb Things', 'Deeper Water', 'Sweet Guy' and festival favourite 'How To Make Gravy', before he too closes his set with the epic 'From Little Things Big Things Grow', the perfect song to hear twice in one day courtesy two bona fide Aussie icons.