Sunday April 17, 2022
Another gorgeous Byron day for Bluesfest Sunday, those who've been here for the long haul starting to fatigue slightly but there's still an exuberant and joyous buzz running through the colourful thong of punters, everyone stoked just to be back amongst the action.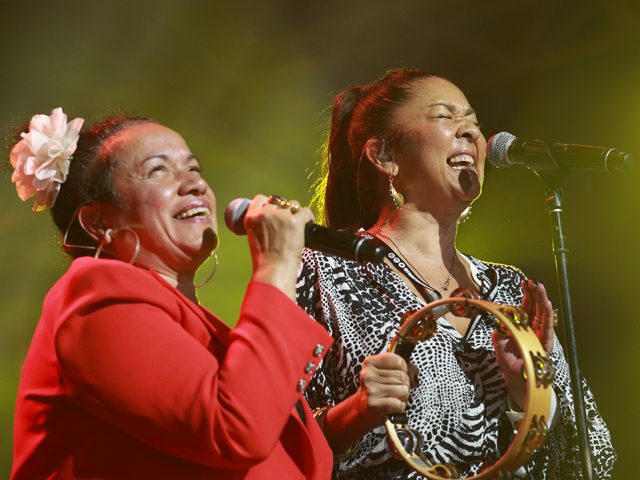 It's a bit of a tradition these days to catch a session of Rockwiz during Bluesfest, the music trivia panel show transferring perfectly from the small screen to the festival stage, in no small part due to the charisma of host Julia Zemiro and her crack team. As always they pull out some surprise musical guests, and this year we're treated to cool performances by Grace Cummings, Kev Mitchell and Vika and Linda Bull, the perfectly fun and laidback start to another day of festivities.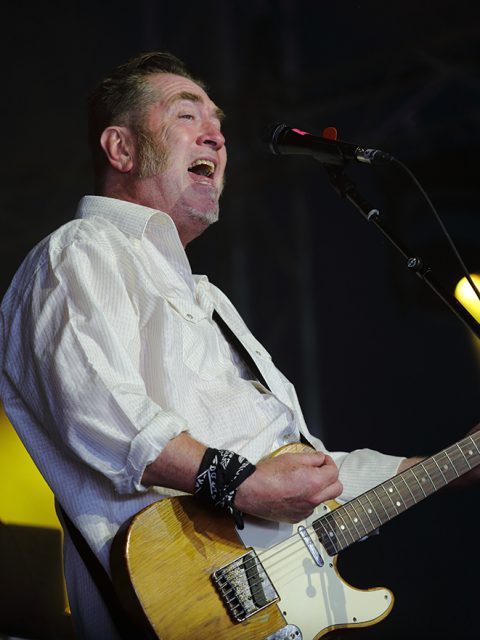 Then it's over the Crossroads tent for the return of Oz rock stalwarts Weddings Parties Anything in one of their all-too-rare reunions, a huge excited crowd gathered to relive their misspent youths and sing along at the top of their lungs with a slew of old faves like 'Sargeant Small', 'Roaring Days' and 'Wind & Rain'. Frontman Mick Thomas is in fine voice and the whole crew seem delighted to be back onstage together, 'Ticket In Tatts' proving a bit safer for the band in these days of less physical currency (people having less coins to fling in their direction in that long-standing tradition) but still getting a raucous reception, the band continuing with a riotous rendition of 'Streets Of Forbes' before violinist Jen Anderson goes into duet mode for the gorgeous 'Step In, Step Out'. 'Fathers Day' gets the mass singalong it deserves, but there's just as much love from the crowd for lesser lights like 'Rosy & Grey', 'Hungry Years', 'Luckiest Man' and 'Knockbacks In Halifax'. Thomas dedicates a haunting rendition of early track 'Laughing Boy' to the Saints' Chris Bailey who we lost recently, and the Weds finish a wonderful return performance with the epic convict narrative 'A Tale They Won't Believe' and perennial fan favourite "Away Away', the perfect finale from this wonderful and much-missed Aussie institution.
We hit the relatively intimate Jambalaya Stage where the most consummate of showmen Henry Wagons is holding court to a pretty much full house, with the help of trusty keyboardist Lachlan Bryan who can be just as charismatic as his frontman. Wagons disappears into the crowd during 'King Hit' and is completely at home amongst his people, to the point ultimately a surprise to see him re-emerge onto the stage at all. 
We catch a bit of Melbourne funk-soul collective The Bamboos over at the Delta tent who as always are bringing the party with their fun and energetic big band stylings. Band leader Lance Ferguson is holding things down with complete aplomb but things naturally lift a notch when vocalist Kylie Auldiist joins the fray, especially on her powerhouse version of 'Tomorrow'.
Over at the Mojo Tent the great Ian Moss seems genuinely excited to be here holding court, splitting his set pretty evenly between songs from his classic solo album Matchbook – which he's been belatedly touring for its 30th anniversary – such as opener 'Such A Beautiful Thing', 'Out of The Fire', 'Telephone Booth' and crowd fave 'Tucker's Daughter', and Cold Chisel bangers like 'My Baby', 'Choirgirl' and 'Bow River' – with some cool new tracks like 'Nullarbor Plain' thrown in for good measure – but whichever era the track is from it gets an equally thunderous reception from the besotted crowd.
We stay at the Mojo tent – and in Cold Chisel territory – for a set by Oz rock icon Jimmy Barnes, who's introduced by the leader of the Opposition which can only mean an election is looming, but any thoughts of such matters are quickly done and dusted with as Barnesy rips through a typically raucous performance which finds him mining his now massive solo canon for tracks such as 'Flesh & Blood', 'I'd Die To Be With You Tonight' and 'Lay Down Your Guns', before running through some covers including Dylan's 'Seven Days' and The Contours' 'Do You Love Me'. Eventually he too pulls out some old Chisels classics in the form of 'Flame Trees' and 'Khe Sanh', before closing with the singalong-inducing 'Working Class Man' and then being coaxed back for a sneaky encore of Chisels' anthemic 'Goodbye (Astrid Goodbye)'.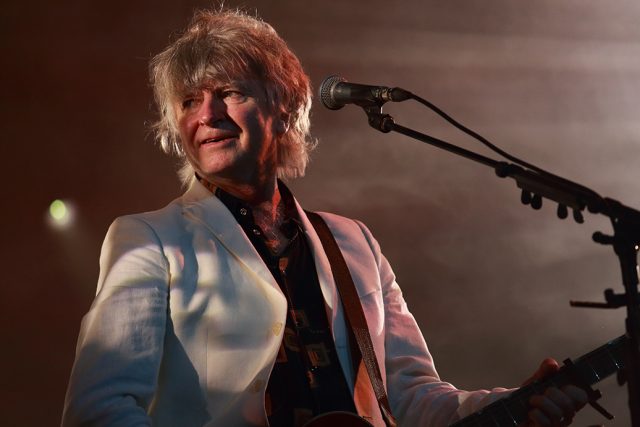 There's no one better at bringing the love for a festival headlining spot than Antipodean pop legends Crowded House, the Crossroads tent packed to the brim as a beaming Neil Finn kicks off with 'Distant Sun'. During 'Fall At Your Feet' and 'It's Only Natural' it's hard to tell if the band or the crowd are making the bigger din, although that all changes when Barnesy joins them onstage for an epic rendition of 'Mean To Me'. It's just hit after hit and it's such an exhilarating experience hearing the crowd help give voice to tracks like 'When You Come', 'Four Seasons In One Day', 'Don't Dream It's Over' and 'Something So Strong', the set finishing with the gorgeous 'Weather With You' before they too are called back for an encore, running through an impromptu cover of Split Enz' '80s classic 'I Got You' and then finishing another incredible Bluesfest day with the perfectly appropriate 'Better Be Home Soon'.