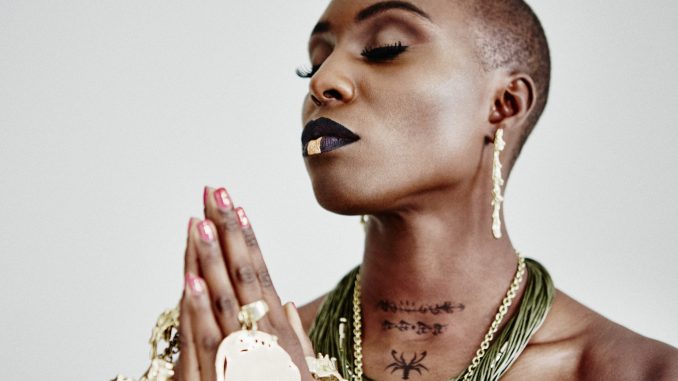 Bluesfest is world renowned for having many inimitable artists who happen to be women on the bill each and every year. Ahead of International Women's Day, they would like to celebrate the ladies who are performing at the festival in 2017.
They come from many genres and musical backgrounds, but one thing they have in common is their powerful voices and important contributions to music today. Patti Smith's revolutionary album Horses changed the face of rock forever, inspiring generations of musicians to create loud, sincere music that could change the world. Mary J. Blige is the undisputed Queen of R&B, selling more than 50 million albums worldwide.
Bluesfest is particularly honoured to have women of different ages and backgrounds represented; 78 year old Mavis Staples rose to stardom in the segregated America of the 1960s. She became a leading voice in the civil rights movement and inspired Martin Luther King Jnr. We are also proud to be hosting Australia's own 30 year old Courtney Barnett who has just started to take the world by storm.
PATTI SMITH AND HER BAND – FINAL AUSTRALIAN FESTIVAL PERFORMANCE
MARY J. BLIGE
BONNIE RAITT
MAVIS STAPLES – BLUESFEST EXCLUSIVE
COURTNEY BARNETT
RICKIE LEE JONES
CORINNE BAILEY RAE
BETH HART – BLUESFEST EXCLUSIVE
LAURA MVULA
RHIANNON GIDDENS
THE SUFFERS (KAM FRANKLIN) – BLUESFEST EXCLUSIVE
NIKKI HILL
JOAN OSBORNE
MELODY ANGEL – BLUESFEST EXCLUSIVE
IRISH MYTHEN– BLUESFEST EXCLUSIVE
Patti Smith
Patti Smith is a bestselling author, performance poet, visual artist and activist whose extraordinary contributions to the artistic realm and human rights have been recognised with an induction to the Rock and Roll Hall of Fame, a Polar Music Prize, and the honour of "Commandeur des Arts et des Lettres" from the French Ministry of Culture just to name a few of her accolades.
In November of 1975, Patti Smith and her band recorded her debut album Horses at the famous Electric Lady Studios in New York City. An album that has come to be regarded as a seminal and landmark recording, that continues to have resonance and relevance for succeeding generations of musicians and artists.
Bluesfest will be the final festival performance for Patti Smith and Her Band in Australia. Don't miss your chance to witness this iconic artist performing for the last time.
Patti Smith and Her Band play at Bluesfest on Thursday 13 and Friday 14 of April
Tour Dates:
Patti Smith and her Band perform Horses
State Theatre, Sydney NSW  – SUN 9 APRIL 2017 – ALLOCATION EXHAUSTED
State Theatre, Sydney NSW  – MON 10  APRIL 2017 – ALLOCATION EXHAUSTED
State Theatre, Sydney NSW  – TUES 11  APRIL 2017 – FINAL TICKETS SELLING FAST
Hamer Hall, Melbourne VIC  – SUN 16 APRIL 2017- ALLOCATION EXHAUSTED
Hamer Hall, Melbourne VIC   – MON 17 APRIL 2017 – ALLOCATION EXHAUSTED
State Theatre, Melbourne VIC  – TUE 18 APRIL 2017 – ALLOCATION EXHAUSTED
Last Ever Concert by Patti Smith and Her Band in Australia
Featuring music from Patti's full rock repertoire
with special guest
Courtney Barnett
in her only scheduled Australian shows this year
Festival Hall, Melbourne VIC  – THU 20 APRIL 2017– FINAL TICKETS SELLING FAST
Mary J. Blige
Global R&B superstar Mary J. Blige will be making her Bluesfest debut in 2017. The iconic Grammy Award winner, singer, songwriter, actress and philanthropist is a defining voice of the contemporary music era.
Mary J. Blige has amassed an impressive eight multi-platinum albums, nine Grammy Awards, 32 Grammy nominations, a 2012 Golden Globe nomination and five American Music Awards. She has sold over 50 million albums worldwide and is responsible for a plethora of hit singles including; 'Be Without You', 'No More Drama' 'Not Gon' Cry', 'Love Is All We Need', 'Seven Days', 'All That I Can Say', 'Family Affair' and 'Just Fine'.
Influenced at an early age by the music of Aretha Franklin, Chaka Khan and Gladys Knight, Blige brought her own gritty, urban-rooted style—fusing hip-hop, soul and honest, frank lyrics—to the forefront on her 1992 debut album What's the 411?. The successful debut featured hits such as 'You Remind Me' and 'Real Love' and went to number #1 on the Billboard R&B/ Hip Hop Album Chart. 
Mary J. Blige has helped redefine the R&B genre as the hit albums followed over the next two decades including her 2005 release The Breakthrough which debuted at number #1 on the Billboard 200 chart. Her most recent release and 13th studio album The London Sessions (2014) went to number #1 on the iTunes R&B Chart, and was included in Billboard's 10 Best R&B Albums of 2014.
It is an absolute honour to welcome R&B royalty Mary J. Blige to Bluesfest.
Mary J. Blige plays Bluesfest on Friday 14 April
Tour dates:
Sydney Opera House, Sydney NSW – MON 10 APRIL 2017
Hamer Hall, Melbourne VIC –  WED 12 APRIL 2017
Bonnie Raitt
 "one of the most consistent and acclaimed country performers of the past five decades." – telegraph.co.uk
"Bonnie Raitt continues to exhibit the hot-blooded enthusiasm of performers half her age." – Variety US
Rock and Roll Hall of Famer Bonnie Raitt is more than a best-selling artist, respected guitarist, expressive singer and accomplished songwriter…. She has become an institution in American Music.
The ten-time Grammy winner is returning with her twentieth album Dig In Deep (2016), the follow up to her critically acclaimed Slipstream (2012).  Bonnie Raitt will be joined by her long time touring band: James "Hutch" Hutchinson (bass), Ricky Fataar (drums), and George Marinelli (guitar), along with Mike Finnigan (keyboards).
"I'm feeling pretty charged, and the band and I are at the top of our game," says Bonnie Raitt. "This period of my life is more exciting and vital than I was expecting, and for that I'm really grateful. At this point, I have a lot less to prove and hey, if you're not going to 'Dig In Deep' now, what's the point?"
"I can't wait to get back out on the road and play these songs," she continues. "The band has never sounded better… and the best part is that we know how lucky we are to still get to make our livings doing something we love this much."
Bonnie Raitt plays Bluesfest on Friday April 14
Tour Dates:
State Theatre, Sydney NSW  – FRI 7 APRIL 2017
Canberra Theatre Centre, Canberra ACT  – SAT 8 APRIL 2017
Hamer Hall, Melbourne VIC  – MON 10 APRIL 2017
Concert Hall QPAC, Brisbane QLD  – WED 12 APRIL 2017
Mavis Staples
Mavis Staples, one of the greatest gospel, soul and blues singers of all time, is returning in 2017 for four exclusive Bluesfest performances. Mavis Staples has managed to remain a leading voice in a career that has spanned over 60 years, she recently toured with Bob Dylan on his U.S. Summer tour and released her latest album Livin' on a High Note in 2016. Just last week it was announced that Mavis would be inducted into the Blues Hall of Fame this May, a fitting tribute to this living legend.
Mavis Staples plays Bluesfest on Thursday 13, Saturday 15, Sunday 16 and Monday 17 April
Courtney Barnett
Welcome to the world of Courtney Barnett, a hazy place where suburban banalities and procrastination have never sounded so compelling. The Melbourne-based singer, guitarist and songwriter has built a growing legion of local devotees through a series of DIY releases on her own label Milk! Records and now it seems the rest of the world has embraced her – having sold out her most recent tours to rapturous audiences in the UK and USA.
Sometimes I Sit and Think, and Sometimes I Just Sit – Mixing witty, often hilarious, occasionally heartbreaking observations with devastating self-assessment, Courtney Barnett's debut album, Sometimes I Sit and Think, and Sometimes I Just Sit, cements her standing as one of the most distinctive and compelling voices in indie rock. These songs reveal not only an assured songwriter and guitar player, but also an artist who in just a few years has already proved highly influential becoming one of Australia's biggest music exports
"Rock that works up the scrappy momentum of the Velvet Underground" – New York Times
"Barnett has a gift for turning mundane scenarios into gripping stories… brilliant" – Pitchfork
"Tales that unspool like barstool revelations and sound like some hybrid of Kimya Dawson and Kurt Cobain"
– Rolling Stone
"a perfect summary of the earnest freewheelin' and rambling wit that makes music from this end of the world just so great" – The Guardian UK
Courtney Barnett plays Bluesfest on Thursday 13 April
Tour date:
Last Ever Concert by Patti Smith and Her Band in Australia
Featuring music from Patti's full rock repertoire
with special guest
Courtney Barnett
in her only scheduled Australian shows this year
Festival Hall, Melbourne VIC  – THU 20 APRIL 2017
Rickie Lee Jones
"This was one of those nights when live music becomes really live, when the bond between performer and audience pushes everyone further than expected." – Telegraph.co.uk
"Count on Rickie Lee Jones to always burn. Soft or quiet, fast or slow, the woman's soul has such a depth of feeling that everything she does actually means something." – themortonreport.com
Two-time Grammy winner Rickie Lee Jones exploded onto the pop scene in 1979 and has  made a career of fearlessly experimenting with her sound and persona over 15 critically  acclaimed albums.  Rickie is both a character in the songs and the songwriter singing, defying convention with her sometimes brazen sexuality and the mixed bag of jazz, rock and what has come to be known as 'confessional' songwriter performances.
Her latest album The Other Side of Desire was written, recorded and rooted in the city of  New Orleans, where Jones lives.
Rickie Lee Jones plays Bluesfest on Friday 14 and Saturday 15 of April
Tour dates:
Melbourne Recital Centre, Melbourne VIC – FRI 7 April 2017
The Gov, Adelaide SA – SAT 8 APRIL 2017
The Basement, Sydney NSW – SUN 9 APRIL 2017
The Basement, Sydney NSW – MON 10 APRIL 2017
Tanks, Cairns QLD – THU 13 APRIL 2017
Corinne Bailey Rae
Corinne Bailey Rae is coming to Australia to perform for the first time at Bluesfest in 2017. She will also be heading out on tour, visiting Sydney and Melbourne in April 2017.
With over five million albums sold, two-time Grammy winner Bailey Rae released her self-titled debut album in 2006, reaching number one in the UK and number four in the U.S. The album featured the global hits 'Put Your Records On' and 'Like A Star'.
Originally the front-woman of an indie band, Bailey Rae's music spans electronic, soul and experimental genres. She has completed her highly anticipated third studio album The Heart Speaks In Whispers which debuted at number three on Billboard's R&B chart. Featuring 'Been To The Moon', 'The Skies Will Break' and 'Green Aphrodisiac', NPR named it one of the 30 albums of the year so far.
The album has gained worldwide acclaim, garnering four and five-star reviews.
"a fascinating listen, one filled with catharsis and inspiration." – Pitchfork
"What Rae adds to this idealists' songbook is a feminine take that blends dreaminess with nuanced awareness of the heart's hesitations and the need, in life, for clarity… After his death, many fans pointed to Prince's legacy of work with female artists. Rae realizes it here — a woman, not a girl, dreaming in her own colours." – NPR
Bailey Rae is sure to delight audiences with her soaring vocals and impressive stage presence, don't miss her Australian premiere performances.
Corinne Bailey Rae plays Bluesfest on Thursday 13 April and Saturday 15 April
Tour dates:
Metro Theatre, Sydney – SUN 16 APRIL 2017
170 Russell, Melbourne – WED 19 APRIL 2017
Beth Hart
Vocal powerhouse Beth Hart gained a reputation as one of the 'buzz artists' at Bluesfest in 2014 and 2015, and will be returning in 2017 for Bluesfest exclusive performances. Beth Hart is on fire. Right now, the Grammy nominated singer-songwriter is riding a creative tidal wave, firing out acclaimed albums, hooking up with the biggest names in music and rocking the house each night with that celebrated burnt‐honey voice.
Beth Hart, will be returning to Bluesfest with her new album Fire On The Floor (2016) set for release in Australia this October. Fire On The Floor is the follow up to Beth's 2015 release Better Than Home, a critical and commercial smash that topped the iTunes Blues Chart and was crowned #4 Best Blues Album Of The Year by Mojo magazine. Fire On The Floor is sure to build on her breakneck momentum and has seen Beth Hart go on an extensive tour that will pack houses all over the world and perform exclusively for Bluesfest next Easter.
Beth Hart plays at Bluesfest on Saturday 15 and Monday 17 April
Laura Mvula
"The singer's baroque soul, now shot through with heartache, has never sounded quite so polished and concise" – theguardian.com
 "the concert – and indeed Mvula herself – oozed sincerity; a real celebration of original, authentic work in the music industry." – narcmagazine.com
 "brilliantly fierce and fiercely brilliant. Mvula has taken personal misery and turned it into musical magic." –  The Evening Standard
 As one of the most exciting musical talents to come out of the UK, Laura Mvula has been nominated for the Mercury Prize, BBC Sound poll, the BRITs Critics Choice Award, two BRIT Awards in 2014 (British Female Solo Artist and British Breakthrough Act); winning an incredible two MOBO's in 2013 (Best Female and Best R&B/Soul).
The classically trained vocalist and soul singer-songwriter – who has been compared to the likes of Nina Simone – caught the attention of her musical heroes Jill Scott, Erykah Badu and Prince whilst performing at the Pyramid Stage at Glastonbury.
 Laura Mvula has since gone on to travel the world, selling out shows and captivating crowds. Her sophomore album The Dreaming Room (2016) is an acclaimed follow-up to the universally adored debut album Sing To The Moon (2013).
Laura Mvula plays Bluesfest on Saturday 15, Sunday 16 and Monday 17 April
Tour dates:
Metro Theatre, Sydney NSW – WED 12 April 2017
Melbourne Recital Centre, Melbourne VIC – THU 13 April 2017
Rhiannon Giddens
The Grammy Award–winning lead singer of African-American folk interpreters Carolina Chocolate Drops, has stepped out on her own, winning over audiences around the world, with as the New York Times put it, "the fervor of a spiritual, the yips of a folk holler, and the sultry insinuation of the blues".
On her solo debut Tomorrow Is My Turn, Giddens delivers striking renditions of Dolly Parton's 'Don't Let It Trouble Your Mind', & Hank Cochran's 'She's Got You', popularised by Patsy Cline. The album incorporates gospel, jazz, Blues, and Country, plus a hint of proto-Rock'n'Roll, and Giddens displays an emotional range to match her dazzling vocal prowess throughout.
Music legend T Bone Burnett says of Giddens. "It was clear the first time I heard her at rehearsal that Rhiannon is next in a long line of singers that includes Marian Anderson, Ethel Waters, Rosetta Tharp, Odetta, Mahalia Jackson, Nina Simone," Burnett says. "We need that person in our culture. She is, in fact, that person in our culture."
"What was on display tonight was the performance of an artist on the cusp of a true critical and commercial breakthrough with a voice that was regal, confident and, at every turn, breathtaking."  
-The Musical Box
"Giddens explores the frontiers of Americana on a solo debut of phenomenal vocal power, effortlessly jumping between gospel holler, tender folk song and lachrymose country ballad." – The Guardian
Rhiannon Giddens plays Bluesfest on Thursday 13, Friday 14 and Sunday 16 April
Tour dates:
Factory Theatre, Sydney – Saturday 8 April
Corner Hotel, Melbourne – Tuesday 11 April
The Suffers
Featuring the indomitable frontwoman Kam Franklin, The Suffers are Houston's award-winning 10-piece ensemble that have redefined the sound of Gulf Coast Soul. Last year brought the band to new heights, as they played 150+ shows across North America, visited NPR in Washington, DC for a Tiny Desk Concert, and made their national television debut on Late Show With David Letterman.  This year, the band officially released their much anticipated self-titled album in February and performed on The Daily Show with Trevor Noah and Jimmy Kimmel Live. The Suffers have quickly progressed from packing Houston venues to accepting invitations for featured performances at notable festivals and events, while remaining a local Houston favourite, accepting 20 Houston Press Music Awards in the last three years
The Suffers play Bluesfest Thursday 13, Friday 14, Sunday 16 and Monday 17 April
Joan Osborne
Love and Hate is particularly satisfying in that it delivers on—and extends—the promise made by her wonderful debut so many years ago." – Pop Matters
"Ms. Osborne is a fiercely intelligent, no-nonsense singer-songwriter who is allergic to traditional pop sentimentality, though hardly devoid of feeling…As both a songwriter and interpreter; she looks life squarely in the face." – New York Times
Joan Osborne is multi-platinum selling recording artist and seven-time Grammy nominee. The soulful vocalist and noted song interpreter is a highly sought after collaborator and guest performer who has performed alongside many notable artists, including Stevie Wonder, Bob Dylan and Patti Smith to name a few.
Counting such legendary artists as Etta James and Ray Charles as influences, Osborne is firmly rooted in R&B and soul, as evidenced by the soul covers she has recorded on her albums How Sweet It Is, Breakfast In Bed and Bring It On Home, which garnered a Best Blues Album nomination at the 2013Grammy Awards. Of course she is best known for the worldwide hit 'One of Us' that was a true anthem of the 90s and still connects with listeners today.
"I've put together this Soul Revue, and for these special performances we're doing a lot of great R&B and soul…Motown music…it's just a blast to do," Osborne says of the new show, which includes a set list full of hits, such as 'Midnight Train To Georgia,' 'Ain't No Sunshine,' 'Heat Wave' and 'I Don't Need No Doctor.' I love this music — it's just so joyful and so freeing."
Joan Osborne plays Bluesfest Thursday 13, Friday 14 and Saturday 15 April
Tour dates:
The Basement, Sydney NSW – SUN 16 April 2017
The Croxton, Melbourne VIC -WED 19 April 2017
Melody Angel
Born and raised on the south side of Chicago, she began playing guitar at the age of thirteen. Even though her mother was barely getting by raising two children alone, she found a way to introduce Melody to her first Fender Stratocaster by buying the guitar out of a window of a pawn shop.
She has been inspired by an array of artists such as, Michael Jackson, Prince, Jimi Hendrix, Chuck Berry, SRV, Big Mama Thornton, Buddy Guy, Bonnie Raitt, Slash, Lenny Kravitz, Santana, and Jeff Buckley. Melody explains:  "Nina Simone said something in the 60s that resonated with me so much that it changed the course of my life forever. She showed me that singing my truth could help free and inspire my people. One voice could change the world. Nina Simone said, " I chose to reflect the times and situations in which I find myself. That to me is my duty". Growing up in Chicago is really hard on a young Black kid. I had to deal with so much injustice and flat out racism, that I thought that was all the world would ever show me. Music saved me from that hopeless reality, and took me all over the world! The truth of my history, and my present circumstance empowers me to walk this earth with my head held high, because I know survival is in my blood. Knowledge is my power and I want to feed that knowledge to my community, the only way I know how, and that's with a microphone at my lips and a Fender Strat in my hand."
In her single 'In This America' which is dedicated to "all the mothers that have lost their black sons unjustly" she sings "How do I know it's safe to have a son in this America?" and it is impossible not to be moved by her powerful words and heartbreaking delivery. Melody Angel is an important voice and one that deserves to be heard around the world.
"Besides her playing, what makes Angel such a powerful performer, is her strongly impassioned vocals. We can't wait to see her continue to grow. What a future she has! If you get a chance to catch Ms. Angel live, do it!" – American Blues Scene
Melody Angel plays Bluesfest on Thursday 13, Friday 14, Saturday 15 and Monday 17 April
Irish Mythen
True power inspires awe – lyrical, musical and personal Irish Mythen packs a lot of it. After seeing Irish Mythen perform you're left wanting more. No wonder Bluesfest fans were requesting the return of the globetrotting troubadour. An Irish born, contemporary Canadian folk artist mesmerized the Bluesfest audience in 2016, and so her impactful and impressive live show returns in 2017.
A tour-de-force that finds Irish combining her contemporary and catchy anthems with traditional tunes borrowed from her homeland, woven together with a signature blend of edgy humour and heartfelt storytelling. Irish Mythen might be small-statured, but this powerhouse simply commands attention with her presence and charisma.
Irish Mythen plays Bluesfest on Thursday 13, Saturday 15 and Sunday 16 April