By Kerrie Hickin
Bluesfest Day 1 Thursday 18
th
 April 2019 
First day of Bluesfest – traditionally the cruisiest day, as people get their bearings, work out which stage is which, what they want to see (or can afford to miss), and the old faithful, what the unpredictable weather is doing (answer: who knows).
Did we just pass Phil Manning in the crowd? Or is THAT Phil Manning over there? 
Tantalising snippets of music waft out of the tents passed, encouraging you to stay and enjoy. 
The Juke Joint, adjacent to the North gate entry, provides my first 'full' set – Ruthie Foster, and what a joy she was! Phenomenal Woman, with lyrics by poet Maya Angelou, is just about as body-positive affirmative (and downright seductive) as you can get, negating the superficial and embracing real grace and confidence. And oh, those knock-me-down vocal notes! Such power held in an unadorned human voice, not studio or stylist trickery. "Thank you for the appreciation of the music we're giving you", she states at one point, before picking up a beautiful guitar and launching into her own version of Travelin' Shoes, poignant in its description of being called to beyond, as "a celebration of those we love but miss". 
Another powerful woman is Mavis Staples. She has seen a lot of change in her lifetime, been at the frontline for some of it along with her family, and continues to push for social justice and equality of opportunity. Alternating between preacher, teacher, raconteur, and musical memoirist, Staples keeps us entranced. Given the gravity of the milieu that spawned the 'protest' song genre, and the continued need for vigilance in our current literal and metaphorical climate, it could be heavy going. But a sense of playfulness and fun pervades too, especially in the interactions with her band, evoking a sweet sense of camaraderie, and anecdotes that illustrate finding humour even in serious situations. 
Mavis tells of marching with Dr Martin Luther King, being arrested, "but we got back out of jail", and continues to March Up Freedom's Highway, encouraging people to join in the quest for egalitarianism along the way, because "we've got a lot of work to do". These songs, a few minutes long, are a shorthand connection to moments in history, with echoes and reverberation that we, years and miles away from their genesis, can still feel and appreciate the relevance of. It is music, but far MORE than 'just' music. And at the end she says what we've all been thinking: "I might just run for President!" Yes!
As large-scale concerts such as Long Way To The Top and Countdown Spectacular prove, old rockers don't just vanish after their primary hit-making years. There's such an amazing stockpile of talent that is not necessarily visible front and centre in the public consciousness. Which in part is why it's such an absolute pleasure to acknowledge the success of Russell Morris as a contemporary recording and performing artist, some 50 years after his initial success and as the voice of one of Australia's most iconic songs of the 1960s. Morris's clear and expressive voice shows no sign of waning, and he has assembled a top-notch band to assist, spotlighting excellent guitarist Peter Robinson (also a member of hard rockers Electric Mary). The constrictions of festival set times requires a compression of numbers to be performed, but Morris prominently featured quite a goodly selection from his more recent releases, including great tracks from the very newest, Black And Blue Heart. Add to this his perfectly-realised version of Dylan's It's All Over Now Baby Blue, as well as Hush and Sweet Sweet Love from his earlier back-catalogue, the latter a suite that gloriously transcends its lovesong foundation. Oh, and yes, THAT song, you know the one.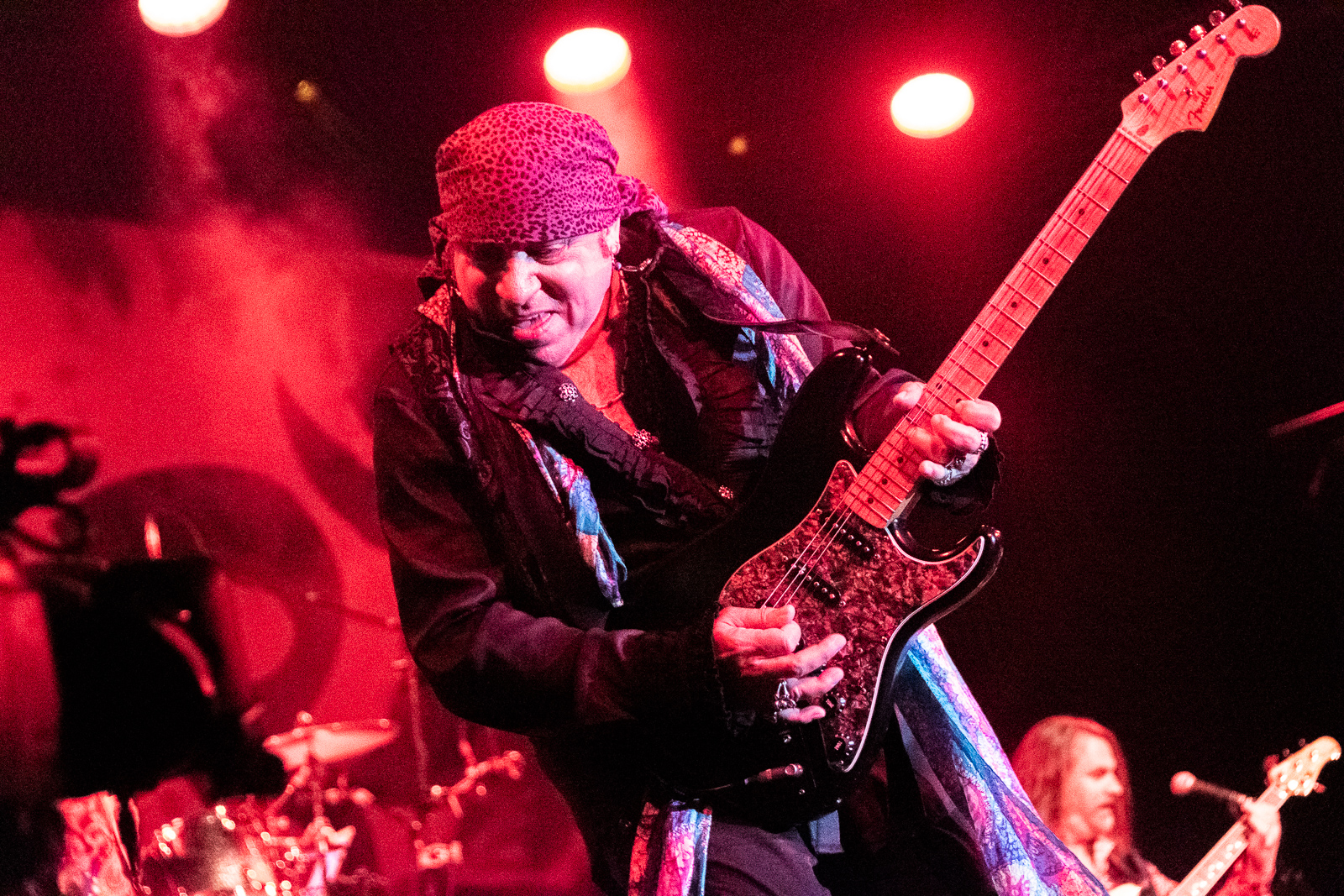 Little Steven And The Disciples Of  Soul… Yes, there's soul there, but so much more. Miami Steve Van Zandt doesn't ONLY have Soul as his muse, that would be reductive, but the whole gamut of music. Music that stirs the heart and gives you a little shiver when you hear it. Van Zandt is a lifelong fan as well as a musician – he has the proverbial hungry heart, inspired by what he loves, and seeking and searching out what's always just a little beyond the horizon. Many of these stylistic nuggets are signposted by his radio show and compilation album series. And it was inevitable that elements would find their way by osmosis into his own music.
Of course, there's a Venn-diagram overlap with other creative streetcorner-romantic poets (Messrs Springsteen, Reed, Petty, DeVille, Dylan etc), while also sounding definitively like no-one else. And it's a big band. How many people were on stage? Was that 17? 18? All sartorially splendid, with the vibrant and energetic trio of back-up vocalists/dancers bringing an extra-special visual and audio dimension to the mix, particularly the brand new album Summer Of Sorcery's exuberant rocker standout 'Superfly Terraplane', and the set's roof-raising climax Forever. Little Steven, and his music Disciples, are firing on all cylinders.