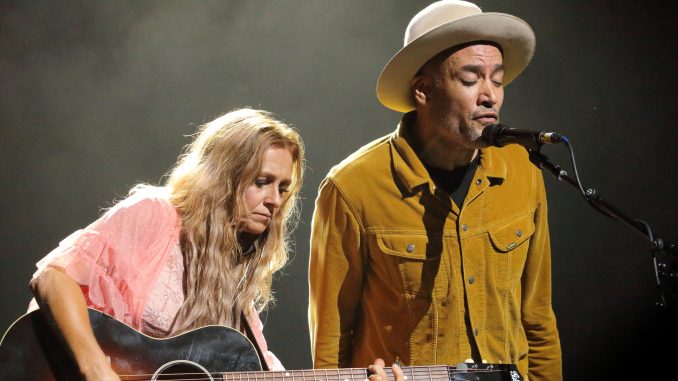 By Kerrie Hickin (Photos by Michael Mackenzie & Steve Ford)
Bluesfest Day 3
It's an unfortunate reality that as many things that are programmed, some will be missed, due to logistics (or fatigue). You can settle in for a whole set by someone great and miss something brilliant just next door, or flit around like a bee researching pollen density – there's no 'right' way to experience a festival. Dive in and do your best.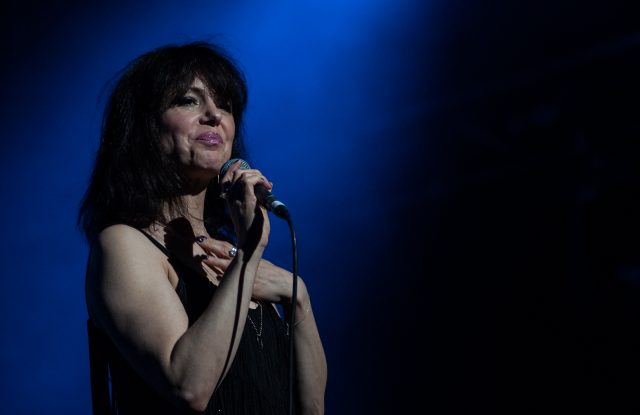 Caught the last few songs by Imelda May, including a revved-up version of The Animals' 'I'm Crying', borrowing from the arrangement by pub-rock punk-precursors Little Bob Story. May has the spunky spirit of a Wanda Jackson running through her, and looks like she is having a whole lot of FUN performing – shakin' and stompin' and rock-and-rollin', even rocking a bodhran drum at one point, to a very non-traditional rhythm. She closed the set with a bouncy version of The Undertones' classic Teenage Kicks.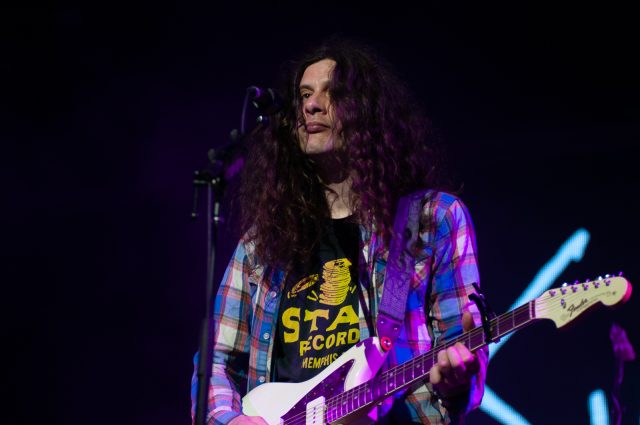 Prolific Kurt Vile started his career recording low-fi demos, graduated to a fertile recording career, and has more recently collaborated with international indie success story Courtney Barnett. Now with The Violators, his style has retained elements of that laid-back origin, but incorporating elements of desert-fried acid country punk and paisley underground's crackling mind-incursions, laced with a little grunge-era slackerism. While Gram Parson's ghost is hovering not a million miles distant, Neil Young and more contemporary wellsprings such as The Meat Puppets and Band Of Horses could be touchstones. Songwriting can be riffing on a turn of phrase lyric, generally non-linear and at times approaching surrealistic e.g. from KV Crimes "I should have known, my heart is overgrown". He switched to banjo for some songs, apparently his first-learned instrument, and introduced other instruments ("sweet lute, Lachlan") and styles ("I'm just trying to get in the mood, just trying to get the blues", he chuckled) – "I'm an outlaw, goin' nowhere slow", delivered with an accentuated accent. His set tumbles and drifts over you like a warm day's daydream after a particularly heavy Christmas lunch.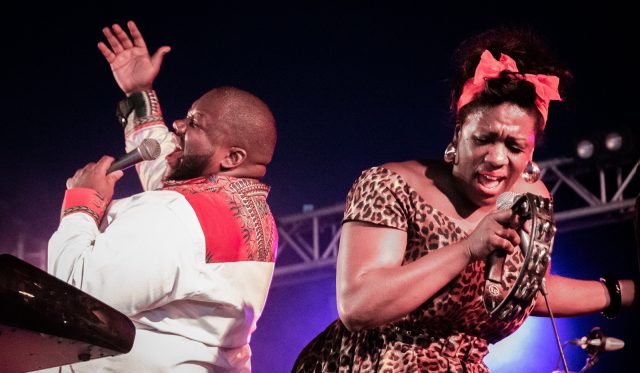 There's a lot of love both on and emanating from the stage during The War And Treaty's Bluesfest set at the Juke Joint (they debuted on the Delta Stage on day one). Firstly, the bristling chemistry between protagonists Tanya and Michael Trotter, teasing cooing, courting and serenading each other and the audience like we're part of their love story – they're already married ("for nine years", Tanya tells us), but if they weren't you'd swear they'd be looking to get a honeymoon room as soon as their set finished. Like in the song 'Til The Morning', imagine prime Ray Charles flirting with Tina Turner through music– it's HOT! But as well as sizzling sparks flying between the two (cheers from the crowd go up as they embrace, coy smiles on their faces), we the audience are invited into their larger mission to bring healing to a broken world, to embrace unity, humanity, and freedom from conflict. They love Australia too: "We're working super-hard for you to all like us so that we can come back", Michael jokes. However, the sincerity of the invitation to love them back is a very easy one to answer: I do! We ALL do!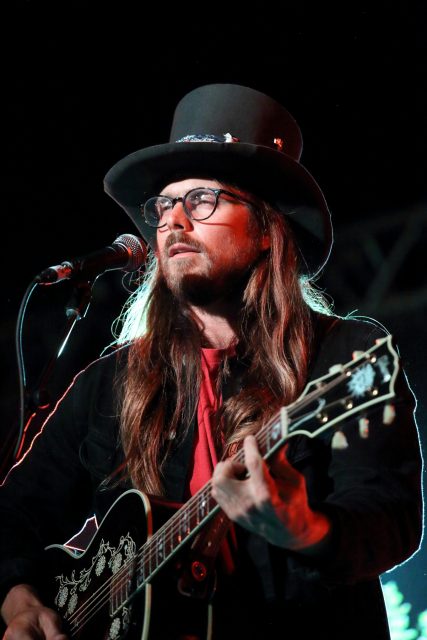 Lukas Nelson has been to a few festivals, and along with his band Promise Of The Real, whether he's shredding on guitar or performing one of his amazing high-kicking jumps, that casual professionalism shines. "We're just going to close our eyes and get lost in the music", he states near the outset of the set. And, let's be honest, although he could deliver the goods blindfolded, we love the ride. "Come live the simple life", he invites us and although it's not as easy as that anything feels possible in his presence. LeesaGentz from Hussy Hicks joins him onstage to duet on 'Shallow' (apparently some other lady is well known for singing that one…) On 'Die Alone', he assures us that now he's got a reason for living "I ain't gonna die alone". There's a nice swamp-rock groove to the darkly-humorous 'Four Letter Word', that would sit comfortably next to Creedence or Tony Joe White at the table. Elsewhere a ZZ Top-esque boogie-rock manifests, and Nelson hits us with another stellar guitar solo which cements his place in the must-see list, if there were any doubt.
Heading towards the tent, a 'festival-freaker' cavorts around addressing the crowd: "I'm so wasted, but it doesn't matter because Ben Harper will sing to us and everything will be alright!"
I first saw Ben Harper play about 25 years ago, on the enthusiastic recommendation of a musician-friend: "You've GOT to see Ben Harper – YOU will love him!" Since that time Harper has endeared himself to audiences globally. For me, the primary motivation I can appreciate from him is his love affair with the tone of his guitar – whether played slide-style across his knee while seated, or standing and holding it the 'proper' way – although the temptation to play up the neck proves too strong. The resonance and warmth of the sound speaks for itself which, given that Harper's reserved and un-flashy stage presence takes a back-seat, has plenty of space to coil out of the speakers and ensnare the audience.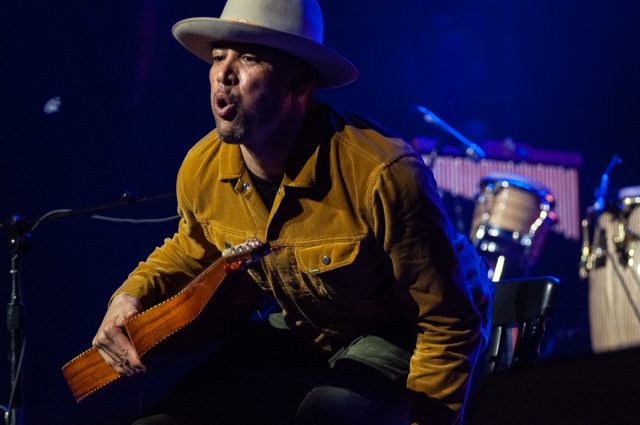 The restrained power of 'Whipping Boy' is a balance to the almost frivolous in comparison 'Steal My Kisses'. 'Fight For Your Mind' and 'My Own Two Hands' remind us to care about our place in the world as we travel it, in whatever form we do. Well-chosen covers include Stevie Wonder's 'Superstition', trading licks with the formidable bassist on Buddy Miles' 'Changes – "well my mind is going through them changes…", and Bill Withers' moody 'Who Is He And What Is He To You'. Kasey Chambers joins him for a duet at one point, her timbre a perfect counterpoint to his mellow vocal tone.
Harper plays for two-and-a-quarter hours, and seems reluctant to call time, modestly thanking "the best festival in the world – we feel like we were there at the start. I wouldn't be here today if it wasn't for that festival in 1995. This is the best night of our working lives – thank you!"