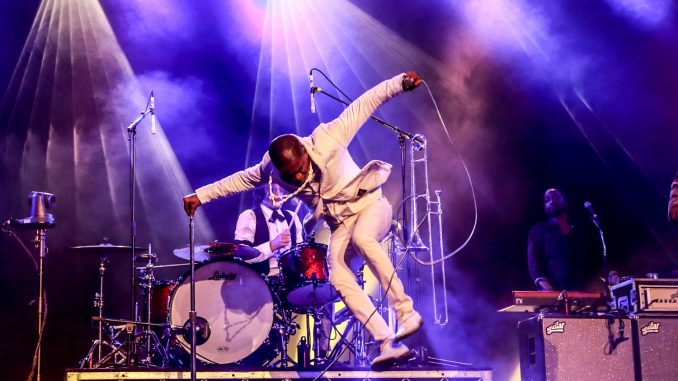 ByKerrie Hickin.
Bluesfest Day 5
In the past I've seen versatile vocalist Mojo Juju perform on lineups as diverse as at grungy rock venue The Old Bar and on a glamorous cabaret lineup – she's absolutely compelling and brilliant in any context. In the Delta tent, she took the stage and immediately seized and held the spotlight: "Let's see if we can create our own weather system in here."
You may have seen the stunning film clip for Native Tongue (if not please do so immediately) with its mystical dreamlike light and shade, cinematic, Mojo holding your gaze, daring you to step inside the world she has summoned. The music, as well as being entertaining, is IMPORTANT – please listen to her, really listen. There is so much more being said on many levels than mere pretty tunes (although these undoubtedly are that too). Yes it can be challenging, it can be confrontational, but we as a society and individuals need to be open to having these provocations, to be reminded of the lives of others even if acknowledgement thus may weigh heavy on our conscience in places. The impact of the past is still being felt, and will be into the unfolding future.
Mojo Juju's incredibly personal journey through identity, family, relationships and culture is as breathtaking as it is complex: "the loss of culture, language, and the grief surrounding that". I can't begin to extrapolate how moving her work is (and she wouldn't want me to – she dedicates the song Shut Your Mouth "to anyone who has ever tried to explain my experience to me although they haven't lived it") – everyone will have their own reaction, but the power of emotions behind the music speaks through generations, through history, through sadness and love and a search for truth: "our relationship with these things, with family… it's all from the heart". Words and actions have ripples and shadows and echoes. Effective is the synthesis of stories of life and experiences into songs written from different perspectives. "For every tear I ever wept, for every secret that I kept" she sings from the point of view of a family member, and your heart breaks too. "Please don't deprive me of my roots. I'll ask you once again, I just want the truth… I just wanna know". But there are emotionally uplifting moments too, dedicating this song to her grandparents: "I wanted to write a love song, not a sad one, so it's their story". It's particularly poignant that Mojo's drummer is "my best friend in the world, my brother".
Parallel to this search runs another interweaving path, a "vow to never again to sit by" when injustice or prejudice slithers out of its cesspit and into the light, but to "use my voice to benefit those without a voice". She encourages us to "have awkward conversations with people, even people you love" when necessary. "We're only here for now".
Of course, it could all be a grand fiction, a screenplay or prose piece that can be put away when concluded, but there is absolutely no doubt in my mind anyway that every word is rooted in authentic lived experience which is still in continuum – songwriting alchemy has turned life(s) into art, and it is an honour that it is being shared with us, and heroically so.
"My name is Deva. Are you ready to get a little deep and soulful with me?" Deva Mahal (yes, she's the daughter of Taj) has one of those stop-you-in-your-tracks voices: sweet, funky, powerful, ecstatic. A lifetime surrounded by music for many sources has fed her very personal style and dynamic stage presence – warmth seemed to radiate out of her and her band, inviting people in to enjoy the experience. Her sequined sun visor could be a metaphor for bringing the sparkle that reflects the light and shines to all corners (or maybe it was just holding her hair back…)
A former resident of New Zealand (she has guested with Wellington's Fat Freddy's Drop in the past), long-distance travel would be no stranger, but the flight to her Bluesfest debut apparently knocked her around a bit, however she seemed to be revitalised by the great crowd response she received: "When you travel 40 hours and don't know what awaits… I am tired, but you have given me so much energy".
At times song topics swung to the intimate and confessional, including tracks from her album Run Deep. She introduced one emotional song as being about "that step beyond unconditional love", before adding "…that's not quite so good for yourselves" then launched into a drop-dead stunner where she pleaded to be the object of the song's affection's "only one". She then changed tack again, bringing more dancing to the room, but with a conscious message: "It's all about love, and peace, and kindness, ya know what I'm sayin'? I don't believe in being nice… I believe in being kind."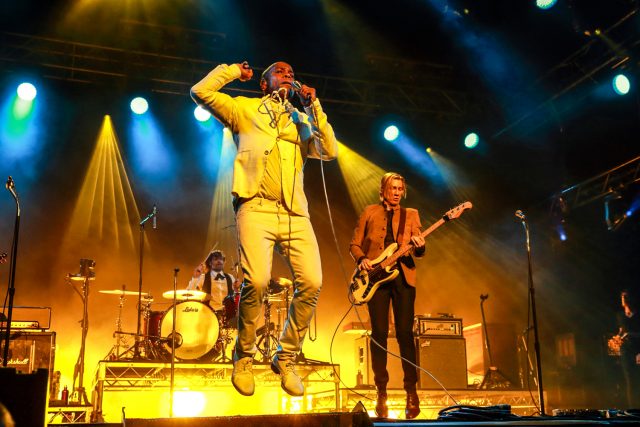 Vintage Trouble are pretty much the perfect contemporary Bluesfest act for my money: guitars, energy, style, tailoring, moves and awesome chops. Singer Ty Taylor must be close to one of the best front-men of the genre, his energy and showmanship are superlative. As well as having a great soul-rock voice, he can perform an acrobatic spin that would have James Brown reaching for his walking-cane. All eyes were on him as he busted through the crowd to sing from the mixing desk half-way to the back of the tent, then crowd-surfs his way back to the stage and… what's that? Is he doing an actual HANDSTAND over the heads of the crowd? I thought I'd pretty much seen it all but that was definitely something new. Taylor introduces Run Like The River and its "Run Baby Run" refrain as springing from his mother telling him to go to church after some impure thoughts: "Our new EP we brought out, it parties pretty hard, but also knows how to make love".
If you have the opportunity to see Vintage Trouble play live, you should absolutely do so, and be thoroughly entertained.
The Saboteurs, known as The Raconteurs outside the Australian market, are not just the Jack White show, although his presence is undeniable. Super-talented alt-pop underbubbler in his own right Brendan Benson is arguably as important to the alchemy here as the more recognisable White (check out Benson's One Mississippi, Lapalco or The Alternative To Love albums for some sublime thoughtful powerpop). An unexpected 'no photographers' edict was a curious stipulation, leading some to speculate on reason behind the unseasonable request. But that was forgotten pretty quickly when the music started. What The Saboteurs did deliver was really, really solid songwriting, rocking out or pulling back, sneaking in a surprise counterpoint to grab our attention, guitars celebratory, vocals blending well – not always an easy balance when one of them is quite recognisable. Two decades from his Detroit debut recordings, Jack White's omnipresence is such that you can forget just how influential he is, thumbs in many sometimes surprising musical pies, so collaborations such as this with Benson probably don't get as much proverbial press at the rightfully should. The set sounded great, followed by a lengthy encore culminating in 2006's 'hit' single (and subtle Joe Jackson tribute) Steady As She Goes. But as good as it was (and it was), for me, this night, after a long weekend of musical treats, my concentration waned and I was falling short of fulfilling my part of the bargain to be an attentive audience-member. I would LOVE the opportunity to see them play again, as my overwhelming impression was resoundingly positive.
So finishes another Bluesfest, a logistic triumph for the organisers, proud they should be. So, queuing up for a last-minute organic donut to convey me home, tired, boots muddy, happy (and tired). Only eleven-and-a-bit months until the next one. See you there?