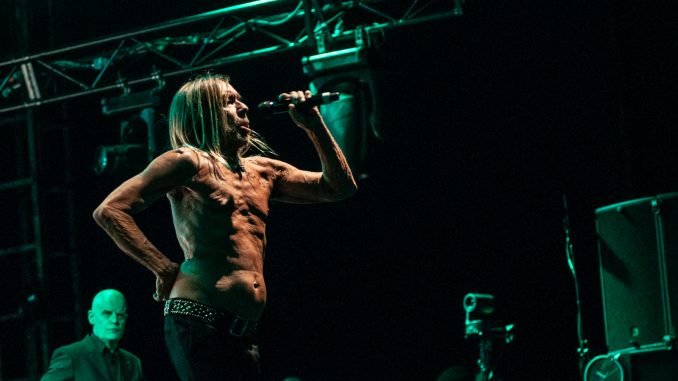 By Kerrie Hickin
Bluesfest 2019 – Day #2 (Photos by Michael Mackenzie)
Since her 2002 debut solo album Come Away With Me, Norah Jones has held a singular occupancy of her swoonsome territory. In the middle of a crowd in a darkened tent, raining outside, you can feel like you're floating in a warm ocean of music. Its easy to succumb, and Jones deftly directs us along the silvery path. You can close your eyes and be swept along with the current, buoyed by the elegance of the piano and the poise of the vocals, on a heart-shaped (or broken-heart-shaped) boat.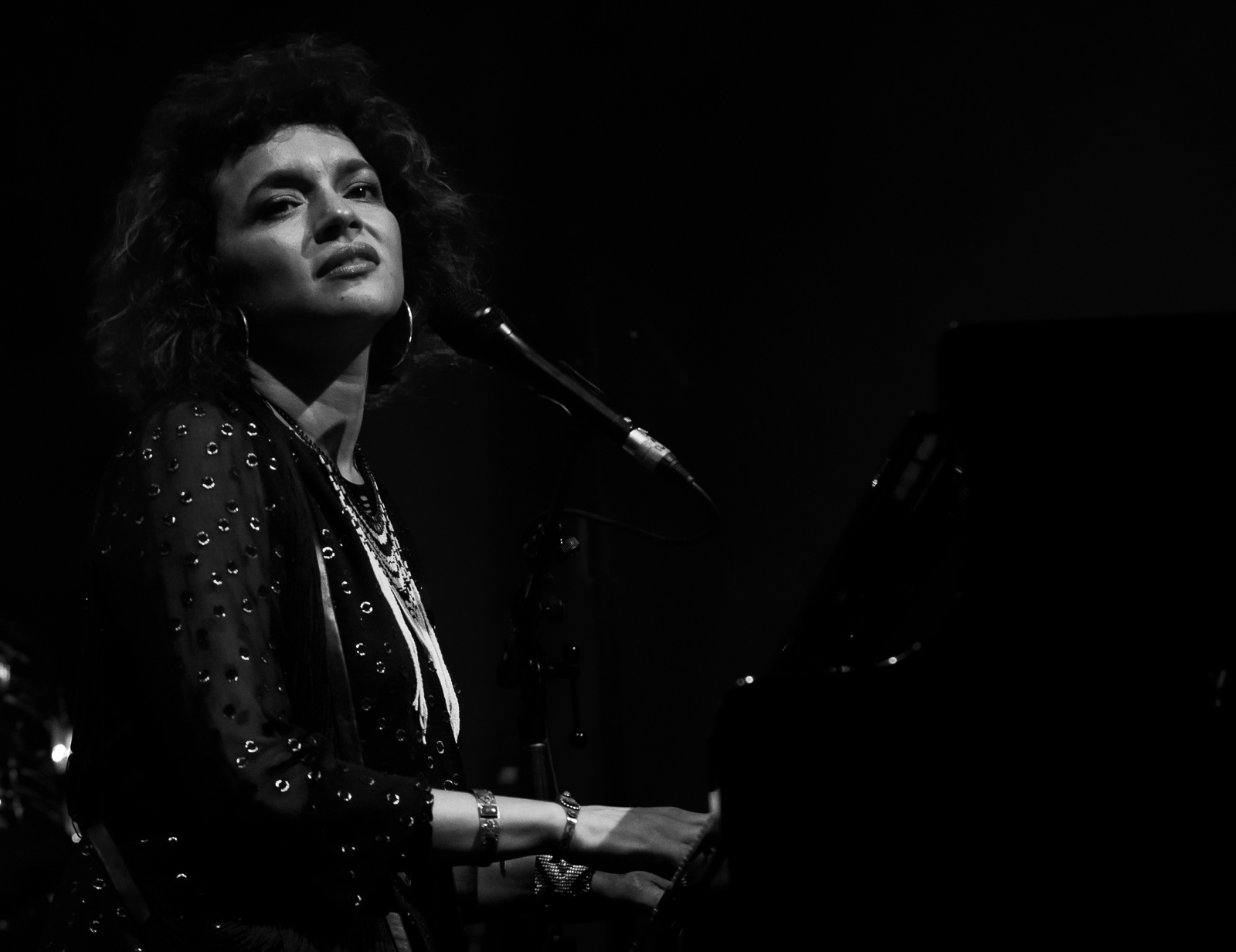 Seated at the piano for this performance, Jones directs the interplay between musicians on stage, occasionally switching to guitar for a few songs. The double-bass, pedal steel guitar, sweeping Hammond organ and subtle percussion provide an appropriate backing for Jones' expert playing and smooth vocals: dreamy and inviting. Her playing seems effortless, almost an independent entity.
As track one side one from Come Away With Me, the lyrically ambiguous 'Don't Know Why', for many the first song we heard from this then-emerging artist, purrs implied intimacies. The title track from that album is still an irresistible invitation. However, as soothing as it may seem, it's not just superficial sweetness: there is substance in the music too. Black, originally a collaboration with producer Danger Mouse, yields a sombre, cinematic tone, when "all that's left is black", but deftly cuts short of tipping over into Mazzy Star-style narcolepsy. 'My Heart Is Full' pulls a switcheroo, from acknowledging the hurt in the world to affirming a personal path forward. 'Flipside', from 2016's Day Breaks album, moves into rockier territory, stretching what we think we know: "I finally found know who I'm supposed to be," Jones sings, intimating that options are infinite.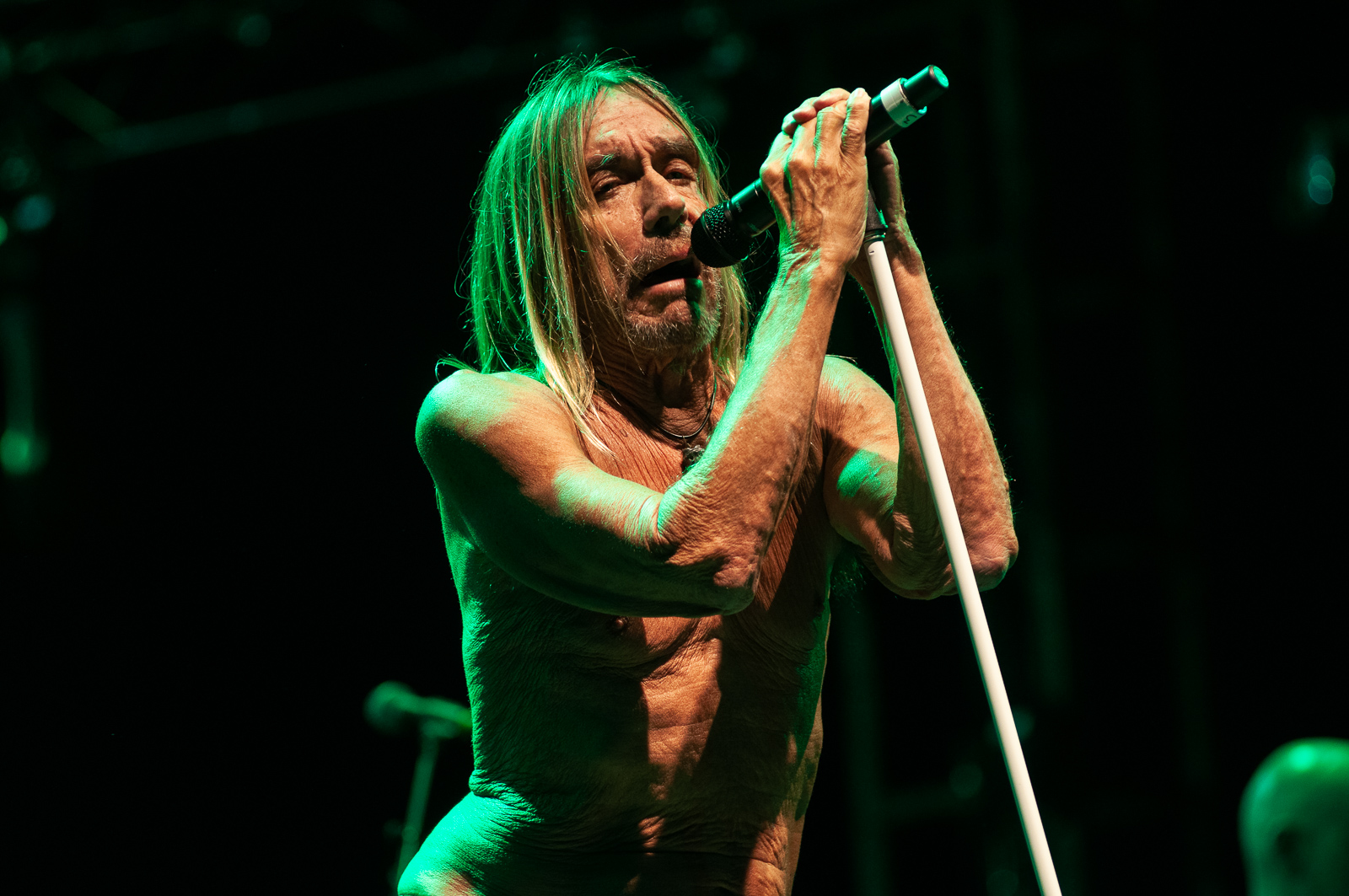 Iggy Pop's set starts with recorded dog barks, before that unmistakable descending riff pattern kicks in, taking us to the underworld. Already shirtless, James Newell Osterberg Jr takes to the stage, posing, pouting, mugging, wiggling his instantly recognisable body.
It takes a few bars of vocals for someone to realise that the mic wasn't faded up, but from there it was an incredibly solid greatest hits set – pretty much everything a fan (or semi-fan) could want to hear, from The Stooges, the Bowie/Berlin era, to a selection of later tracks – Skull Ring's 'Peter Gunn'-esque riffing being an example. 'Repo Man' was a welcome inclusion too. Iggy's debauched growl is unmitigated by his 71 years, his energy irrepressible. He's still a cheeky, naughty boy, teasing, waving his butt in an exaggerated bump-and-grind, the star of a sleazy cabaret that takes us for a tour through the seedy underbelly of life – 'Nightclubbing' and 'The Passenger' strutting around in a time-warp-town where city lights reflecting off sequins or leather jackets illuminate dark goings-on semi-obscured by shadows. Lust For Life, a blood-pumping heart-starting call-to-arms, got the crowd grinning like proverbial idiots. The band was tight and muscular, augmented by a horn section that added an extra dimensional layer to the music (particularly noticeable and effective on Five Foot One). Heavy rock, pre-punk, glam, Mr. Pop has had the proverbial nine lives, and tips a hat to his legacy – the Raw Power-era leopard-face-adorned leather cape he donned at one point was a deft touché to fans, as was looking like he MIGHT walk upheld over the crowd… The expression 'legend' is not one to be chucked around lightly, but this show was absolute proof that this recipient is more than worthy to bear it with honour.