Bluesfest – Tyagarah – Friday April 15, 2022
Photos by Steve Ford.
By the time we check into our digs and catch the bus to the beautiful Tyagarah Tea Tree Farm site things are already well under way, but just the relief at walking back into the festival fray after a two-year enforced lay-off is tangible and immediate. Things are a bit squelchy underfoot – given how much rain has fallen in the region of late the drainage around the site has been incredible – but nobody seems to care a jot, everyone just happy to be back amongst the vibrant throng of music lovers availing themselves of the diverse line-up of predominantly Aussie music.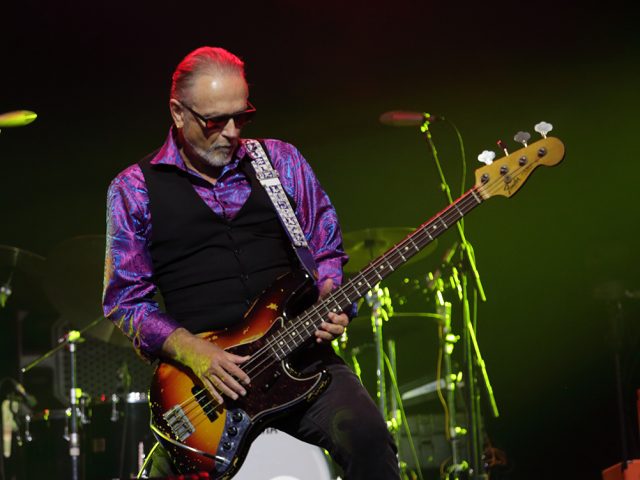 We rush straight through the action to the Crossroads tent where Oz rock icons The Church have drawn a massive afternoon crowd for their atmospheric '80s psych-pop, frontman Steve Kilbey having the crowd in the palm of his hand as he runs through a stream of radio classics such as 'Reptile', 'Metropolis', 'The Unguarded Moment' and 'Almost With You', and when the jangly opening chords of set-closer 'Under The Milky Way' reverberate through the tent the reaction in the crowd is intense and visceral, pockets of dancing erupting like wildfire.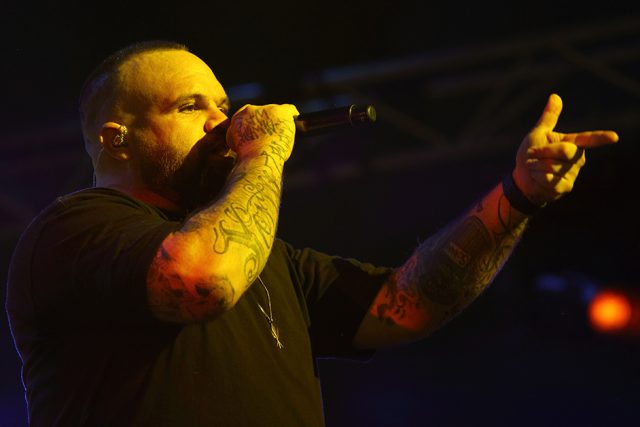 Over at the Mojo tent Yorta Yorta MC Briggs is at his fearsome best, inviting country icon Troy Cassar-Daley onstage to help with the confronting 'Shadows' – which Briggs adapted from TCD's own powerful 'Shadows On The Hill' – the rapper never taking a backwards step as he delivers his rhymes and rhetoric with utmost conviction. He gets the entire tent involved in crowd participation which includes a lot of extended middle digits, a galvanizing force, ripping through the powerful 'Bad Apples' before finishing with 'The Children Came Back', his epic reimagining of Archie Roach's timeless 'They Took The Children Away'.
Back over at the Crossroads tent Oz rock veterans The Angels – these days fronted by former Screaming Jets vocalist Dave Gleeson – are marvelling at how this is their first ever Bluesfest appearance, which seems strange given their lineage tracing back to their early days as a '70s jug and string band. The Brewster brothers still rock ferociously, early tracks like 'After The Rain' and 'Fashion and Fame' giving way to the ballad-esque 'Be With You' and then the crowd goes bonkers at the opening chords of the classic 'Am I Ever Gonna To See Your Face Again' and sing back the unofficial refrain ("No way, get fucked, fuck off!") with unbridled gusto like some weird Aussie rite of passage. They have a massive canon of hits and reel them off one after the other, bringing it home with a run of bangers in 'No Secrets', 'Shadow Boxer', 'Take A Long Line' and a rocking run through of 'Marseilles' to finish.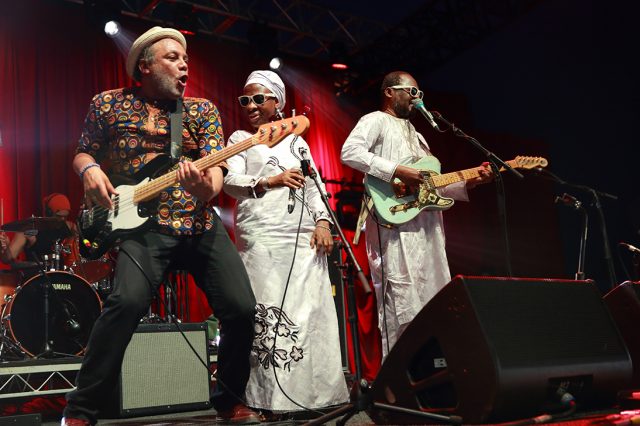 Over in the Delta set we're treated to international guests in the form of Mali duo Amadou & Mariam, who delight with their smooth blend of Afro-pop and more traditional rhythm and blues. It's a sound that's joyful and communal and a whole lot of fun, people relaxing into the music and letting their mind and soul wander off with the beguiling rhythms.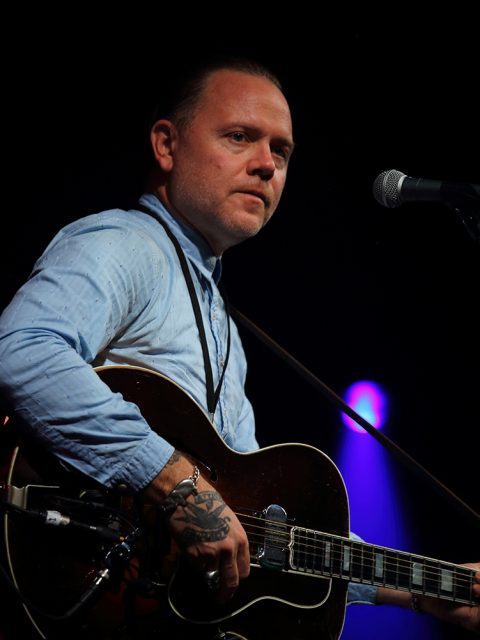 The Juke Joint stage this year is on an extended section of the site giving it a lot more size and substance, hokum blues living anachronism C.W. Stoneking pulling off the feat of winning over a massive crowd on his lonesome, clad as always in his debonair white suit and bow tie. He mumbles away between songs then jumps into a slew of traditional-sounding old-school blues numbers, the crowd happily joining him on his musical traipse back through time.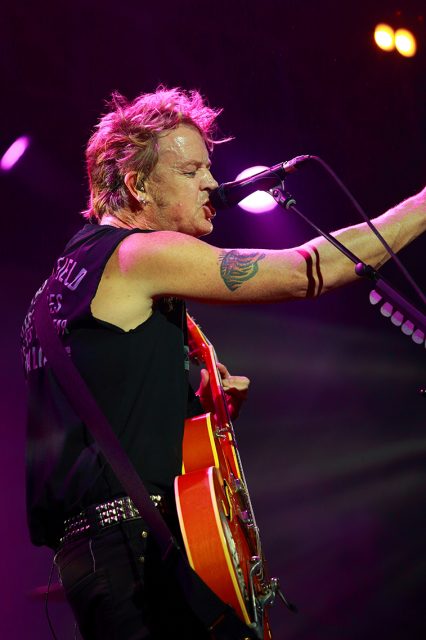 Back to The Crossroads where '90s rockabilly icons The Living End are strutting their stuff, and getting huge reactions to their catchy hits of yesteryear such as 'Second Solution' and 'Prisoner Of Society', while their cover of pop staple 'Tainted Love' elicits a slew of hollering and dancing. Double bass player Scott Owen is always fun to watch wrangling his huge instrument, while frontman Chris Cheney shows off his considerable guitar prowess on songs such as 'Uncle Harry' and 'West End Riot'.
Back over at the Delta Stage Tex Perkins is running through his Johnny Cash tribute show The Man In Black, a role he's always carried off with aplomb but one that seems to suit him more and more as he ages gracefully. It's always a fun experience and one that he does with a genuine reverence, and it's a pleasure watching his crack band bring back to life old school country staples like 'Three Feet High And Rising' and 'Sunday Morning Coming Down'.
'80s rock legends Hoodoo Gurus are still in fine fettle and sound enormous as they run through a swathe of their party anthems such as 'Tojo', 'Dig It Up', 'Death Defying' and the peerless pop of 'My Girl'. The guitar interplay between frontman Dave Faulkner and is offsider Brad Shepherd is natural and unforced but still packs a hefty punch, and they delight the packed throng with a run of classic numbers like the epic tribal stomp of 'Leilani' and the pop glory of 'Bittersweet', bringing things home in a blaze of glory with 'Miss Freelove '69', '1000 Miles Away', 'What's My Scene' and 'Like Wow Wipeout' to finish a typically brilliant display.
There's a lot of gravitas surrounding tonight's headlining set by rock pioneers Midnight Oil, given that this is their farewell tour and there's every chance that this will be the last chance we get to spend time with the legendary outfit. Their stage production is next level with video screens adding a visual component to their firebrand polemic, a trio of new songs opening the set before the opening frenzy of 'Dreamworld' drags out strong crowd recognition and ratchets things up a few notches. Frontman Peter Garrett rocks like someone half his age, still an incredible site to behold in the flesh as he writhes and contorts as the songs seem to flow through him like electricity, the whole tent turning into a writhing sea of humanity during tracks like 'Stand In Line', 'Don't Wanna Be The One', 'My Country', 'US Forces', 'Kosciusko' and 'Only The Strong'. Drummer Rob Hirst is still fit as a mallee bull and incredible to watch in full flight, and it's difficult to comprehend that this might be the last time we're ever treated to songs like 'The Dead Heart', 'King Of The Mountain', 'Blue Sky Mine' and 'Power & The Passion' in all their immense glory.
They've long been an immensely important institution in the Australian music scene and if this to be the Oils' last hurrah they sure go out with all guns blazing, finishing an incredible and moving performance by throwing in a blistering cover of The Saints' 'Know Your Product' in tribute to recently-deceased Brisbane legend Chris Bailey then bringing it all home with the epic final run of 'Beds Are Burning', 'Forgotten Years', 'Best Of Both Worlds' and 'Hercules'. It's sort of sad at the end but the feeling is ultimately more of celebration and a belated recognition of just how lucky we've been to have this amazing band in our lives acting as a de facto moral compass for all these years, still railing against injustice and inequity in their own inimitable fashion. Thanks for everything guys, you did us proud and rocked like no other in the process.