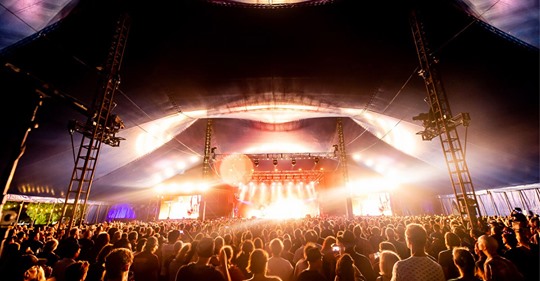 A lot can happen in a couple of days in the Covid-19 era. Just a few days ago we told you that organisers were assuring patrons that Bluesfest was going ahead this Easter weekend.
But late on Wednesday afternoon the ABC and Sydney Morning Herald reported that the festival had been cancelled.
The SMH reported that in a statement, NSW Health Minister Brad Hazzard signed a public health order cancelling the festival, scheduled to take part on the Easter long weekend.
"NSW Health acknowledges that the cancellation of Bluesfest is disappointing for ticket holders and event organisers, however while urgent investigations and contact tracing are ongoing, NSW Health is adopting a cautious approach to keep everyone safe," the ministry said in a statement, acknowledging the "outstanding co-operation" of organisers.
Previously on 30/3 we reported that:
Festival Director Peter Noble has been in contact with NSW Health and spoken with NSW Health Minister Brad Hazzard. He is expecting further updates from NSW Health and will remain in close contact in the coming days.
Based on advice from NSW Health, Bluesfest is NOT allowing ticket holders that are affected by the 3-day Queensland lockdown to attend the festival on the first day, Thursday April 1. They will keep ticket buyers from the affected area updated and advise them to check with the Queensland government to check regularly for updates on the current 3-day lockdown.
The lockdowns cover the council areas of Brisbane, Ipswich, Moreton Bay, Logan, and Redlands.
Bluesfest organisers are in continuous conversation with NSW Health and are committed to provide patron, artist, and staff safety at all times, when visiting Bluesfest.
When you are onsite, they ask every attendee to do the following:
· Do not attend the event if you show any symptoms of COVID-19
· Sign into the Service NSW QR code
· Stay socially distanced at all times
· Stay in your designated zone
· Sign into your designed zone daily
· Stay seated during performances
· Wash hands and use sanitiser
· Avoid co-mingling with other patrons
· For campers, stay in your designated camp areas
· Follow the direction of Bluesfest Staff and COVID-19 marshals