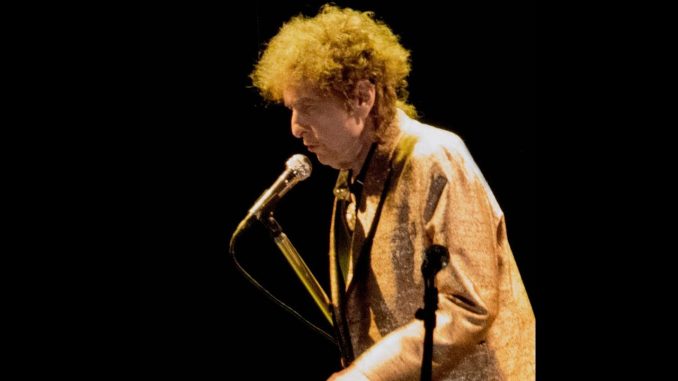 By Brian Wise
BOB DYLAN
Margaret Court Arena, Melbourne – Monday August 13, 2018
It is appropriate that Bob Dylan has been starting his shows with 'Things Have Changed.' Anyone who has followed his career over the decades knows that. Anyone who was expecting rote covers of his 'hits' would have also been warned at the outset. He might have added that things have charged for the better.
Last night at the smaller venue next to the Rod Laver Arena, Bob Dylan was in the best voice that I have heard in years. Maybe it was because the hall is only a third of the size of RLA that the sound was so good. Maybe it was because he is near the start of this leg of his 2018 that Dylan was so energised. Whatever the reason, this was a truly great show.
From the moment I recently heard a recording of Dylan and his band playing 'Desolation Row' in Florence, Italy, earlier this year, I had the feeling that this would be a good one. On that occasion the band rumbled into life and then cruised like a big V8 through the song. Last night it was the same, only better.
This is the Rolls Royce of touring bands! Long-time Dylan ally Tony Garnier anchors the band on bass. George Recile is as steady as Charlie Watts on drums and even gets to do a solo, while Donnie Heron colours the whole show on pedal steel, mandolin, and whatever else comes to hand. Stu Kimball provides the steady rhythm guitar. Lead guitarist Charlie Sexton, now on his third stint in the band, is almost centre stage, and just to Dylan's right. You can hear Sexton's Texas heritage in many of the songs and they are not that far from the sort of blues and country he might have played back when he was starting out with musicians such as Joe Ely in the halcyon days of the Austin scene in the '80's.
Then there is Mr Dylan himself on piano, vocals and occasional harmonica, playing and singing as well as I have heard him in recent years. That distinctive voice was as strong as I can remember it ever being – or at least in 20 years – and he seemed to be relishing the performance.
At times, such as on an explosive version of 'Thunder On The Mountain' – with Dylan's honky tonk piano, Sexton's searing guitar and Recile's frenetic drum solo – it sounded like the best bar band in Texas. When this engine is unleashed – as it was also on 'Highway 61,' 'Early Roman Kings' and 'Honest With Me' – this is a seriously great rock 'n' roll and blues b. If it isn't the best touring band in world at the moment I don't know what is.
Dylan seems to have left the Frank Sinatra songbook at home for this tour, so the set list would have pleased most fans with its complement of classic songs. The more recent songs might be less familiar but they might just have won people over ('Thunder On The Mountain') with their power or subtlety ('Soon After Midnight').
As for the interpretations of some of the classic songs? I suppose, is a matter of taste. I don't think anyone would quibble with the versions of 'It Ain't Me Babe,' 'Don't Think Twice It's All Right' and 'Blowin' In The Wind' (one of two songs in the encore). Think about the fact that some of these songs are nearly 60 years old and that Dylan is reinterpreting them to suit himself and the times.
Occasionally, as on 'Tangled Up In Blue,'the interpretation was so different that it took a minute to work out what song it was but once you did you could enjoy it in the same way that you might enjoy an improvised performance by a jazz musician. The fact that 'Gotta Serve Somebody' started with the band playing the 'Peter Gunn Theme' was a nice, humorous touch (an in-joke, perhaps?). After more than half a century of playing some of these songs surely this is the way for Dylan to keep them fresh for him to savour each night.
In the case of 'Desolation Row' – a song that could just as easily been written this year about the situation in America – that was worth the price of admission alone. The band works it into an epic that, towards the end, features them responding musically to Dylan's staccato vocals. Hard to explain but it is almost like a call and response. You never want it to end. Different from the original but every bit as good. If you had been puzzled by Dylan's reinterpretations, not sure what he was on about, then listen to this and you will have the answer. It is like listening to a great John Coltrane solo – mesmerising. (It's also one of the reasons I am going back for more tonight).
Of course, Dylan said nothing. Did he need to? Most people would have known who was in the band and would have been familiar with most of the songs. A loud announcement said that photography of any kind would not be 'tolerated.' Tolerated? Bravo. Thank goodness we didn't have to suffer people taking out their phones all night.
The evening closed after almost two hours with 'Ballad of A Thin Man,' by which time everyone knew that they had just seen and heard something very special. Even making allowances for the fact that I am an unabashed admirer of Dylan's I think most who were there last night would agree with my assessment.
In the end we got to spend two hours with not only the world's greatest living songwriter but the greatest of all time. Can you put a price on that?
BOB DYLAN SET LIST
Things Have Changed
It Ain't Me, Babe
Highway 61 Revisited
Simple Twist Of Fate
Duquesne Whistle
When I Paint My Masterpiece
Honest With Me
Tryin' To Get To Heaven
Make You Feel My Love
Pay In Blood
Tangled Up In Blue
Early Roman Kings
Desolation Row
Love Sick
Don't Think Twice, It's All Right
Thunder On The Mountain
Soon After Midnight
Gotta Serve Somebody
ENCORE
Blowin' In The Wind
Ballad Of A Thin Man