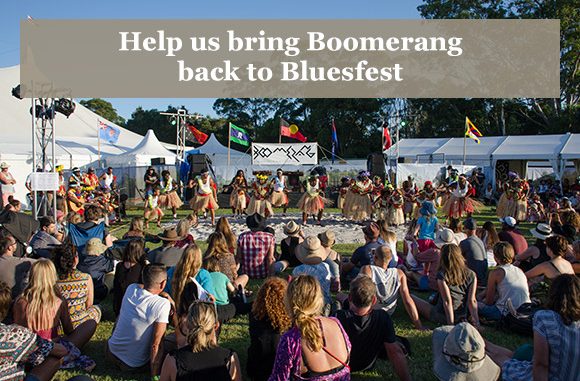 Boomerang Festival, Bundjalung country's very own world-class Indigenous arts & culture festival, is launching a series of satellite events to raise awareness and funds for its long-term future.
Boomerang Festival launched successfully in 2013 only to be hit with cuts to funding for both arts and Indigenous programming for the east coast of Australia, putting it on indefinite hiatus. Boomerang needs upwards of $800,000 to become a stand-alone festival once again, and a minimum of $200,000 each time it presents at Bluesfest.
Last year, Bluesfest Director Peter Noble OAM and Boomerang Festival Director Rhoda Roberts AO joined forces to present a Boomerang Festival precinct at Bluesfest to increase audience awareness, and provide access to the profound and beautiful culture of our First Nations people.
The ultimate goal for Rhoda and Peter is to make Boomerang Festival the foremost Indigenous arts and culture festival in the world. The ambition is huge, but Peter, Rhoda and their team believe the time is right and Australia is ready to step out on the world stage and become known as the destination for authentic and quality Indigenous cultural exchanges.
Local businesses and individuals are standing side by side with Boomerang, building an exciting, rich program of events that focus on creating access to Aboriginal culture and knowledge, and celebrating a united future together as country.
Details of each event will be released through the year, and information will be available via www.boomerangfestival.com.au
In addition to attending the events, you can donate any amount you chose on the homepage of www.boomerangfestival.com.au or at the time of purchasing your Bluesfest 2017 tickets via www.bluesfest.com.au
BOOMERANG PRESENTS SERIES 2016 – 17
Aboriginal Access • Cultural Awareness • United Future
OCTOBER 19, 2016
'WILD HARVEST' DINNER + FORAGING STORIES
HARVEST, NEWRYBAR
$70 dinner + $45 with matching wines
Bookings via Harvest only: https://harvestnewrybar.com.au/
NOVEMBER 9 – 20, 2016
BOOMERANG FESTIVAL PHOTOS + PORTRAIT EXHIBITION
HOSTED BY BEN KNIGHT
LAUNCH PARTY NOVEMBER 9
+ LIVE MUSIC + SILENT AUCTION
PHOTO FOX DEN, LISMORE
Launch party = $5
Venue info: http://foxphotoden.com.au/about
Launch party bookings: www.boomerangfestival.com.au
MARCH 19, 2017
JA NGAHRI – ANNUAL FUNDRAISING LUNCHEON FOR BOOMERANG
HOSTED BY HARVEST + THREE BLUE DUCKS
+ SILENT AUCTION + LIVE MUSIC (Special guests to be announced)
EARTH HOUSE, CLUNES
Luncheon = $180
Concert only = $40
Venue info: http://theearthhouse.com.au/
Bookings: www.boomerangfestival.com.au
APRIL 4, 2017
"ABORIGINAL AGRICULTURE & FARMING"
BILL GAMMAGE + ROB APPO + RHODA ROBERTS IN CONVERSATION
HOSTED BY BYRON BAY TUESDAY MEN'S CLUB
BYRON COMMUNITY THEATRE
On sale soon
Venue info: http://www.byroncentre.com.au/
APRIL 13-18, 2017
BOOMERANG AT BLUESFEST!
(Dependent on funding)
Tickets: www.bluesfest.com.au