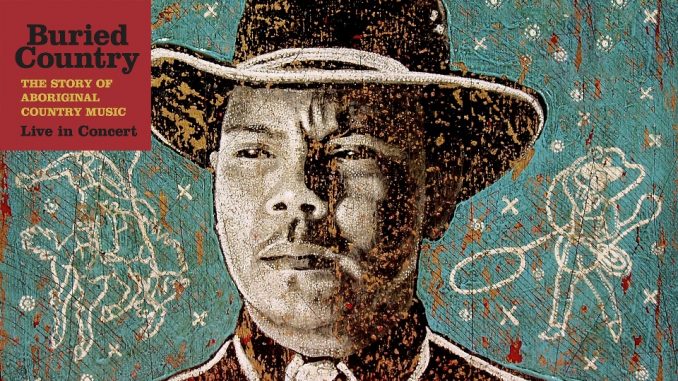 Buried Country: Live in Concert is a touring stage show version of Clinton Walker's iconic book/film/CD Buried Country: The Story of Aboriginal Country Music, the ultimate celebration of this deep indigenous tradition, and it is delighted to be able to announce that this coming January the Jimmy Little Foundation will co-present it in finally making an appearance at the Tamworth Toyota Country Music Festival.
Buried Country first came out in 2000, and after the book and album were re-released in new editions in 2015, it was this success that propelled it up onto the stage. The show premiered at the Newcastle Civic Theatre in August 2016, after initial rehearsals at Enrec Studios in Tamworth in January of that year, and it subsequently appeared at Melbourne Festival and Artlands Dubbo, and then even despite the sad death of cast-member Auriel Andrew, at the Port Fairy Folk Festival and Dark Mofo in Hobart in 2017.
Buried Country's Tamworth Festival concert at the Capitol Theatre on Sunday, January 21, then, is a much anticipated homecoming to where the show began two years ago, and its first full-scale performance at Australia's home of country music.
Buried Country: Live in Concert brings together a rotating cast of star singers from across the generations and across the continent performing a selection of the genre's greatest hits. It is a moving and coherent song-cycle full of laughter as well as tears, complete with a video-remix component drawn from the original Buried Country documentary plus a production design based on artwork by famed Aboriginal painter the Blak Douglas.
Buried Country appearances by legendary elders like Roger Knox and L.J. Hill with those by rising younger talents like Leah Flanagan, Luke Peacock and James Henry, and those in between like Warren H. Williams, Buddy Knox and Franny Peters-Little. House-band the Backtrackers, under the musical directorship of Brendan Gallagher, numbers an all-star line-up of some of the country's hottest pickers. The repertoire includes classic songs written by the likes of Bob Randall, Jimmy Little, Bobby McLeod, Vic Simms, Black Allan Barker and Harry Williams, many of whom cut their teeth in Tamworth.
Co-presenting the show in Tamworth is the Jimmy Little Foundation. Jimmy Little was the first Aboriginal musician to achieve mainstream success in Australia, and he enjoyed a career that spanned six decades. Jimmy's music saw him officially recognised as a National Living Treasure, awarded an Order of Australia, and inducted into the music industry's ARIA Hall of Fame in 1990, and onto Tamworth's Roll of Renown in 1994. He passed away in 2012 after a long illness. In January 2016, at the same time Buried Country was having its first rehearsals in Tamworth complete with a cast including Jimmy's daughter Frances Peters-Little and grandson James Henry, he was honored by the unveiling a broze bust that was added to the Country Music Trail in Tamworth's Bicentennial Park. The Jimmy Little Foundation is a non-profit organisation that carries on its namesake's dedication to the improvement of the quality of life and health of Indigenous Australians, and it is proud to co-present Buried Country in Tamworth.
Buried Country: Live in Concert has proved its popularity as a show that takes audiences on a journey that's at once sad, resolute and joyous, and it will ensure that the music – the songs and the stories – live on…
Buried Country: Live in Concert
Sunday January 21, 2018 at 8pm
Capitol Theatre Tamworth
Level 1 Centrepoint 374 Peel St, Tamworth NSW 2340
Tickets $28 ($25 conc)
Bookings: capitoltheatretamworth.com.au
WEBSITE:
FACEBOOK:
YOUTUBE CHANNEL: