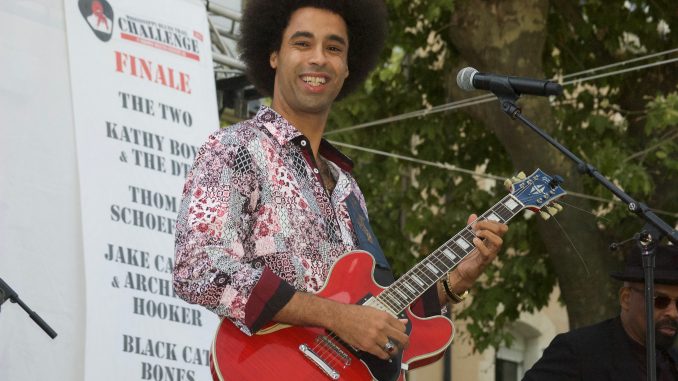 Cahors Blues Festival is now clearly the premier blues event in France, having comfortably overturned Cognac's claim for the title by remaining firmly rooted in blues music with many quality US and European players guesting on an annual baisis. Previous guests have included BB King and Johnny Winter, who played his last gig there before passing a few days later in July 2014.
This year, Taj Mahal topped the billing while others included Eric Bibb, young L.A./West Coast rock-bluesers, Vintage Trouble, the hard-hitting, huge sounding Sugaray Rayford, and International Blues Challenge winner of 2013, the Selwyn Birchwood Band.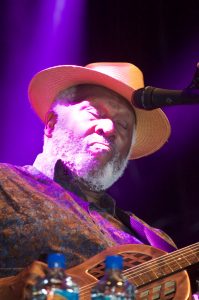 Selwyn Birchwood and band are fast becoming festival favourites both in the USA and Europe, a hard-working outfit that always turns in a set that sparkles with unexpected ability and originality. This year their current album on Chicago's Alligator label, "Don't Call No Ambulance," featured strongly; while in the midst of one track they slipped in a delightful, well-balanced bit of Mississippi John Hurt as a bridge before ripping off again with some BB King inspired blues-work.
Sugaray Rayford tore the place apart with his huge presence and equally powerful voice. Vintage Trouble rocked along loudly with many tracks taken from their recent 'Hopeful Road' release.
Taj Mahal hit the stage surrounded by an array of guitars, banjos and even a jangling tarropatch. Unfortunately for him, perhaps, it was an unseasonably coldish evening and his purposefully strong start petered-out a bit, possibly due to fatigue or chilled hands/fingers that had an adverse affect on his picking: he certainly complained loudly and frequently about feeling cold during his set, which was sadly somewhat disappointing as a result.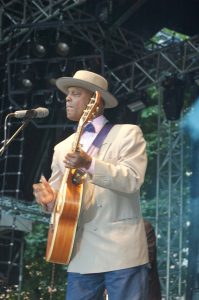 In reality the star turn proved to be the ever-likeable Eric Bibb, here teamed with his old Parisian buddy Jean Jaques Milteau on harp, supported by Larry Crocket on drums and French bassist Giles Michel. This is pretty much the line-up on Bibb's 2015 album, 'Lead Belly's Gold,' and the set mirrored this with stirring takes on "Good Night Irene"; "Midnight Special"; "House of the Rising Sun"; "Bourgeois Blues" and "When That Train Comes Along' where he slides seamlessly into 'Swing Low, Sweet Chariot," to close. The packed crowd clamoured for more and Bibb obliged with one of his most popular, personal tracks, "Needed Time."
Iain Patience