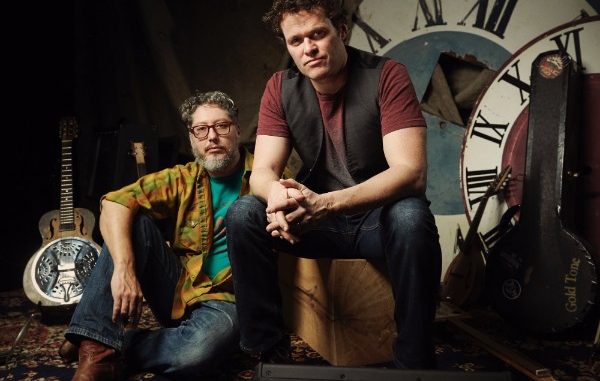 Canadian roots music sensation and former boxer Gordie Tentrees is no stranger to Australian shores with 2017 clocking up his third visit in as many years, with friend and fellow Canadian roots singer Jaxon Haldane. This time the pair are exploring the West on an epic 17 date tour across Western Australia including a spot at the Nannup Festival and shows in Perth, Geraldton, Margaret River, Bunbury, Warwick and many more.
Fresh off a 200-date world tour that started a year ago here in Australia before snaking its way around the world hitting UK/Ireland, Europe and North America, Tentrees and Haldane will be performing with 9 instruments (banjo, mando, dobro, cigar box guitars, harmonica, musical saw, acoustic guitar, porchboard bass) brotherly harmonies and masterful storytelling.
His sixth album "Less is More" brings together his knack for melody with his amazing ability to hold an audience in the palm of his hands (both during and between songs!) and is a deeply personal, moving, melodic and sometimes humorous look at life through the eyes of a unique and infectious personality.
Produced by Juno award winner Bob Hamilton who also contributes textured beauty with tasteful tones, the album features Tentrees blend of folk, roots and blues sounds on which Tentrees plays dobro, guitar, harmonica, porchboard bass with stellar accompaniment from Aiden Tentrees on upright bass & Fabian Brook on guitar and fiddle. The album also includes guest appearances by Patrick Hamilton, Annie Avery, Lonnie Powell and the voice of east coast darling 2015 Juno winner Catherine MacLellan.
https://soundcloud.com/gordietentrees/5-deadbeat-dad
GORDIE TENTREES 
WITH SPECIAL GUEST JAXON HALDANE:
WEST AUSTRALIAN TOUR 2017
FRIDAY 17 FEBRUARY, 2017
Mundaring Folk & Blues Club, Mundaring, WA
SATURDAY 18 FEBRUARY, 2017
Johns House, Gwelup, WA
SUNDAY 19 FEBRUARY, 2017
Redcliffe on Murray, Pinjarra, WA
TUESDAY 21 FEBRUARY, 2017
Mojo's, Fremantle, WA
WEDNESDAY 22 FEBRUARY, 2017
Club Acoustica, Scarbourough, WA
THURSDAY 23 FEBRUARY, 2017
Lulu Concerts, Duncraig, WA
FRIDAY 24 FEBRUARY, 2017
Wintersun Hotel, Geraldton, WA
SATURDAY 25 FEBRUARY, 2017
WAFF Workshop 2pm, Warwick, WA
SUNDAY 26 FEBRUARY, 2017
Dorchester Hall, Warwick, WA
Carine Glades Tavern, Duncraig, WA
MONDAY 27 FEBRUARY, 2017
Supper Club, Maylands, WA
TUESDAY 28 FEBRUARY, 2017
Perth Blues Club, Perth, WA
WEDNESDAY 1 MARCH, 2017
Always Good Concerts, Bunbury, WA
THURSDAY 2 MARCH, 2017
Manjimup Highschool 1pm, Manjimup, WA
Warren Arts Council, Manjimup, WA
FRIDAY 3 MARCH, 2017
Nannup Music Festival, Nannup, WA
SATURDAY 5 MARCH, 2017
Settler's Tavern, Margaret RIver, WA
For more information and ticketing details, visit: