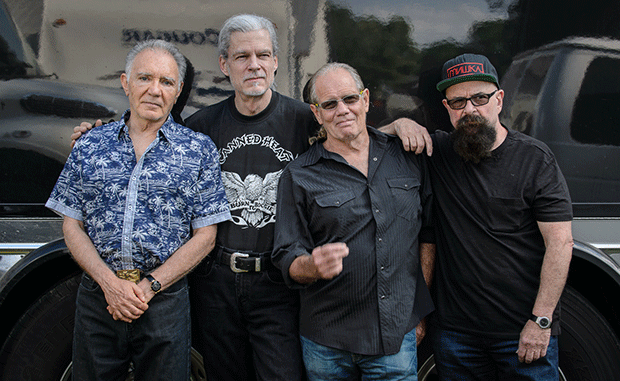 Canned Heat, are on their way down under in May for gigs in Melbourne, Sydney, Newcastle, Gold Coast, Newcastle, Sale and Albury.
Canned Heat have been a global phenomenon for 40 years, when they first gained international attention and secured their niche in the pages of rock 'n roll history with their performances at the 1967 Monterey Pop Festival (alongside Jimi Hendrix, Janis Joplin and The Who) and as headliners at the original Woodstock Festival in 1969.
Their Top 40 Country-Blues-Rock songs, On The Road Again, Let's Work Together and Going Up The Country became anthems throughout the world with the latter being adopted as the unofficial theme song for the film Woodstock. Their cover version of Wilbert Harrison's Let's Work Together was actually their biggest hit as it rose to No. 1 in 31 different countries around the world.
Now, more than fifty years later and with thirty-eight albums to their credit, Canned Heat is still going strong. The lineup for their tour includes founding members Fito de la Parra & Larry Taylor plus long standing members, John "JP" Paulus & Dale Spalding.
Tickets on sale now!
CANNED HEAT
2019 AUSTRALIAN TOUR DATES
Thursday 16th May
Corner Hotel, Richmond
Tickets available from: www.cornerhotel.com
Friday 17th May
Yarraville Club, Yarraville
Tickets available from: www.yarravilleclub.com
Saturday 18th May
Evan Theatre, Penrith Rugby Leagues Club
Tickets available from: www.ticketek.com
Sunday 19th May
Broadbeach Blues Festival, Gold Coast
Tickets available from: www.bluesonbroadbeach.com
Tuesday 21st May
The Wedge Theatre, Sale
Tickets available from: www.thewedge.com.au
Friday 24th May
SS&A Club, Albury
Tickets available from: www.ssaclub.com.au
Saturday 25th May
Bridge Hotel, Sydney
Tickets available from: www.bridgehotel.com.au
Sunday 26th May
West Leagues Club, Newcastle
Tickets available from: www.westsnewcastle.com.au