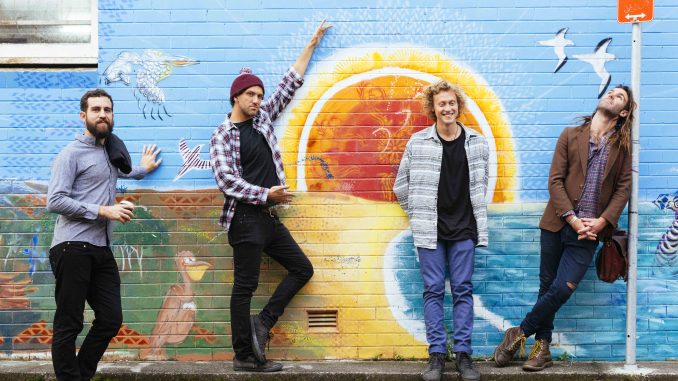 For too long they've been slowly teasing undeniable singles and breathtaking film clips but now plucky Sydney quartet Carãvan Sun are laying their cards on the table with the release of their latest album Guerrilla Club.
It's been quite the journey from conception to elevation for Carãvan Sun with the band playing over 500 shows all over the world in the last five years. Back on home soil and ready to gift their people with an album that hits right in the sweet spot between cushy pop and crashing surf rock, Guerrilla Club is all about the band expressing their love for Australia.
"Each song of this album has a one common thread that bounds them together and that's through our connection to country. Our homeland, Australia, has fostered most of these tracks and continues to be a huge inspiration." Says vocalist/guitarist Luke Carra
Not content with just being a celebration of all things Australiana, the Sydneysiders brought in some serious Aussie heavyweights to help bring Guerrilla Club to life. Recorded at Wasteland Studios in WA Aussie music stalwart and Eskimo Joe Guitarist Joel Quatermain was enlisted to draw out the record's hidden sounds.
"Joel worked us hard and encouraged us to develop more of a groove based record rather than trying to directly represent our live sound." Says Carra "It resulted in the most contemporary sounding record we have made but it still delves through retrospective angles"
27 days locked in a studio later and Carãvana Sun emerged with a polished piece of art entitled Guerrilla Club. Now is the time to take this record to some of the places that inspired it. Embarking on a massive twenty-two date national tour, Carãvana Sun are hitting everywhere from Collingwood to Yallingup on their quest of musical exploration.
An album so full of otherworldly imagery and highly evolved instrumentation is sure to explode into a shining success for the band. Tack on an extensive national tour and you've got all the right elements for a sparkling end to Carãvana Sun's 2016.
Carãvana Sun's new album Guerrilla Club is out Friday 2nd September but the band have given us the first listen. Check it out below alongside all the tour dates.
16th SEPT – The Loft – Waranambool *
17th SEPT – Torquay Hotel – Torquay *
18th SEPT – Gasometer Hotel – Melbourne *
21st SEPT – UOW UniBar – Wollongong *
22nd SEPT – Small Ballroom – Newcastle *
24th SEPT – Macleay River Festival
25th SEPT – Great Lakes Winery – Wootton
30th SEPT – Yamba Golf Club – Yamba *
1st OCT – Caloundra Music Festival
2nd OCT – The Gov – Adelaide
5th OCT – The Cidery – Bridgetown **
7th OCT – Boston Brewery – Denmark **
8th OCT – Fremantle Arts Centre – Fremantle **
9th OCT –  Caves House – Yallingup **
14th OCT – Divers Tavern – Broome **
15th OCT – Divers Tavern – Broome **
20th OCT – Solbar – Maroochydore *
22nd OCT – The Zoo – Brisbane *
28th OCT – Oxford Art Factory – Sydney *
29th OCT – Granite Town Festival
Supported by:
Nocturnal Tapes * | Michael Triscari **
More info & tickets: www.caravanasun.com