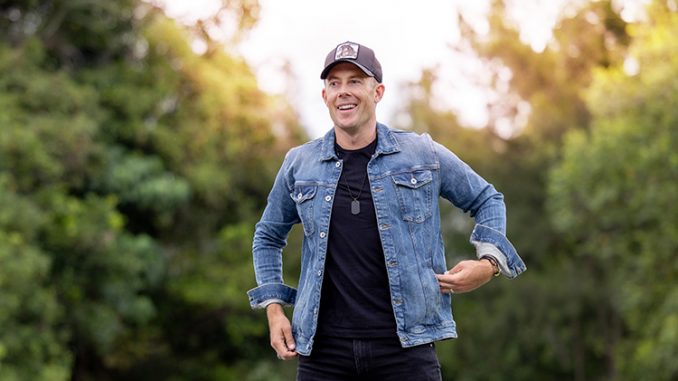 Australian music has a new star named Barnes. He's lighting up the country and pop charts.
By Jeff Jenkins
Casey Barnes smiled when he saw the itinerary for the tour to promote his new album, Light It Up. The run of 26 dates across every state aside from WA – "it made me exhausted just reading the tour poster" – started with a show at the Forth Pub in Forth, a small village in north-west Tasmania. It was, said Barnes, "a full-circle moment".
It was at the Forth that the aspiring artist first stepped on stage.
Inspired by his mother, young Casey picked up the guitar. "My mum has always been extremely musical and she was doing a music course at one of the local colleges in Devonport," he explains. "They formed a little band and one of the ladies in the band was doing a show that night and that's why they got me along."
Barnes played Eric Clapton's 'Tears In Heaven'.
"I had my little electric guitar and pretended I knew what I was doing," he laughs. "My music teacher was incredible and he used to let me take home CDs from high school to learn how to play along with them. And Eric Clapton's Unplugged was one of the albums."
At the time, Barnes and his family were living in a small town called Turners Beach, nestled between Devonport and Ulverstone. By the time of his first "proper gig", a few years later, his family had returned to Launceston. Every morning, walking to school, Barnes would note the acts listed on the blackboard outside the Irish Murphy's pub, thinking: "If I could just get my name on that blackboard, I've hit the big time."
He ended up doing a Tuesday night at Irish Murphy's; an inauspicious beginning for an artist who's now one of the hottest stars in Australian country music, but characteristic of a guy who always dared to dream big. It was no accident that his breakthrough album was called Town Of A Million Dreams.
Barnes recalls discussing his music dream with his parents when he had a stable job at Flight Centre. "I was doing gigs on the side and it got to the point where I thought I could do it full-time. I sat down with mum and dad and said, 'I think I'm going to have a crack at doing music full-time.' And they backed me."
Barnes' recording career started with an independent release called Say What You Feel. And that's when an Australian sporting legend enters the story.
John Eales, Australia's most successful rugby captain, was looking for someone to perform at a series of corporate gigs during a Wallabies test series. At the end of the run of shows, Barnes gave Eales a copy of his CD and thanked him for the opportunity.
A week later, Eales phoned him. "I've had your album in the car all week and I think it's fantastic," the rugby great said. "I want to see if I can help you."
A few days later, Barnes' phone rang again. It was a booking agent from the long-running concert event A Day On The Green. "I thought it was a prank call," Barnes says, "but they wanted me to open for Bryan Adams."
It was another serendipitous moment. Barnes' first album – a Christmas gift –had been Adams' greatest hits collection. "So that was pretty awesome."
That makes for a great RocKwiz story, as does Barnes' first concert – Johnny Cash. Barnes was just six years old when he saw the legendary American artist, supported by John Williamson, at the Launceston Showgrounds. He remembers standing on his toes, desperately trying to get a peek at The Man in Black.
A few years later, his next big gig was Dire Straits at the Brisbane Entertainment Centre. That experience hit home a couple of years ago when Barnes found himself on stage at the same venue. He looked out at the crowd and could remember the exact spot where he sat for Dire Straits.
When asked to explain his musical journey, Barnes says simply: "I've always just tried to work really hard. It's taken me a long time to get to where I am now. And I'm really appreciative."
While making Town Of A Million Dreams, Barnes' producers and co-writers MSquared – Michael Paynter and Michael Delorenzis – sat him down for a heart-to-heart chat. "We really think this is your best record," they said. "Have you thought about getting the right team behind you? Who would be at the top of your list?"
"Michael Chugg," Barnes replied immediately.
Chugg – known to all as Chuggi – is a legend of Australian music. He's managed artists such as The Church, Richard Clapton, Kevin Borich, Billy Thorpe, Sunnyboys, Jimmy and the Boys, Sheppard and Lime Cordiale, and as a promoter he's toured the world's biggest acts, including Bob Dylan, Elton John and Frank Sinatra.
"Why don't you send him a couple of songs?" Michael Paynter suggested.
A few weeks later, Barnes was at the gym when Chugg's son, Nick, called. "We love what you're doing," he said. "Would you be up for coming to Sydney and chatting some more?"
Barnes and Chugg hit it off – "we're both from Launceston and we both love our footy" – and Barnes was added to the Chugg Music stable. Soon after, he was doing a signing after his set at the Groundwater Country Music Festival. "When people tried to push in, Chuggi came out and put on his big grumpy voice. That was my first taste of him taking charge, it was great."
Chugg is well known to Australian concertgoers. His autobiography came with the distinctive title: Hey, You In The Black T-Shirt. When he took to the stage to try to calm an out-of-control crowd during Guns N' Roses' 1993 Australian tour, Chugg yelled, "Hey, you in the black T-shirt, slow down!" Hundreds of punters – all wearing black T-shirts – stopped and wondered who this strange man was.
Chugg is Barnes' biggest fan. "It's unbelievable how good his live show is," he says. "We're proud to be taking his music to the world."
Barnes – now based on the Gold Coast – has found a happy home in the Australian country scene, with a swag of Golden Guitar nominations. "I'll never forget my first nomination," he says. "I was a new kid on the block and obviously I have a different sound to your traditional country. Tamworth is big on hanging on to the traditional sound, which I love. Anyway, I was in the room with a lot of my idols when the nominations were announced and the first bloke who came over to shake my hand was Troy Cassar-Daley who made me feel just totally comfortable and welcome. I'll never forget that."
Barnes is also looking internationally – more than two-thirds of his YouTube views are from the US. But no matter where he goes, he will never forget where he came from. Back and Forth. A town of a million dreams.
Light It Up is out now on Chugg Music. Casey Barnes is playing at Bluesfest 2022.
CASEY BARNES TOUR DATES
FRI FEB 25 – FORTH PUB – FORTH, TAS (SOLD OUT)
SAT FEB 26 – MATHINNA COUNTRY CLUB – MATHINNA, TAS
SUN FEB 27 – LONGLEY HOTEL – LONGLEY, TAS
FRI MAR 4 – THE GREAT CLUB – SYDNEY, NSW
SAT MAR 5 – CAPITAL COUNTRY FEST – CANBERRA, ACT
FRI MAR 11 – YAMBA BOWLING CLUB – YAMBA, NSW
SAT MAR 12 – THE BARN – PORT MACQUARIE, NSW
FRI MAR 18 – VILLAGE GREEN HOTEL – MULGRAVE, VIC
SAT MAR 19 – MORNINGTON CMF – MORNINGTON, VIC
SAT MAR 26 – NORWOOD HOTEL – ADELAIDE, SA
SUN MAR 27 – COUNTRY BY THE RIVER – MURRAY BRIDGE, SA
SUN APR 10 – GOULBURN VALLEY CMF – SHEPPARTON, VIC
FRI APR 15 – BLUESFEST – BYRON BAY, NSW
SAT APR 16 – BLUESFEST – BYRON BAY, NSW
SUN APR 17 – ROMA'S EASTER IN THE COUNTRY – ROMA, QLD
SUN APR 24 – TAMWORTH'S COUNTRY BBQ – TAMWORTH, NSW
FRI APR 29 – HARVEY ROAD TAVERN – GLADSTONE, QLD
SAT APR 30 – GREAT WESTERN HOTEL – ROCKHAMPTON, QLD
FRI MAY 6 – CAMBRIDGE HOTEL – NEWCASTLE, NSW
SAT MAY 7 – BIG COUNTRY FESTIVAL – BERRY, NSW
FRI MAY 13 – HAMILTON HOTEL – BRISBANE, QLD
SAT MAY 14 – DALRYMPLE HOTEL – TOWNSVILLE, QLD
FRI MAY 20 – RACEHORSE HOTEL – IPSWICH, QLD
SAT MAY 21 – MIAMI MARKETTA – GOLD COAST, QLD
FRI AUG 25 – GYMPIE MUSIC MUSTER – GYMPIE, QLD
SAT AUG 26 – GYMPIE MUSIC MUSTER – GYMPIE, QLD