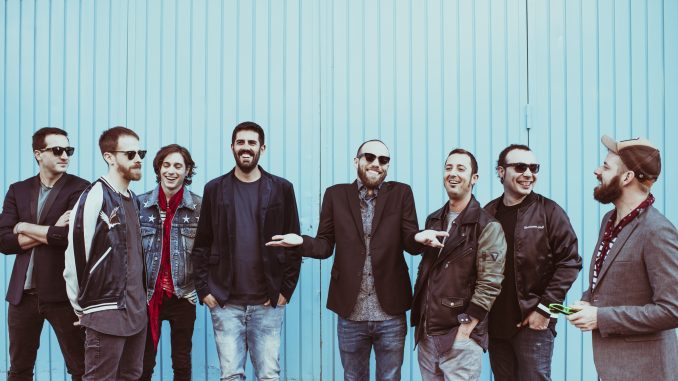 After releasing their critically acclaimed record "Ahora o Nunca" last month, the band have returned to our shores, after playing an outstanding hip shaking run of shows in 2017.
La Pegatina's sixth studio album is a vibrant mix of modernity, freshness and improvisation. With 15 years of music and more than a thousand concerts in 30 countries to their name, the sounds of "Ahora o Nunca" are imbued with La Pegatina's rich tapestry of nuances and tempos.
English speaking front-man Adria Salas gives us the track-by-track breakdown of the seven language masterpiece which we are happy to be exclusively premiering here on Rhythms. The band land in Perth tomorrow, followed by Melbourne and Sydney.
See below for tour dates, tickets and a stream of their new album.
Ahora o Nunca: It's a song that talks about the dehumanisation of big cities, taking as an example what's been happening in Barcelona in recent years in terms of gentrification. It features Macaco, who's also from Barcelona.
Y volar: This song features the Argentinian band Los Caligaris, whom we've toured with many times in Mexico. "Y volar" is about living life from summer to summer, with free-flowing optimism.
Sonqueson: This is closely related to the previous song. In fact, it could even be an epilogue for "Y volar". Sometimes, we find people or groups of people with whom it's easier to live life more lightly and intensely.
Algo está pasando: The lyrics of this song epitomise the spirit of the album. Featuring Rozalén, a singer-songwriter we really love, the song is about changing ourselves on the inside in order to then change all that surrounds us.
Stand & Fight: The song in English on the album, written by Romain. It's a plea for humanity to unite to tackle the refugee crisis, among other things. We're all human beings and we must treat each other equally.
La tempestad: They say that after the storm comes the calm. This song is a mantra for bad times. If you repeatedly sing "llegó por fin la tempestad" ("the storm finally arrived"), it ends up receding. The song features Eva Amaral, one the best Spanish singers around, whom we admire greatly. 
Solo yo: This is a song sung by Rubén about the freedom that must exist in relationships. It's important to keep being yourself, and to let others be themselves too.
Mama: A fun song asking our parents to let us be bad, or at least how we want to be! They're always trying to instill in you the importance of studying and being a good person, but sometimes they go too far and don't let you develop your own personality.
Dale!: This song talks about nerves, about how they often get the better of us and lead us to make bad decisions. It's important to be aware when nerves are affecting your behaviour, and to not let them paralyse you.
Eh Madame: A song in Catalan that sums up everything we've said on the album. It ends with: "Ahora hay corazón donde había hueso, y habrá piel donde había escudo, adiós a la tristeza por lo que se ha perdido. Ahora hay fe donde había Dios, y habrá voz donde había embudo. Dime: quién piensa por ti?".
("Now there's heart where there was bone, and there'll be skin where there was armour, goodbye to sadness for what's been lost. Now there's faith where there was God and there'll be a voice where there was a funnel. Tell me: who thinks for you?).
AUSTRALIAN TOUR DATES
Friday 18th May – The Badlands, Perth
Tix Link › https://tickets.oztix.com.au/?Event=82237
Saturday 19th May – Max Watts, Melbourne
Tix Link > https://tickets.oztix.com.au/Default.aspx?Event=82256 
Sunday 20th May – Max Watts, Sydney
Tix Link › https://tickets.oztix.com.au/Default.aspx?Event=82255