MICHAEL DOUCET & TOM RIGNEY
Cajun Fandango
Parhelion Records/City Hall Records
Cajun/Blues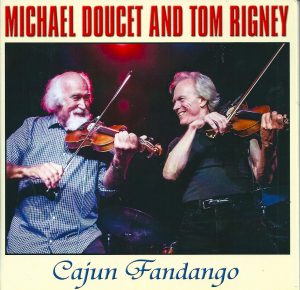 Cajun Fandango is a perfect pairing of two of Cajun-roots music's finest musicians. Kicking up a positive storm they are joined on this wonderful release by guitarist Danny Caron (Marcia Ball, Clifton Chenier), Caroline Dahl on keys, Steve Parks, Bass, and Brent Rampone on drums. The resulting band sound is bouncing, banging, thigh-slapping brilliance. This is an outfit with clear attitude and a joi de vivre that pours from the disc.
Doucet has long been acknowledged as a Cajun-roots fiddle master. As frontman with highly acclaimed Louisiana outfit Beausoliel, he has picked up a few Grammys and a US National Heritage Fellowship for his work with the music. Rigney comes from California and has fronted swamp-rockers the Sundogs in the past and now steers West Coast Cajun outfit Flambeau with his own brand of hi-octane, hi-energy fiddle-work and vocals. Both guys are steeped in the tradition of blues, swamp-blues and rock and Cajun music generally.
Many of the thirteen tracks here are written by the pair themselves while cracking, crackling covers of a couple of JJ Cale's finest tracks, "Call Me The Breeze" and "Last Will & Testament" are also included together with Louis Jordan's "Early In The Morning."
There's always a debate about whether Cajun can be called true "Blues." The sheer quality and explosive good-fun factor with this album render these petty distinctions redundant. This is simply great fun-fuelled good music played by top quality musicians at the top of their game. What more could be asked for?
Iain Patience