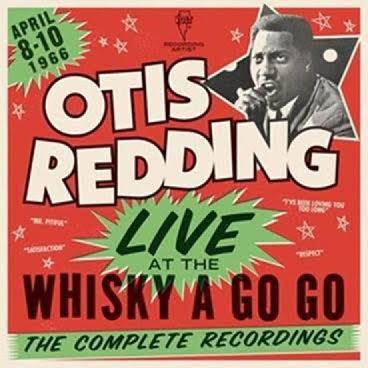 Stax Records
Soul
I'm not a great fan of many 'F' words save for the ubiquitous, essential four-letter variant, but this sixty-four track, six-disc release is simply stunning, fantastic, fabulous fun, fun, fun. Loaded with previously unreleased live tracks, it works sheer magic.
A live 1966 recording from the ubiquitous Whisky A Go Go club in West Hollywood back in the days when soul music was in the ascendency, it has a fair bit of repetition in the tracks. After all, this was Redding at his best, juggling his recorded tracks with his live set on a night-on-night basis for a changing crowd, over three nights, but always aware of their expectations. As a result, some numbers repeat in each of the six discs that comprise the sixty-four track set: "Satisfaction" from the Stones, "Respect,"  "Mr Pitiful" and others that are forever Redding's, repeat time after time through the batch.
But for all that, this remains a hugely successful release, stacked and packed with Redding's wonderful voice, deep feeling and understanding. With a reputation for quality, soul music at its very best, this long-overdue release of Redding at his peak is bound to be of interest to all lovers of good soul music. And they won't be disappointed.
By Iain Patience