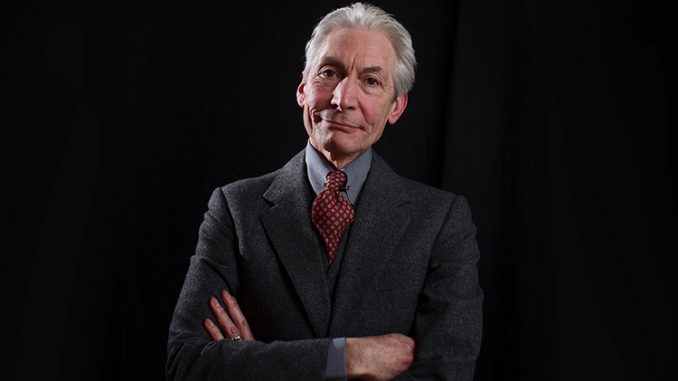 Charlie Watts, the Rolling Stones drummer for nearly 60 years, has died aged 80. Watts passed away on Tuesday August 24 in London.
Watts' London publicist, Bernard Doherty, issued a statement that said: "It is with immense sadness that we announce the death of our beloved Charlie Watts. He passed away peacefully in a London hospital earlier today surrounded by his family. Charlie was a cherished husband, father and grandfather and also, as a member of the Rolling Stones, one of the greatest drummers of his generation."
Earlier this month, it was announced that Watts was to miss the band's forthcoming US tour as he recovered from an unspecified medical procedure that was reported to have been successful. (Watts' seat on the tour was to have been taken by Steve Jordan who had played with Keith Richards in the X-Pensive Winos).
Watts was born on June2, 1941, in London and raised in Wembley, north-west London, and later Kingsbury. Watts became a jazz fan early in his life nd got his first jazz kit as a teenager. He attended art school, became a graphic designer and played in a variety of jazz and blues bands, joining Alexis Korner's Blues Incorporated in 1962, playing next to Jack Bruce. Watts met Brian Jones and later Mick Jagger and Keith Richards, leading to the formation of the Rolling Stones with Watts joining in 1963 and living with them in a flat. He later admitted that he thought the band would only last a week!
Watts became renowned for his rock solid, unembellished style that enabled the band to transition from clubs and theatres to arenas and stadiums and become the world's biggest band. He famously said, on the 30th anniversary of the group that he 'had worked for five years and spend 20 years hanging around."
Watts also pursued his love of jazz and recorded a series of albums from 1986 with the Charlie Watts Orchestra, Quintet and Tentet. Watts also recorded an album with fellow drummer Jim Keltner and The ABC & D of Boogie Woogie with piano player Ben Waters.
Many high profile musicians have been paying tribute to Watts. Ringo Starr, who wrote: "God bless Charlie Watts we're going to miss you man peace and love to the family." Paul McCartney said: "He was a lovely guy. I knew he was ill but I didn't know he was this ill … Charlie was a rock, and a fantastic drummer … Love you Charlie, I've always loved you – a beautiful man." Elton John wrote: "A very sad day. Charlie Watts was the ultimate drummer. The most stylish of men, and such brilliant company."
Mike Kappus, head of the Rosebud Agency that represented Watts in his jazz projects posted: "Shocked and truly saddened by the passing of Charlie Watts today. He was the epitome of class and taste. Arguably the quietest of The Rolling Stones yet, in concert with The Stones, Charlie typically got one of the loudest and warmest crowd responses when introduced. Charlie went through his difficult years like all the rest but he came through with great dignity and humility."
"Even Charlie's drum kit was appropriate to his nature. Driving one of music history's greatest Rock & Roll bands, whose sound filled stadiums mightily, he used the most minimal drum kit possible – a kit more likely seen with jazz rather than Rock & Roll bands – like Charlie, no need to be ostentatious – just do the job well."