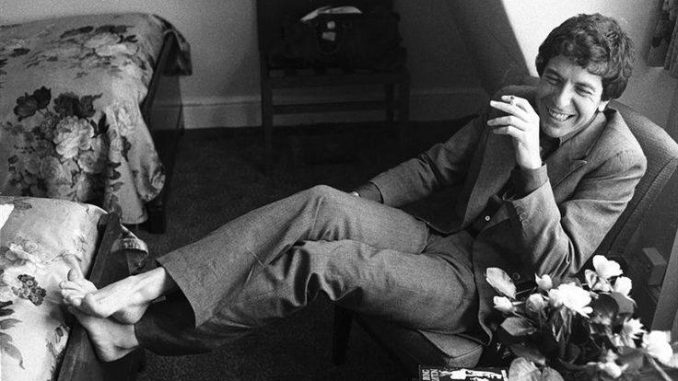 Cairns Convention Centre, November 26, 2013
Seven words are all that's required to explain the worldwide phenomenon that Leonard Cohen in concert has become, and they came from the mouth of the man himself early on in the Cairns leg of his current and, in all probability farewell, 10-date tour of Australia.
"Tonight we'll give you everything we've got," the legendary poet and singer-songwriter earnestly promised, and over the following three hours the Canadian and his crack 9-piece multi-national band duly honoured that pledge.
Cohen was both munificent and magnificent, exuding oodles of charm and grace as he belied his 79 years with a characteristically generous 26-number show that contained pretty well all of the signature songs from his six decades career, free of fuss or ado.
There were no flash trappings or artifice, just a stage full of dark suited and mostly hatted musicians and techies going about their business in consummate fashion. There was no Jaggeresque gyrating from the great man, just the odd hop and skip, genuflection and supplicatory bowing and doffing of hat to the band. Praying mantis was his preferred position, as befits a sober septuagenarian.
Cohen countered the gravitas of his songs with some droll remarks. "Thank you for endangering your household budgets," he quipped to a packed auditorium, in deference to three-figure ticket tags. "Are you humouring me?" he laughingly inquired, alluding to his advanced years, after a Grade 8 keyboard solo in 'Tower Of Song' elicited wild applause from the adoring throng. Cohen's spasmodic guitar playing was rather more effective, although similarly basic.
The laughter was leavening. Attending a Cohen show can be likened to a religious experience. The deep ecclesiastical tone, worthy of a pontiff, and the biblical allusions in his hymn-like songs to remorse, retribution, revenge, repentance and other mass nouns beginning with the letter 'r', certainly promote reverence.
Cohen's slow enunciation and sonority peaked in the more romantically inclined offerings. A large female audience swooned as one when the dapper Canadian launched into a stripped back rendition of his gentle ballad 'Suzanne'.  You could hear a pin drop during an impeccably delivered recitation of 'A Thousand Kisses Deep': "And sometimes when the night is slow/ The wretched and the meek/ We gather up our hearts and go, A Thousand Kisses Deep." He oozed urbane sexuality and masculine assurance in 'I'm Your Man', another set highlight for this inveterate fan. In rockier mode, Cohen and band's stirring rendition of 'First We Take Manhattan', which concluded his first encore, had punters bopping in the aisles.
The members of Cohen's classy backing band were equally mesmerising as each took a turn in the spotlight without a vestige of ostentation. Needless to say, their primary function, of contributing to ensemble excellence, assisted Cohen immeasurably in replenishing audience connections to his incomparable back catalogue.
Bassist/MD Roscoe Beck (in a tight-as engine room with Mexican drummer Rafael Gayol) and his fellow Americans guitarist Mitch Watkins and principal back-up vocalist Sharon Robinson demonstrated the assurance and poise that comes with having enjoyed an association with Cohen extending back to 1979. Whether in unison or 3-part harmony, Charley and Hattie Webb combined symbiotically with Robinson, especially so on 'Come Healing'. The UK sisters brought the house down on their own in a folky duet rendition of 'If It Be Your Will'.
Javier Mas provided exotic colouring on bandurria and other Spanish lutes, crafting a riveting intro to 'Who By Fire' on his bass laud. Moldavian Alexandru Bublitchi's beautifully constructed gypsy fiddle breaks were similarly effective. A scintillating Hammond B3 solo from Neil Larsen lifted 'Hallelujah', a song that has just about been done to death thanks to a landslide of cover versions.
By the end of a marathon concert that seemed to pass with indecent haste, the audience rose as one to accord the tireless Leonard Cohen and his magnificent band the standing ovation they so richly deserved. The show will linger long in local memory banks.
SET LIST

First Half

Dance Me to the End of Love

The Future

Bird On The Wire

Everybody Knows

Who By Fire

Darkness

Amen

Come Healing

Lover Lover Lover

Anthem

 

Second Half

Tower Of Song

Suzanne

Chelsea Hotel #2

Waiting For The Miracle

In My Secret Life

The Partisan

Alexandra Leaving*

I'm Your Man

A Thousand Kisses Deep

Hallelujah

Take This Waltz

 

Encore:

So Long, Marianne

Going Home

First We Take Manhattan

 

Encore 2:

Famous Blue Raincoat

If It Be Your Will**

Closing Time

* performed by Sharon Robinson

** performed by the Webb Sisters
By Tony Hillier