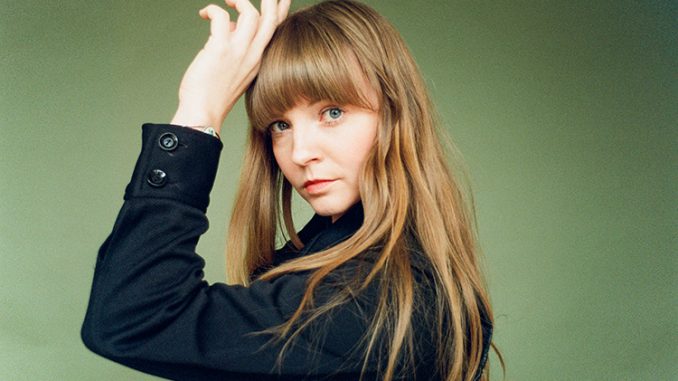 Love Police Touring presents a rare chance to see not one but two of the very best young American singer-songwriters together on the one bill when Courtney Marie Andrews and Erin Rae visit Australia in March 2022.
Arizona's Courtney Marie Andrews, who has been compared to '60s and '70s greats like Bonnie Gentry and Linda Ronstadt, is no stranger to Australia. But she's been through some big life changes since we last saw her, and you can hear about that on her latest album Old Flowers, which the NME described as "devastatingly intimate and open-hearted", "meditative" and "exquisite", and which Rolling Stone said brought "to mind classic Bob Dylan and Joni Mitchell." Old Flowers, which also received a 5-star review in the Times in the UK, continued Andrews' international ascent which began in 2016 with Honest Lifeand which took a further step with May Your Kindness Remain in 2018. 2021 has also seen the publication of her first book of poetry, Old Monarch.  
First time visitor, Nashville-raised Erin Rae, will arrive just weeks after the release of her highly-anticipated second album Lighten Up, which is released February 4 on Thirty Tigers/Cooking Vinyl and available for pre-order here. Recorded by Cosmic Country polymath Jonathan Wilson in the musically hallowed grounds of California's Topanga Canyon, the album sees Rae, who has been compared to a young Joni Mitchell and Jackson Browne, embracing more of her influences, like baroque-pop and indie-folk, while mirroring a more compassionate self-view she calls "accepting my humanness".
COURTNEY MARIE ANDREWS with ERIN RAE MARCH 2022 TOUR
Thu March 3 – CANBERRA THEATRE , CANBERRA, ACT
https://canberratheatrecentre.com.au/
 
Sat March 5 – ELTHAM HOTEL, ELTHAM, NSW
 https://moshtix.com.au/v2/event/courtney-marie-andrews-w-erin-rae/133941
 
Sun March 6 – THE ZOO, BRISBANE, QLD  – awaiting direct link
https://zoo.oztix.com.au/outlet/event/91be19c9-4bb5-43c9-8cba-2331576a07f9
 
 Tue March 8 – FREMANTLE ARTS CENTRE, PERTH, WA
https://fac.oztix.com.au/outlet/event/a32445b6-87ac-4019-9b44-ef0c0f12d1b7
 
Thu March 10 – SYDNEY RECITAL HALL, SYDNEY, NSW
 https://tickets.cityrecitalhall.com/events/6152
 
Sat March 12, Sun 13 – PORT FAIRY FOLK FESTIVAL, PORT PAIRY, VIC
https://portfairyfolkfestival.com/tickets/
 
Tue March 15 – WESLEY ANNE, MELBOURNE, VIC
https://bookings.nowbookit.com/?accountid=2e486b80-557d-4ee1-96d2-0293e6c28789&theme=light&accent=hex,212121&venueid=5918&date=2022-03-15&serviceids=event_HH577GV7TQC96_1638936406188
 
Wed March 16 – THE ESPY, MELBOURNE, VIC 
 https://moshtix.com.au/v2/event/courtney-marie-andrews-with-erin-rae/133898
 
Fri March 18 – BRIDGE HOTEL, CASTLEMAINE, VIC
 https://thebridgehotel.oztix.com.au/outlet/event/527432ac-a24e-4c00-9282-46dd08cb17f5
 
Sat March 19 – ARCHIE'S CREEK HOTEL, ARCHIE'S CREEK,  VIC
https://www.trybooking.com/events/landing?embed&eid=847762
 
Sun March 20 – WESTWOOD, MELBOURNE, VIC
https://www.eventbrite.com/e/224366053907 


TICKETS ON SALE TUESDAY DECEMBER 14, 2022. 9AM AEDT