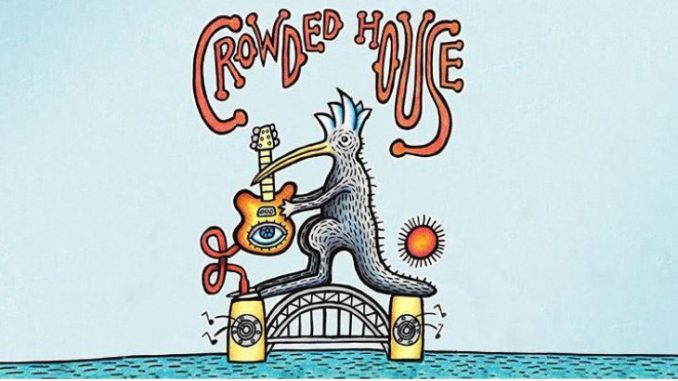 It seems hard to imagine now but the first Crowded House album almost tanked in Australia.  Known as The Mullanes (Neil's middle name) until not long before release, the trio had to emerge from the towering reputation and spectre of Split Enz with their self-titled offering. Though it had a few media friends – myself included, I'm proud to say – it seemed to lurk in some sort of commercial limbo for a good six months before its inherent genius was recognized and both airplay and sales were forthcoming.. The Americans took to it with a certain enthusiasm, sending two singles from it into the top five (though they then turned their backs on the band, leaving it to the U.K. and the rest of the world to embrace all that followed).
I was reminded of that when Crowded House opened with what was side one, track one – Mean To Me – on the steps of the fourth and final Encore performance on the steps of Sydney Opera House. Part of a commemoration of the free Farewell To The World concert they had given to the people of Sydney twenty years before.
I've seen (and sometimes been involved with) some concerts of considerable significance on the steps of the Sydney Opera House – probably the world's most dramatic backdrop – going back to the Concert Of The Decade in 1979 and including Simply Red's farewell performance. But twenty years ago I was in the back blocks of Wyoming when Crowded House bade their farewell at that location, on very short notice, and I've always regretted it.
It was an often-sublime experience, to be able to hear Neil Finn's perfectly crafted pieces of pop rendered not just by him but by the massed voices of five thousand devotees, who knew every line. By the time he reached the likes of the anthemic Don't Dream It's Over there were people in my eyeline not just singing along with abandon but doing so with tears in their eyes.
For me the highlight was Tim's arrival on stage to render Woodface songs and to underline the remarkable sibling bond that exists between the pair (not always the case in rock'n'roll – refer the Fogertys, Gibbs and Knopflers). Over four decades I have be able to observe up close, through interviews and reviews, the vehicles that have seen them align their abilities, from Split Enz, to collaborations like the Finn project and Crowded House. I truly believe that they have contributed singly and together some of the finest moments in Australasian (indeed international) popular music. And from the joy that erupted around me as the concert moved towards its conclusion I'm certainly not Robinson Crusoe.
The powerful humanity rolling off the stage – something always embodied in the songs – proved incredibly infectious. The sound of Te Awamutu still has a truly sacred ring. As we heard in the melodic majesty of Something So Strong, Weather With You, It's Only Natural, Chocolate Cake, Four Seasons In One Day, Private Universe, Distant Sun, Better Be Home Soon, Fall At Your Feet, Into Temptation, World Where You Live and more. No wonder Paul McCartney once hailed Mr. Finn's songwriting prowess.
Paul Hester was there only in spirit and through the dutifully rendered Italian Plastic but Nick Seymour was there on Neil's left looking as if all his Christmases had come at once – a happier bass player one has rarely seen. Indeed the sense of communal joy, on both sides of the stage, was so palpable that it was positively bloody infectious.  We've all heard the promotional phrase 'Back by public demand' well let there be no doubt that that was what was taking place.
Then, two weeks later, inside the concert hall, another truly special experience.
It struck me as a bold, even brave move – standing on stage in the concert hall of the Sydney Opera House telling the tales of his tempestuous childhood. Sometimes harsh, sometimes hilarious, sometimes harrowing, these chunks of Jimmy Barnes' biography Working Class Boy came to life in a musical setting with his eldest daughter Mahalia (so appropriately named!), a pianist (son Jackie) and a guitarist (son-in-law Ben Rogers) and a range of guests that included son David Campbell, brother-in-law Mark 'Diesel' Lizotte and even a funky bunch of Scottish bagpipers led by eternal Wiggle Anthony Field. Swanee was a couple of rows in front of me, as were a couple of the other Tin Lids. As with all Barnes' events, it was a family soiree. It was particularly moving to have Campbell walk out on stage after the origins of his conception and arrival in the world were so graphically presented. The y launched into Reflections of My Life, by the Glasgow pop outfit Marmalade.
Though there were performances – Mahalia's In The Upper Room, Big Joe Turner's Shake Rattle & Roll, Chisel's Flame Trees, When The War Is Over and Four Walls – the real meat of the matter was 60 year old  Jimmy's revelations and recollections.
I've known Jimmy for more than 35 years. I've toured with him, found songs for him, interviewed him endlessly, written notes for him, penned cover stories on him, seen his children come into the world and been on the receiving end of his kindness (when I had open heart surgery). I have a huge regard for him as a person and as a performer and it was warming to have him invite me along to this rather special night. Backstage, those paying homage and partying-on ran the gamut from the Shadow Minister for the Arts Tony Burke to key music industry figures to those who have crossed his path in myriad ways over the decades.
There were moments during the show when you could have heard a pin drop. Those in that hallowed venue knew without question that what was being related to them had the unmistakable ring of truth. It was not a performance that one was likely to see again. I described what he did on stage as bold and I say that. as someone who has lived through a few of those experiences myself. All power to you Mr. Barnes.
Oh, and one interesting connection. The name of the Barnes biography was suggested by one Neil Finn.