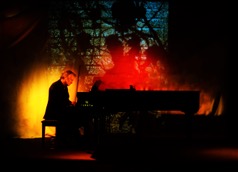 On the eve of the release of his first solo album in six years, David Bridie was today announced as the recipient of the Australia Council Don Banks Music Award. One of Australia's most prolific and deeply respected songwriters, David Bridie this week releases his new and sixth solo album, The Wisdom Line (MGM), a multi-media collaboration with filmmakers and visual artists. Its launch is followed by two launch event screenings in Melbourne and a national tour in June.
The Australia Council Awards acknowledge the contribution that Australian artists have made to the arts and cultural life of the nation. These prestigious national awards recognise outstanding and sustained contributions by Australian artists in music, literature, community arts and cultural development, emerging and experimental arts, visual arts, theatre, and dance. Australia Council Don Banks Music Award is named in honour of Don Banks, a composer, performer and the first Chair of the Music Board. The Award acknowledges the achievements of a distinguished artist who has made an outstanding and sustained contribution to music in Australia. David Bridie was nominated for the award by music industry peers, who acknowledged the breadth and depth of his work in many roles throughout the music sector, as well as his role as pioneer in cultural diplomacy in the Pacific region. Previous recipients of the award include composer Liza Lim, Archie Roach AM and Peter Sculthorpe.
Across six studio albums with acclaimed nineties Australian band Not Drowning, Waving, seven more with beloved chamber-pop group My Friend the Chocolate Cake, five award-winning solo albums and over 100 film and television soundtracks, David Bridie has established himself as one of the country's most sensitive artistic voices. The spirit of collaboration and community continues to drive The Wisdom Line – his first solo album in six years – which releases March 8. A special edition is available on vinyl with an accompanying book of images taken by David and several photographers and visual artists, expanding upon the piano-based album's lyrical meditation on asylum, home, borders, fleeting relationships, and the desire to make genuine connections.
Produced by Ian Caple (Shriekback, Tindersticks, Tricky), The Wisdom Linewas recorded in both Melbourne and Eastbourne, UK, and is released through MGM. The album and films will be launched in Melbourne with two very special events at the Thornbury Picture House on Tuesday 12 March and at the Classic Cinema in Elsternwick on Wednesday 20 March, ahead of a national concert tour in June 2019.
NATIONAL TOUR DATES
12 March · Thornbury Picture House 
Premiere screening of The Wisdom Line films + Q&A with David Bridie
20 March · Classic Cinemas 
Screening of The Wisdom Line films + solo performance by David Bridie
1 June · Chapel off Chapel, Melbourne
7 June · Trinity Sessions, Adelaide
13 June · Sydney Opera House, Sydney
28 June · The Street Theatre, Canberra
27 July · The Peacock Theatre, Hobart
Tickets available at www.davidbridie.com