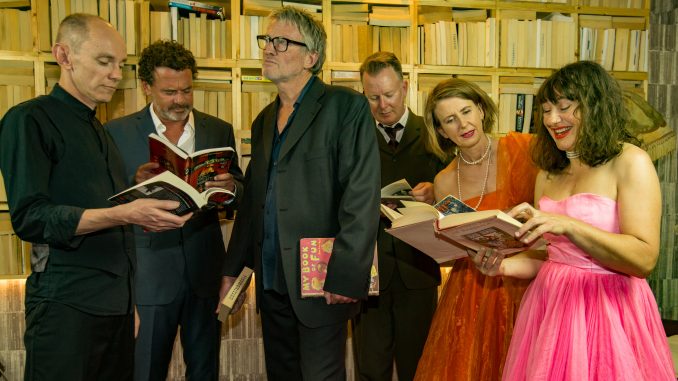 The songwriting genius of David Bridie combined with the glorious strings of Helen Mountfort's cello and Hope Csutoros's violin are high in the curious collision of elements that have made My Friend The Chocolate Cake a big concert draw, triple ARIA winners and a vivid presence on countless film and TV soundtracks for more than two and a half decades.
TONY HILLIER quizzed bandleader Bridie about the secret of the Choccies' longevity and about their excellent new album, The Revival Meeting.
TH: When you put the band together way back in 1990 it was envisaged only as a short-term side project I believe. So what changed your thinking? And what factors do you think account for MFTCC's impressive longevity in a world where pop bands come and go with indecent haste?
DB: Yes, the band started as a short-term side project for Not Drowning Waving to play three gigs only, at Madigans on Sydney Road … hence the ridiculous name. The shows seemed to work and we just kept going. We found an audience, or they found us, and we just chugged along at a pace that was conducive to how we wanted to play it out. That we were initially a side-project has maybe helped us to keep at arms length certain things in the music industry that tire you out. Perhaps not having a world domination plan. Having reasonable expectations maybe enabled us to be confident of our weird idiosyncratic path, only playing in fits and spurts, half instrumentals half songs, all acoustic, textural, the range of styles that we incorporate that makes sense to us. The industry has not really known how to treat us, and we haven't been sure of which paths to take on occasions, which is maybe not a bad thing. But our fan base is wonderful and strong and we have great respect for them.
I guess it goes without saying that you all get along pretty well as people, but what makes you gel as musicians?
Helen Mountfort and I run the band as a benevolent dictatorship, with no band meetings, though many group emails. But everyone has their own ministry … Hope Csutoros is the Minister for Stage Pizzazz. Dean Addison and Greg Patten the Ministers for Shipping and Catering. Richo [Andrew Richardson] is The Minister for Merchandise. It's a broad church. No-one is a prick with the possible exception of me! We gel because we've played together for such a long time. Also because we have respect for each other's playing and writing and because we know when to give each other space. Having a good sense of humour helps, and devices to snap someone out of a mood or to laugh at some misfortune.
Have you ever seriously considered or come close to disbanding?
Not until recently. My Friend The Chocolate Cake has always been the band we were going to play with until we died. I had a deal with Andrew Carswell [the band's mandolin player] that I was going to die first, thereby increasing royalties for the other members with tacky posthumous releases. But he died first, reneging on that deal. I have a few times wanted to back off, do less in my life and having lost Andrew who was my soul mate, I did consider disbanding. He was one I could retreat with and discuss Velvets, Nico, Hibernians, Demons, Engels, Ivor Cutler, and play hotel hallway cricket with, drink stout with. I have too much going on in my life and I'm getting tired. But when Andrew passed away, we all wanted to do another Cake record in honour of him, and when we got together to work up songs up in the hills it was such a great feel amongst everyone that any doubt was whisked away.
Greg and Dean are wonderful characters and a brilliant rhythm section, and Andrew Richardson is my oldest friend on the planet and an original MFTCC member. Helen and I have worked together in all kinds of creative projects since 1987,and she is such a brilliant person to run a band with and a really close friend, and Hope is one of the great Australian musicians and has the kindest heart. So, once the navel gazing stopped, Thunderbirds are Go with this chicken outfit.
As you say, Helen and Hope have been an integral part of your music for many moons — and not just with the Choccies. If they weren't available for whatever reason, would you still be looking for a cellist and violinist to help colour your music?
There's no Cake without Helen. And it is a lesser Cake without Hope. H and H's personalities and musicianship are as vital to this band as the instruments they play. As for what I'd do if they weren't available, more so the cello than the violin. I used cello on early Not Drowning Waving records — it works with the piano songs I write. Its voicing, its mood, the way it can push rhythms and edgy abstraction. My love of the cello and how Helen approaches arranging and composing now go hand in hand. Helen and I are very different but complement each other. I cannot credit her enough for why I am still involved in this band and why it has kept going so long. It just works. As for the violin, I'm not such a huge fan of it as an instrument in other circumstances, but I am the way Hope plays it … she is a genius player. She goes off on tangents, has such a Hungarian passion for it and is such a performer on stage.
Obviously you guys have developed your own style, but in what ways — if any — do you think The Revival Meeting primarily differs from previous MFTCC albums and what's your personal benchmark in terms of performance and material?
Fiasco was a great record, but hard to compare with the eponymous debut Brood and Good Luck, which also worked for very different reasons. This is an older record. The lyrics are more observational … more settled and calm. Writing is more difficult these days. I'm less satisfied and I don't romanticise making records anymore, so it wasn't a cakewalk. The personal benchmark I guess is whether you like the music at the time and whether you like it a year on. But it's probably more for others to judge. I can't describe or judge my own songs. Helen assures me it's a good record, as do friends I trust.
Did the songwriting and recording modus operandi for The Revival Meeting differ in any way from previous MFTCC records?
Not really, apart from the fact that we're older, we know what works so maybe its more streamlined. Also we've done a lot of records and written a lot of material so subconsciously you're not as satisfied and you're more critical. My songs were different on this one.
It might be a figment of my imagination, but has your voice got deeper and stronger? I don't think I've heard you sing in a lower register than you do on 'The Fire Turns To Embers' and 'Another Year'.
I sing both of the songs you mention in a deeper vocal, to add substance to the lyrics. I guess I've got more confidence in singing lower. I did an online TAFE course in Barry White.
It seems to me that, as a keyboard player, you've always favoured minimalism over flamboyance — as evidenced in 'Cry Beloved Cry' on the new album. Do you ever yearn to just let rip and play some stride, boogie-woogie or Jerry Lee Lewis rock 'n' roll piano?
In 'Are The Kids Alright' the piano rips. In the main, I'm not a fan of indulgent playing. I have respect for people who can play 13 notes in a bar of 8; I just don't ever want to listen to it. I'm not a fan of lead breaks, but I guess it's all subjective and given my songwriting is very much about space and texture. It doesn't require a VCA [Voltage Controlled Amplifier] obsessive to play it.
What pianists, singers and bands have inspired you over the years?
I learnt some jazz piano from Bob Sedergreen when I was 16. Jazz never appealed to me, but he taught me to think outside the square, to make shit up, to sit inside the feel and atmosphere. I'm forever grateful of his influence. My sister got me into Joni Mitchell's piano on Court and Spark when I was 14 and I loved her voicings and the way she sat the piano notes around the voice. I hated Rick Wakeman's Tudor indulgence records but his playing on Hunky Dory is some of the best. I love Nina Simone's piano work and songs obviously — passion and edge and making music for all the right reasons. I also like Keith Jarrett's minimal intense stuff on the Koln concerts record, Mark Hollis from Talk Talk, Paul Buchanan from The Blue Nile. I quite like Cat Power's clumsy naive approach to piano as well, and Randy Newman and Tom Waits as piano player songwriters, and Dave Formula, the keyboard player in Magazine. Locally, I respect the playing of Chris Abrahams, Kiernan Box and Phillipa Nihill, and Conway Savage's work has also been quite an inspiration to me.
You suggest in the album blurb that your new lyrics see the world through a similar prism to Jeffrey Smart. What exactly do you mean by that and what's the essence of the song you've named after the legendary artist?
I'm not sure I would ever say we managed to achieve that degree of elucidation that Jeffrey Smart reaches in his painting but [I like] the idea of trying to find the beauty in the ordinary, the wisdom in the plain, the shimmer at the end of a mediocre day, finding the poetry in an industrial landscape, a story in a face on the tram. The older I get, this becomes a useful mindset to fight the grime of living amongst flats and car yards and Bunnings warehouse mega-domes. I guess if we need postcard perfect to be the beauty we need, we will be constantly disappointed.
One of the tracks on the new album, 'Satellite Boy', was written for a film of the same name that — like many fine Aussie-made movies sadly and inexplicably — bombed at the box office. Do you think that some Australian bands that dare to be different such as MFTCC also fail to get the credit their music deserves here in Australia?
I'm not sure that film bombed; it reached many children and is still being shown in high schools, which was I guess its intended audience. But I do get what you mean. Australia is a small country, far from other markets that has a problem embracing diversity. We embrace dumbing down like few others. However, MFTCC are still going after 28 years so we clearly have got some credit and this tour is selling well enough thus far. I guess we were never a Countdown band. We've set our own agenda in terms of how we wanted to go about it all and perhaps that's why we're still here. I see that the Blackeyed Susans and the Underground Lovers have released important albums this year … revenge of the great middle age bands perhaps. We hope some of the Australian musical audience embrace our difference, embrace having two women at the forefront of a band who ain't the singers but are lead instrumentalists, embrace the songs, the instrumentals, the silence, the Cake.
'Easter Parade', on the new album, partly celebrates rural town values. I know you live in Melbourne, but are you a country boy at heart?
While 'Easter Parade' does describe some wonderful aspects of country town life, such as the community, the butter factory and the pressed metal arcades, it also condemns it for having turned its back on the historical truths surrounding the mass killings of the Gunnai Kurnai people up the road. In some ways that being the foundation by which the local farmers got their land, and the town rose out of that. Thus, this beautiful country town is founded on a lie.
Injustice to indigenous Australians and asylum seekers resonate in the words of several songs on the new album, without spelling it out in capital letters. Do you think a softly, softly approach has more impact than a more traditional protest-song approach?
I've just returned from the UK and Europe. Our policies in regards to First Nation people and refugees are a big talking point; it's how we are defined. They're vital issues for this country and we won't be able to stand up proudly as a nation until we resolve them, until we get middle Australia to resolve issues of Indigenous funding, land ownership and a treaty. It's the same for offshore detention centres. The support for this cruelty is approved by the majority of Australians. This needs to be changed by cajoling those in the middle to shift their perspective, to realise the damage they're doing to what is potentially a great country. Smacking them over the head probably won't achieve that, though I have to say, when faced with the rhetoric of the Cory Bernardi's and Barnaby Joyce's of the world, it's difficult to remain calm and deliver a softly, softly approach.
The instrumentals 'Middle Veldt' and 'Jim's Refrain' and 'The Fire Turns To Embers' tip a hat to your erstwhile colleague Andrew Carswell, who sadly passed away last year. Will you be seeking a replacement mandolin player?
No there's only one Andrew C. Actually to tell you the truth I was never a huge fan of the mandolin — it's a plinky, no sustain instrument and it has a huge musical flavour that spells FOLK. Having said that, Andrew played in such a unique way. He had an ear for obtuse melody, he never over-played, and he was a band member in the true sense of the word. He'd listen to the songs presented to him and ask what does this song need, not 'what do I want to play'. He composed some great Cake tunes such as 'Algeria' and 'The Red Wallpaper'. He wrote an early mandolin hip-hop tune called 'I Want To Play On The Wing For Jesus', which we shall record one day as a tribute. It contained the wonderful lyric: "I'm going to kick the devil's hide/ out on the member's side".
I realise you've got a national tour with MFTCC coming up on the back of the album release, but what other projects do you have in the pipeline for the rest of 2017 and beyond?
A Bit Na Ta is at the Melbourne Museum and at the Kaohiung Mseum of Fine Arts in Taiwan, and there's a solo record which I just finished with Ian Caple in the UK. The Wantok label and its 14 artists keeps me very busy, but I'm also working towards a situation where I can get out of the city, slow down and walk the dog … or head to Rabaul.