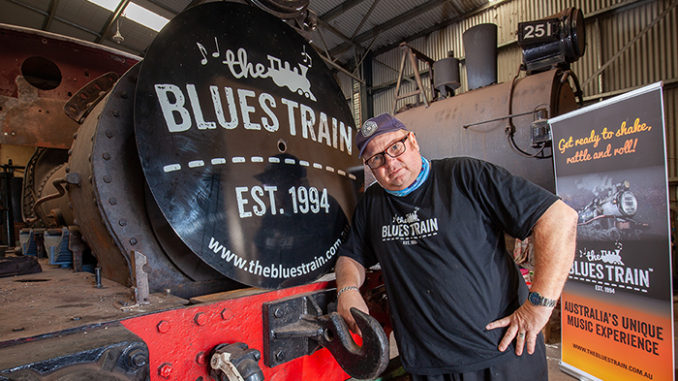 By Jeff Jenkins
The irrepressible Hugo T. Armstrong is one of the most positive and enthusiastic people you could meet in the music industry. He's got a heart like a locomotive, though he's a little flat when he chats to Rhythms, even if his passion remains undimmed.
"It's been a rollercoaster," Hugo says. "At times there's been optimism, and other times it's been complete and utter despair."
Hugo runs the longest-running blues venue in Australia – and one of the most unusual. It's a moving train on the Bellarine Railway near Geelong. Four acts, four carriages, with patrons moving from carriage to carriage during a night of dinner, drinking and dancing.
Hugo was just 26 when he started the Blues Train. At the time, he was on the road with The Badloves, working at Melbourne's PBS FM and DJing at Michael Gudinski's Mercury Lounge. He built the Blues Train into one of Victorian music's most successful tourist attractions. Over the past 26 years, it's brought more than 200,000 people to the Bellarine Peninsula, providing many benefits for the community. "They're on the Blues Train for five hours and they stay in town for two days," Hugo points out.
On March 14 this year, a packed Blues Train partied as Jimi Hocking, Tracey Barnett, The McNaMarr Project and Vic Polyik's Blues Cosmonauts played.
The patrons had no idea it was the last train to Queenscliff.
The Blues Train has endured some tough times over the years – surviving the insurance price hike after 9/11 as well as the GFC. But it has been derailed by COVID-19.
Then as the business planned to reopen in October, Victoria was struck by a second lockdown.
"The second wave is what really obliterated us," Hugo says.
Some businesses have been able to "pivot". "But we can't pivot," Hugo explains. "We're a social gathering business – social distancing is not our business."
He has been up at night, trying to work out how the Blues Train can operate on a reduced model – "we've done the maths a thousand times". He says the Blues Train needs to sell about 80 per cent of its tickets to break even. "We need a gathering."
Hugo has been forced to put the business into "hibernation". But he has launched a GoFundMe campaign to help get the Blues Train back on track.
Hugo appreciates the federal government's JobKeeper support, though he's bemused that people think it solves all of a business's problems. "Wages were only 30 per cent of our expenses and we've lost 100 per cent of our income."
Hugo has itemised his expenses at the GoFundMe page, including rent, electricity, insurance and equipment storage.
The campaign aims to raise $70,000, which will cover the business's expenses – $10,000 a month – until JobKeeper runs out in March.
"And by March, if there's not a restart for our industry, well, I don't even want to imagine that."
In footy-mad Victoria, Hugo has a simple analogy to explain the situation that many businesses are facing: Is it a season-ending injury or a career-ending injury?
"At the moment, we're treating it as a season-ending injury … we'll be back."
Hugo is grateful for the mental and financial support he is receiving. The local tourism association calls him every fortnight to check on his mental health, and the music industry charity Support Act has helped with some personal bills. "Accepting that help has been the most humbling and challenging experience," says Hugo, a proud man, who has successfully run a self-sufficient business for nearly three decades. "I can't speak highly enough of the work they do."
He looks forward to hosting a fundraising night for Support Act when the Blues Train is back on the rails.
Yes, Hugo T. Armstrong is confident that he will once again be saying, "All aboard!"
This is not the end of the line.
"And when we do come back – and I'm definitely saying when – it's going to be one hell of a party."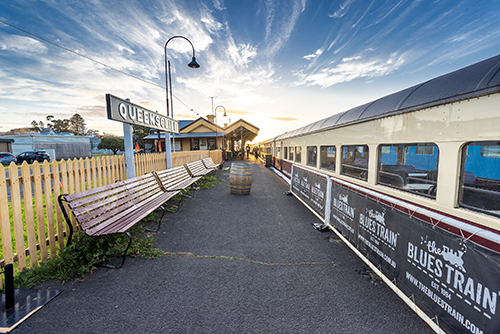 THE BLUES TRAIN GOFUNDME PAGE: CLICK HERE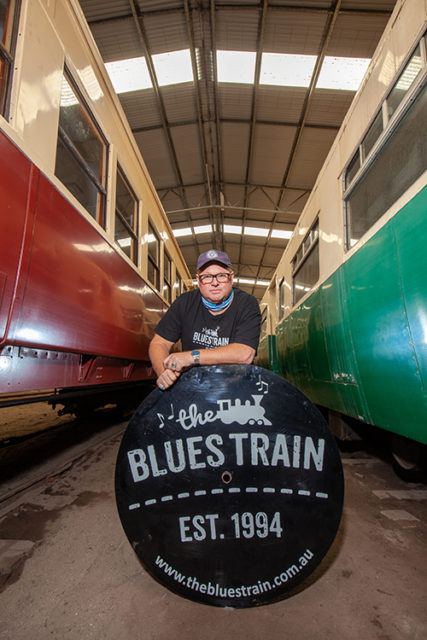 TRAIN TRACKS
The music that's kept Hugo sane during lockdown
Josh Teskey & Ash Grunwald – Both Ash and The Teskey Brothers have played the train. I should have signed them to lifetime contracts!
Powderfinger – They were a band that kind of passed me by, but now I really regret not seeing them. I've been playing their greatest hits quite a bit.
Toots and the Maytals – I've been thinking about Toots while he's been unwell. He's one of the greatest acts I've ever seen at Bluesfest. That album he did with all the special guests – 2004's True Love – is one of my Top 10 albums of all time.
Bob Seger – 'Turn The Page' … I tell you, I love that song! He's someone I always listened to and enjoyed, but now I've become a real fan. It's easy to underestimate how big he was. What a catalogue.
Tami Neilson – She did a set at Jacinda Ardern's campaign launch. She is a superstar.