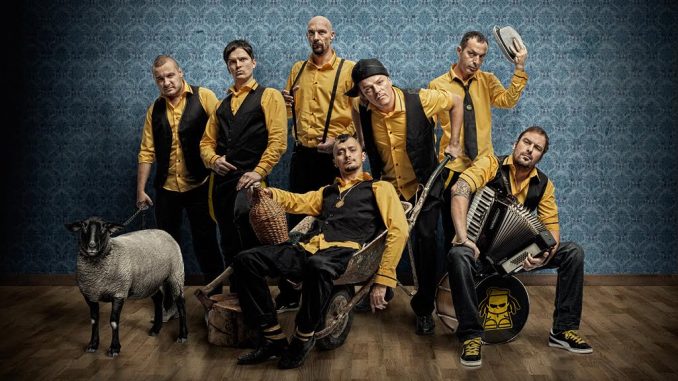 Once upon a time (2003) in a far away land called Bosnia and Herzegovina, a group of friends decided to form a band.
But this was no ordinary band, and they did not form under ordinary circumstances. True, along with local Balkan flavors, musical influences came from all over the world: ska, punk, reggae, electronic, hip-hop.
Yet, there was no music industry, few concerts, no space for cultural or political expression among the new crop of plugged in youth. In fact, the entire region was reeling from deep moral and economic stagnation. It was from this environment that DUBIOZA KOLEKTIV was born, and not quietly, but kicking and screaming, presenting no-go topics front and center, and demanding to be heard-and in doing so, they created a phenomenon.
And it has continued in this fashion ever since. Fast forward to 2016, we find the band continues stronger than ever, already established itself as among the best and most popular live outfits in Eastern Europe, hallmarked by their most recent musical release "Happy Machine", perhaps their most provocative album to date.
As always, the subject matter might be confrontational and challenging, but the music is always catchy as hell, now more than ever. Inspiration developed over two years, largely inspired by events that unfolded over that time – from Istanbul's Gezi park protests ("All Equal"), the jailing of the founders of The Pirate Bay ("Free.mp3"), the Syrian refugee crisis and Europe's shameful response to it.
More kindred spirits in the music world have jumped on board, with guest appearances by Manu Chao, Benji Webbe from Skindred, Punjabi singer BEE2, Catalan ska-rumba band La Pegatina and trumpet player Dzambo Agusev from Macedonia. Songs are in English, Spanish and Punjabi.
By now it's probably clear that 2016 will be a very productive year for Dubioza Kolektiv: a new album, tours across Europe, including their North American debut at SXSW and tour dates scheduled across the country-and this is just a starting point, because as their history has shown, these guys don't stop until they achieve their objectives. They were considered No.1 band at this year's Eurosonic festival, per european festivals votes.
Tour Dates
22/12: The Corner Hotel, Melbourne
23/12: Fowlers Live, Adelaide
24/12: The Factory Theatre, Sydney
28-29/12: Woodford Folk Festival, Woodford
29-12: Wooly Mammoth, Brisbane
dubioza.org — facebook.com/dubioza — twitter.com/dubiozakolektiv — instagram.com/dubiozagram