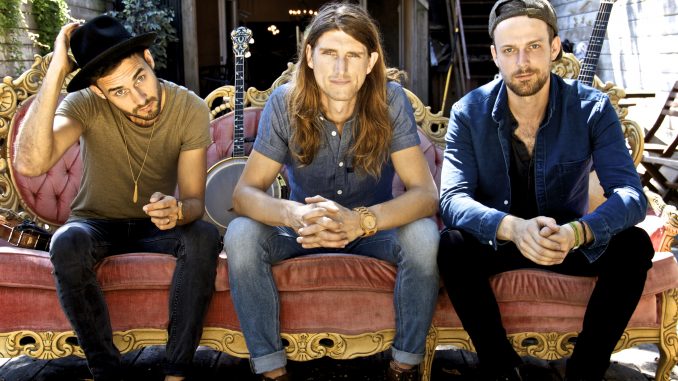 Prince Edward Island's The East Pointers were named Ensemble of the Year at the Canadian Folk Music Awards in Toronto on Saturday 3 December for their beautifully immersive debut album Secret Victory. The news comes just ahead of the announcement of the band's national tour dates in Australia in 2017.
Having previously announced their appearance at WOMADelaide (and WOMAD NZ) in March, the band will expand their Australian tour dates running 1 March to 1 May, with shows in Tasmania, Victoria, New South Wales and Queensland.
01-Mar | Franklin Palais, Franklin (TAS)
02-Mar | Founders Room, Salamanca Arts Centre, Hobart (TAS)
03-Mar | Chudleigh Hall, Chudleigh (TAS)
04-Mar | Mountain Mumma, Sheffield (TAS)
05-Mar | Dunalley Hall & Reserves, Dunalley (TAS)
08-Mar | The Toff in Town, Melbourne (VIC)
09-Mar | Geelong Workers Club, Geelong (VIC)
10-13 Mar | WOMADelaide, Adelaide (SA)
15-19 Mar | WOMAD NZ, Auckland (NZ)
22-Mar | Thirroul Railway Heritage Centre, Thirroul (NSW)
23-Mar | Camelot Lounge, Marrickville (NSW)
24-Mar | Unorthodox Church of Groove, Newcastle (NSW)
25-Mar | Wauchope Community Arts Hall, Wauchope (NSW)
26-Mar | Cedar Bar, Bellingen (NSW)
30-Mar | Bellevue Hotel: Townsville Folk and Acoustic Music Club, Townsville (QLD)
31-Mar | Tanks Arts Centre, Cairns (QLD) 01-Apr | Sol Bar, Sunshine Coast (QLD)
06-Apr | Club Mullum (Mullumbimby Ex-Services Club), Mullumbimby (NSW)
07-Apr | Eatonsville Hall, Eatonsville (NSW)
08-Apr | Old Museum, Brisbane (QLD)
09-Apr | BLEACH* Festival Mudgeeraba Hall, Mudgeeraba (QLD)
27-Apr | Armitage Centre, Toowoomba (QLD)
28 Apr – 1 May | The Planting Festival, Woodford (QLD)
With their adrenalized and ridiculously hip performance, beautiful songs, free-wheeling, feisty instrumental jigs, stomps and reels and heart-breaking harmonies, The East Pointers are torchbearers for a new wave in traditional Celtic music. They brought the house down on their 2016 tour of Australia, gracing the stages of more than 25 festivals and venues across the country. Their 2017 national tour is sure to raise the roof yet again!