Echo In The Canyon (Greenwich Entertainment/Mirror Films)
Available on: Amazon Prime/ Apple, PSN, Microsoft, Google and Fetch
By Brian Wise.
Laurel Canyon was not only responsible for some of the greatest pop and rock music to come out of America in the '60s and '70s but also some of its most successful and enduring names: Joni Mitchell, Brian Wilson, Jackson Browne, Crosby, Stills, Nash & Young, Carole King, John Mayall, Eagles, James Taylor, The Mamas & Papas, Love, Frank Zappa, Jim Morrison, Harry Nilsson. You only have to listen to gold radio to hear many of the songs from that era still resonating.
In fact, Laurel Canyon was the first place I went to in Los Angeles when I got a motorbike for a West Coast trip. The thing that amazed me was that this almost rural setting was just a couple of miles from Sunset Strip, West Hollywood, and the centre of the recording industry. It is easy to understand the attraction that lives on. When I recently interviewed Rufus Wainwright he was at home in the Canyon looking across at a house once owned by silent screen star Louise Brooks. "Historically, it's an amazing part of the world, musically," he said. " Whether it's the music or the Hollywood history, in terms of showbiz, it's one of the chakras of showbiz, for sure."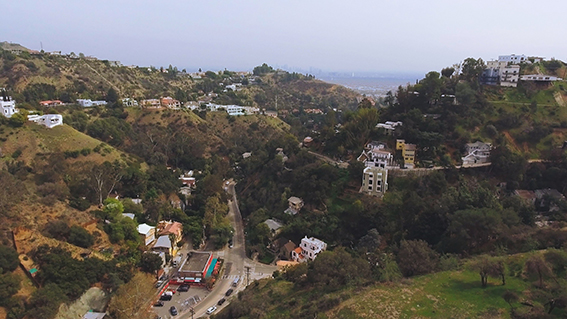 If you want to learn something of the history of Laurel Canyon then you should perhaps check out Alison Ellwood's new two-part documentary which premiered in the USA in June and will no doubt be available here soon. That is not what Echo in The Canyon is about.
"You need to actually, I think, have some understanding of it or appreciation of it before you go into the film, because the film's not really an educational overview of that place," explains Andrew Slater – producer, director and writer. His starting point is around mid-'65 and the first Byrds album while the endpoint is Neil Young's song 'Expecting to Fly' off Buffalo Springfield Again in 1967 (selected because it portended a change in the music that was being made). Even that brief timeframe had an incredible amount of great music.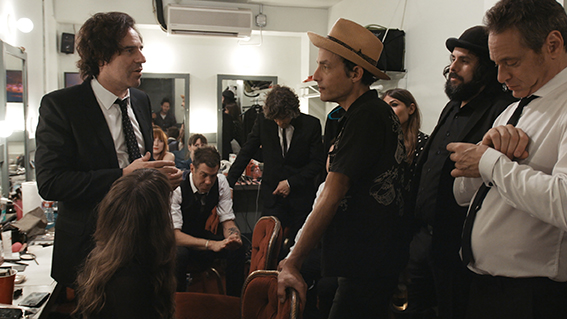 Echo In The Canyon, is an homage that revolves around a concert of some iconic songs performed by Jakob Dylan and friends (Beck, Fiona Apple, Cat Power, Regina Spektor, Jade etc) and illuminated by interviews by Dylan with musicians who either lived there or had a connection, as well as producer Lou Adler (who deserves a documentary on his own).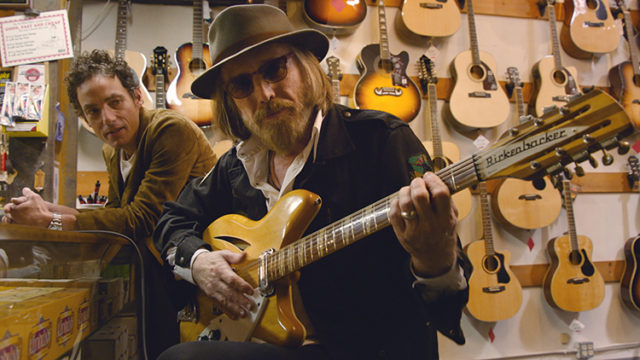 The film opens with Tom Petty playing a Rickenbacker 12-string electric while talking to Jakob Dylan and the connection is immediately made between him and The Byrds. Roger McGuinn later explains how he saw John Lennon playing a Rickenbacker and moved to Los Angeles and how George Harrison, who also played one, then based 'If I Needed Someone' on The Byrds' 'The Bells of Rhymney.'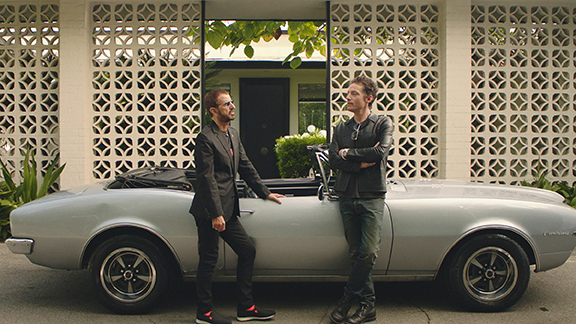 Ringo Starr completes the story of the connection between the Beatles and The Byrds and we hear how Brian Wilson (who appears) heard Rubber Soul and wrote Pet Sounds. It's like a never-ending loop.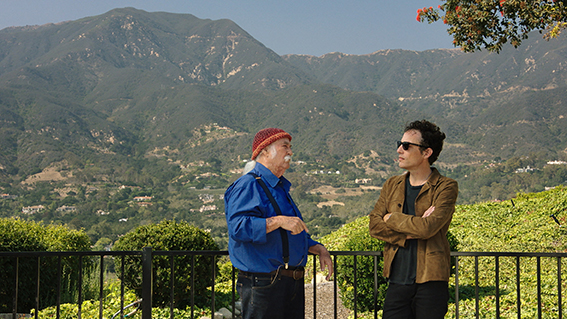 The ever-garrulous David Crosby chimes in about life in the canyon and within the Byrds (it is easy to see why the recent doco about him is so revealing). Graham Nash is as utopian as ever. Michelle Phillips reveals all about relationships in the Mamas & Papas. Jackson Browne tells how when he first saw the Beach Boys he thought their image was 'lame'. Eric Clapton weighs in on the influence of the music while Stephen Stills attributes a warning to 'Expecting to Fly' which assumes an importance that had probably not been evident before. It would have been nice to include Joni Mitchell but her recording career started a little later.
Slater was head of Capitol Records and his experience is evident on the soundtrack because the concert and studio audio is nothing less than superb on faithful renditions of the songs that also include a great reading of 'Goin' Back' by Dylan and Beck that proves that the other main star of the show, apart from Laurel Canyon and Jakob Dylan, is the Rickenbacker guitar.
When I caught up with Andrew Slater to talk about his film he was in Santa Barbara – about 90 minutes up the Pacific Coast Highway from Laurel Canyon – looking out over the Pacific Ocean on a bright, sunny Californian day.
Laurel Canyon is a unique location isn't it? Can you tell us about it?
Laurel Canyon is a place that I think we all traverse to try to get around Los Angeles. It's got its dividing line of Mulholland Drive – one side's Hollywood and the other side is the San Fernando Valley – and there were people when I came to California – musicians, actors – that lived up there but it really represents something greater than just the topography of canyon life.
Well, it's an amazing location because it's close to the centre of Los Angeles. So, you're up in the hills, you're in a rural setting, but you're close to all these incredibly good studios.
Well, they were. And the thing about Los Angeles that's always so interesting is that you're always confronted by the edge of nature while you're in this metropolis. There's a coyote in your backyard, there's a racoon crawling across your front door and yeah, Laurel Canyon was situated above the concentrated area where all the studios were that these records were made. Sunset Sounds, Capital, Western United which are still there today. Some of them are single story buildings, which may not be there in 10 years. And so, one of the things about the film was that it's, in one sense it's about the echo of people's ideas, but it's also about the echo itself. And the echo itself was really, the echo chambers of those rooms that create that depth around the human voice when you use it the right way. So those rooms all have character and hopefully they will be there in 60 years.
In your film, you mentioned the film, The Model Shop, which came out in, I think, it was in 1968. Can you tell us what the inspiration from that film was and why that had an effect on you?
I think sometimes in life to go forward, you have to look at where you've come from and that moment happened for me when I had just left working at Capitol Records and I had seen that film on the Turner Classic Movie Station and the film in a sense – one of the main characters of the film – is the streets of LA and Jacques Demy's cinematography captured the streets in such a beautiful and idyllic way that it inspired Jakob and I go back and look at the music of that period and what brought us – or what brought me – to California were those records. So, sometimes you never know what's going to inspire you to do something. And seeing that film made me look at the music again, and then I tried to figure out a way to reimagine some of that music and keep the echo of those ideas alive today in a different way.
So, did the concert come first or was the film started before the concert, because the film pivots around the concert with Jakob and all these special guests. Then you see him in the recording studio. So, which came first?
Well, I'm a record maker by my trade, not a filmmaker. So, for me, it was really looking at songs that told this particular story about the beginnings of the Southern California music scene. About the electrification of folk music and then emulating the Beatles, and then obviously the exchange of those ideas. So, at first it was a collection of songs and I said to Jakob, "Hey, what about this song? What about that?" This influence and that.
'The Bells of Rhymney' really illustrates Roger McGuinn's talent in taking one song, a song from one medium and transforming it into another medium. That of course inspires George Harrison to write 'If I Needed Someone' which winds up on Rubber Soul. And Brian Wilson hears Rubber Soul and he makes that sound and then the Beatles hear that sound and they record Sergeant Pepper.
So, all of that was the genesis of the project. Then I said, "Well, we should record these and we should film some of the recordings and then let's do a show and we can sell that."
So, that's the arc of that, but I went to documentary filmmakers to do this and people said to me that it couldn't be done. I went to two filmmakers. One said, "Well, if you have a couple million dollars, you can do this." I said, "Look, I don't have a couple million dollars, but I have this idea. It starts with The Byrds." So, an executive said, "So why don't you make it?" I thought, "Well, okay, he's an idiot, I don't know how to make a film." But it turned out he was an idiot savant because I did make the film and maybe some of the stuff that I had done in the earlier part of my career with hiring music video directors, as a creative director of a management company, and then overseeing a lot of stuff at Capitol gave me a cursory overview of part of the process. But really the great team of editors and cinematographers that we used for the making of the film just helped obviously to bring it to fruition.
Interestingly enough, there's a brand-new documentary on Laurel Canyon. This is more an homage to the music isn't it? A completely different thing.
Well, I didn't really want to make an instructional or educational overview of Laurel Canyon. I wanted to make almost like an art film. I didn't want to lay out everything for everybody to understand. To me, it was about the feeling of being there and the feeling that the period brought to lives, it was the sharing and the kindness.
Also, I didn't really want to tackle Laurel Canyon, even though the Canyon is in the title of the film. It's more about the echo to me. It's more about those musicians at that very innocent time before the music is the same and money takes over. They live in this place and they record in this place and they share these ideas and they are fans with multiple singers and multiple songwriters.
I think when you think of Laurel Canyon, in the general sense, you think about the singer songwriter period and in order to get to that period – where there's Joni Mitchell and there are the individuals in country music coming in and taking hold of its major influence in that period – you have to go through this first period where the bands come to California. They all want to be like The Beatles. Then [there is] the second period where it's sort of about psychedelia and the Doors happened and the riots on Sunset happened, and then Love, it's a big influence.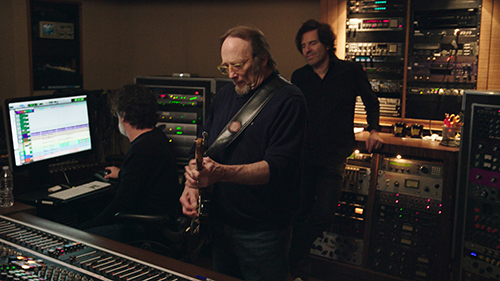 For me it was really the beginning, the innocence. That's why the film, I think, is framed by the song 'Expecting To Fly' because 'Expecting To Fly' is the moment when Stephen Stills says in the film is when we realised that he couldn't go to the studio because that was Neil Young's thing. It was the beginning of the end. And the song may be about the end of the relationship between a man and a woman but I was trying to use it, in the beginning, to show the innocence of the Canyon and Canyon life – and then at the end where it's really about the end of that relationship and partnership between musicians.
Well, there was plenty of music made in the Canyon after that era, but it did sort of mark a break didn't it from that particular period that you're examining.
Yes. It's really more when you think about that particular period, you see that it's the beginning and you associate The Beatles with Laurel Canyon but as Tom Petty says in the film, "It was the California guys trying to grab hold of that sound." And while they did it their own way, you have the beginning, you have folk music, and then The Beatles sense of harmony and song structure coming together. That's what's being interpreted and it has other tributaries. The Springfield have their take on it and the Mamas and Papas. John Phillips, a brilliant harmony arranger, has his take on it.
Obviously, Brian Wilson is being influenced and clearly a song like 'I Just Wasn't Made For These Times' and his own personal struggles and 'Good Vibrations' – which is maybe the greatest single California record ever made – happens in that period. So yes, they all lived in Laurel Canyon and they all recorded down there in Hollywood and for me, that was the most interesting thing that hadn't really been discussed, not an overview of the great individuals searching their own path in the singer songwriter era.
Well, Jakob Dylan takes us through the music and does some terrific interpretations with those special guests and, of course, the Canyon is one of the stars of the show as is Jacob, but the music was incredible. So, the film reminds you of just how great those songs are. The other star of the film, I'd suggest, is the Rickenbacker guitar.
Yes, it is, in fact. Really when you think about it, Roger McGuinn playing an electric 12-string on that first record and influencing the Beatles and them, the Beatles influencing the Beach Boys and back and forth is really the engine for all of it. John Sebastian tells you that McGuinn had a 12-string guitar and he was trying to play Beatles' songs in folk clubs in New York and they weren't having it. Probably in New York, maybe none of this would've happened because of the rigidity of the folk scene and what those audiences were willing to embrace. California represents this kind of sense of freedom, that maybe anything is possible. So, when McGuinn comes to California and he sees that George is playing a Rickenbacker guitar on 'A Hard Day's Night' and he gets one, it's where the magic begins to happen. The electric orchestral sound of that instrument opens up the possibilities for people to create and expand beyond the limitations of what came before.
Andrew. I've had a very strong hankering to go out and buy a Rickenbacker guitar ever since I saw the film. I have to resist it because they're quite expensive, the 12-strings.
Well, I think the Rickenbacker 12-string is much more modestly priced than the 1959 Gibson Les Paul. So, if you've got to pick a guitar, from an era of rock, I say I'm going with the Rickenbacker.
I'm surprised they didn't sponsor the film. They've got a couple of hours' worth of free advertising out of it.
When you say that it's funny. We did not make this film from the film makers or film producers' traditional approach. So, perhaps we didn't think of that. We were record makers, all of us, the generation of artists that were there and Jakob and I, and we wanted to pay homage to the greatness of those writers in that time. So, it was really a labour of love. We were not documentary filmmakers making our living selling you a story. That's for somebody else to do.
I can tell you were involved in production and record making because the sound on the film is incredible. The audio soundtrack is amazing.
Well, that's the only experience I brought to the project that I knew that I'd made enough mistakes prior, what not to do to try to make something sound good. I'm glad you enjoyed that portion of it. It's no small task to be in the middle of a song and cut from the studio performance to the stage performance back to the studio performance where the original writer of the song is sitting there listening to it. It takes some planning.
There's so many people in there we could talk about but you could almost make another documentary about Lou Adler, couldn't you?
Every person in that film deserves a documentary of their own.
Echo In The Canyon is available on: Amazon Prime/ Apple, PSN, Microsoft, Google and Fetch