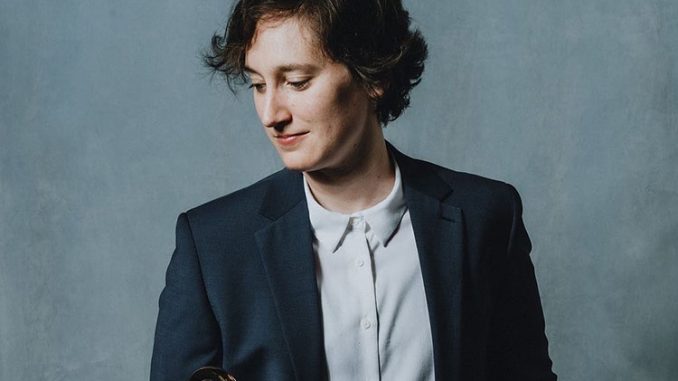 By James Gaunt
After last year's festival was cancelled, this December crowds are returning to the Melbourne Jazz Festival. To celebrate, we're looking at some of the programs highlights, including Ellie Lamb.
As this year's Take Note leader, trombonist Ellie Lamb has composed a new suite which will be performed with an 8-piece ensemble, bringing together some of Melbourne's best jazz improvisers.
Ahead of their appearance at the Melbourne Jazz Festival, I caught up with Ellie to talk about their upcoming performance.
I wanted to start off with the Take Note program. Can you explain a bit about what it is and what you're doing with them as part of the festival?
It's quite a new initiative from the festival, but it's basically designed to promote female and gender diverse, emerging and early stage jazz artists, and specifically band leaders. So part of the program is a commissioned work that's debuted at the festival, and then there's also a component of professional development. Then the final component is putting together a workshop to tour through high schools, which is fantastic.
Can you tell me about the commissioned suite and explain a bit about what we can expect?
Sure. So a lot of the project is centred around a questioning of myself. I liked the idea of approaching it with a question of what is my musical voice? I'm really interested in post-rock, I'm really interested in minimalism, I'm really interested in Baroque music, and obviously jazz music and improvised music. So the big question for me was, how can I find my own voice that's inspired by all these things I listen to and absorb musically, and turn that into a cohesive work that represents myself?
I suppose it's a mildly self-indulgent pursuit but also, particularly with the nature of this role being one of representation, to me as a non-binary artist, to explore myself and my voice and my role in the world, I think was a really important part of it.
Will there be a recording of the suit at some point?
Yeah, I'm looking at two grant applications and putting together some plans. We'd love to put together a recording and be able to share it with everyone who couldn't make it to the gig, then doing a launch and maybe a tour. So yes, I'm excited for this project to have some life beyond this gig, and that's going to be a 2022 endeavour, which is very exciting.
Obviously, you haven't finished your role in the Take Note program just yet. But for people who want to apply next year, have you got any encouraging words or advice for them?
It's been amazing. It's been such a career changing opportunity for me and a great opportunity for me to reflect on my own voice and my own musical goals. I think it's really exciting and I can't wait to pass this on to the next person who will bring their own unique voice, but also their own sort of intersectionality to the role.
For me, it's been exciting being a queer, non-binary person in this role as there's not a lot of people in the scene with those experiences. Then the next person will bring their own unique twist to it, so I think anyone and everyone should chuck their hat in because everyone's got something to say and an experience to contribute, and that's what makes this role really exciting.
Ellie Lamb performs Saturday 4 December, at The Jazzlab as part of the Melbourne Jazz Festival.