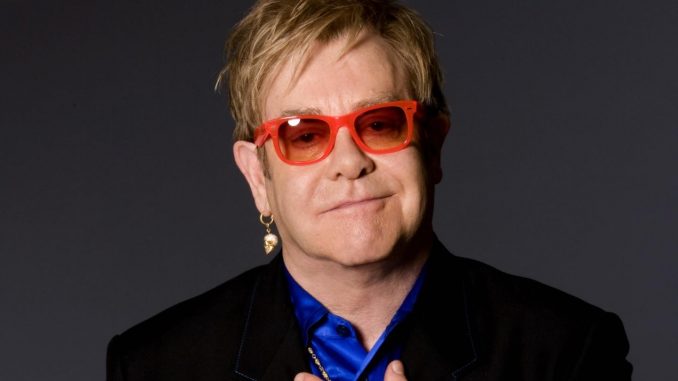 Sir Elton John, recently crowned by Billboard as the most successful performing male solo artist of all time, has announced details of a 15-date Australian and 3-date New Zealand leg of his global Farewell Yellow Brick Road tour.
Between December 2019 and February 2020, Elton John will traverse Australia and New Zealand, in what will be his most extensive tour of the region to date. The tour will kick off with back-to-back appearances at Perth's HBF Park (formerly nib Stadium) on Saturday November 30 and Sunday December1,  2019, a huge 48 years on from his first ever Australian show, which took place at Perth's Subiaco Oval on October 17, 1971.
John, on his very last tour, will playing a series of dates that includes Capital City concerts, along with stops at some of Australia's finest outdoor venues from the Hunter Valley's Hope Estate to Rutherglen's All Saints Estate, Rochford Wines in the Yarra Valley, Queensland's Sirromet Wines, Victoria'sHanging Rock and Bathurst's Carrington Park, with additional dates, including North QLD, to be announced later in 2019.
"Elton's continuing love affair with Australia knows no bounds, proven by this farewell tour, and the breadth and depth of the itinerary, showing his commitment to his many Australian fans", said promoter Michael Chugg. "On his very last tour, he wanted to return to some of his favourite cities, while also playing for fans in a couple of never-before-visited locations."
Beginning in Pennsylvania, USA in September 2018, Elton John's three-year Farewell Yellow Brick Road global tour has already been hailed as one of his most "energetic, dazzlingly-original and joyful celebrations". The tour also celebrates his 50-plus year collaboration with lyricist Bernie Taupin – one of the great song-writing partnerships of all time.
The milestone itinerary comprises more than 300 shows across five continents, spanning three years, with stops in Europe, North America, Asia, South America, Australia and New Zealand, and marks the last tour of its kind by the celebrated songwriter and iconic showman.
"Playing live to other human beings is the greatest gift any artist could ever have", said Sir Elton at his Chicago show.
Audiences will see never-before-seen images and videos displayed throughout the show from his 50-year career. The tour will also feature a brand new stage production, and tour wardrobe designed by Italian fashion house Gucci.
Elton John will be joined by longstanding band members Nigel Olsson on drums (part of Elton's original three-piece band in 1970), esteemed musical director Davey Johnstone (who first recorded with Elton in 1971 and joined the band a year later) on guitar, virtuoso Ray Cooper on percussion, Matt Bissonette on bass, John Mahon on percussion, and Kim Bullard on keyboards.
Sir Elton John said, "I always love coming back to Australia. Ever since my first visit in 1971 it has held a very special place in my heart."
John bids farewell to the road almost fifty years on from his debut Australian show, having played 196 concerts and performing to more than 1.5 million people across the country in that time. Since his career began in 1969, he has performed a staggering 4000-plus shows in more than 80 countries.
The performer said that after the tour finishes he looks forward to "coming off the road and dedicating more time to raising my children".
TELSTRA THANKS® PRE-SALE* via telstra.com/eltonjohn
Capital Cities: Wednesday 6th February  (9am local)
All Other Shows: Friday 8th February (9am local)
*Australia only
ROCKET CLUB MEMBERS PRE-SALE via eltonjohn.com/rocket-club
Capital Cities & NZ: Tuesday 12th February (9am local)
All Other AUS Shows: Wednesday 13th February (9am local)
CHUGG VIP MEMBERS PRE-SALE via oznz.eltonjohn.com
Capital Cities & NZ: Tuesday 12th February (9am local)
All Other AUS Shows: Wednesday 13th February (9am local)
ELTON JOHN TOUR DATES
PERTH, WA
Saturday 30 November 2019 – HBF Park (formerly nib Stadium)
ticketmaster.com.au
PERTH, WA
Sunday 1 December 2019 – HBF Park (formerly nib Stadium)
ticketmaster.com.au
ADELAIDE, SA
Wednesday 4 December 2019 – Botanic Park Adelaide
ticketmaster.com.au
MELBOURNE, VIC
Tuesday 10 December 2019 – Rod Laver Arena
ticketek.com.au
MELBOURNE, VIC
Wednesday 11 December 2019 – Rod Laver Arena
ticketek.com.au
BRISBANE, QLD
Wednesday 18 December 2019 – Brisbane Entertainment Centre
ticketek.com.au
SYDNEY, NSW
Saturday 21 December 2019 – ICC Sydney Theatre
ticketek.com.au
SYDNEY, NSW
Monday 23 December 2019 – ICC Sydney Theatre
ticketek.com.au
SYDNEY, NSW
Tuesday 7 January 2020 – Qudos Bank Arena
ticketek.com.au
HUNTER VALLEY, NSW
Saturday 11 January 2020 – Hope Estate
ticketek.com.au
MOUNT COTTON, QLD
Saturday 18 January 2020 – Sirromet Wines – A Day On The Green
ticketmaster.com.au
BATHURST, NSW
Wednesday 22 January 2020 – Carrington Park
ticketek.com.au
WOODEND, VIC
Saturday 25 January 2020 – Hanging Rock
ticketmaster.com.au
RUTHERGLEN, VIC
Wednesday 29 January 2020 – All Saints Estate – A Day On The Green
ticketmaster.com.au
YARRA VALLEY, VIC
Friday 31 January 2020 – Rochford Wines – A Day On The Green
ticketmaster.com.au
DUNEDIN, NZ
Tuesday 4 February 2020 – Forsyth Barr Stadium
ticketmaster.co.nz
HAWKE'S BAY, NZ
Saturday 8 February 2020 – Mission Estate Winery
missionconcert.co.nz
AUCKLAND, NZ
Sunday 9 February 2020 – Mt Smart Stadium
ticketmaster.co.nz