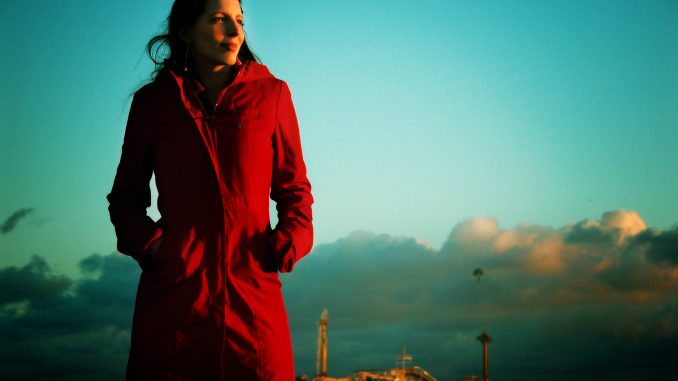 Enchanting songstress Martha Tilston will be taking her new album NOMAD on the road around Australia this March/April.
The British artist with her inspirational band will kick off the tour at the Port Fairy Folk Festival in Victoria, going on to play shows around Melbourne and Sydney before finishing up at the National Folk Festival in Canberra in April.
With a voice like spider-webbed hollows and lyrics that inspire and captivate, Martha has earned a nomination from the BBC for best newcomer and released six albums to date on her own label Squiggly Records building up a large audience worldwide. She also featured on the Zero 7 album 'Yeah Ghost'.
Her performances take you from stripped down folk arrangements to textural electronica, sparkling melodies and her beautiful crystal clear vocals…often stepping off stage to sing un-accompanied amongst the audience.
NOMAD leads us down a deep, uplifting and cathartic path. With musical arrangements that range from the pin head intimacy of acoustic guitar and voice to the expansive electric, slide guitar, rolling beats, deep bass, banjo and string arrangements that send tidal waves up your spine. There are undertones of old country music flittering throughout this album, suggestions of rock and pop and a good dose of stripped back acoustic cinema for us to submerge in.
There are uplifting and elemental songs, which very subtly ask bigger questions about our existence, humanity and our relation to nature, such as; Nomad Blood, Climbing Gates and Stories. There are deeper songs that peel back your husk and make you feel the utterances of loss and hope; Green Moon, Little Arrow and Ribbons for John.
NOMAD will invite you to make a fire outside under the stars, dive into a big green moon, fly over a world of robots and humans queuing together for the cinema, dance in a scribbled fever in a downstairs bar, be a fish swimming round a tank planning escape, climb out of the car and lie in the field asking what is the solution for our humanity and this tiny blue pearl we spin on….and to never dwell on the path not taken.
Martha Tilston has grown up immersed in music. Her singer-songwriter father Steve Tilston and renowned folk singer Maggie Boyle (step-mother) were obvious influences, with their musician friends Bert Jansch, John Rebourn and John Martin often gathering and singing in the family kitchen. Martha's own musical journey has taken her from the acoustic stage at Glastonbury to touring the far reaches of the globe. Originally one half of folk duo Mouse (alongside Nick Marshall), Martha often shared the stage with the likes of Kate Tempest and Damien Rice, and has gone on to establish herself as a renowned artist. *** AUSTRALIAN TOUR DATES:
10th-13th March | Port Fairy Folk Festival | Tickets
17th March | Saints & Sailors, Port Arlington | Tickets
18th March | Spotted Mallard, Melbourne | Tickets
19th March | Caravan Club, Oakleigh | Tickets
24th March | Newham Hall
25th-26th March | Yakandandah Festival | Tickets
30th March | Lizottes, Newcastle | Tickets
31st March | Leadbelly, Sydney | Tickets
1st April | Heritage Hotelm, Bulli | Tickets
2nd April | Brass Monkey, Cronulla | Tickets
13th -16th April | National Folk Festival, Canberra | Tickets
NOMAD is out 10 March 2017