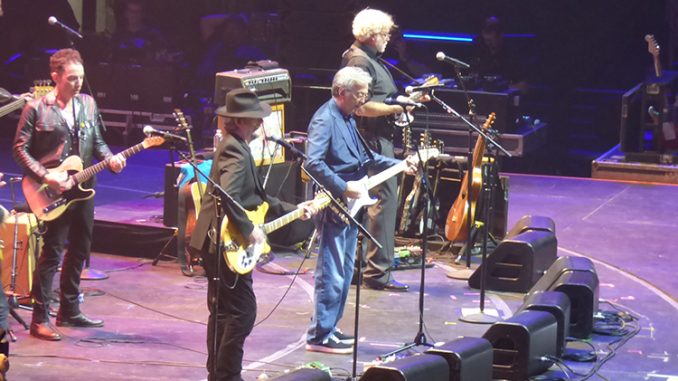 Review by Brian Wise.
Eric Clapton's Crossroads Guitar Festival
Crypto.com Arena, Los Angeles, Saturday September 23, 2023
Adam Grandluciel of The War On Drugs summed it up when he said, "It's a lonely night for keyboard players." While his band had someone on keys and others featured elsewhere, along with horn sections, this festival is definitely about the power and influence of the guitar, from the acts on stage to the displays outside the arena.
By the end of the night, and it would have been eight hours of the instrument, you might just think you had enough, except that there is another day to go! To ram home the point about the instrument in question (or devotion) there is an extensive display of manufacturers, including Gibson, outside the arena and open from mid-morning for devotees. The really commendable thing about this year's event is the inclusion of many more women on the bill, something that was a problem with previous iterations. It's not quite 50% but I reckon if there is another one that mark will be reached. (Maybe Eric read my previous reviews).
Flying in from the Americana Festival and Conference in Nashville, I managed to check in to my motel, walk a couple of kms to the Crypto.com Arena (or The Crypt as it has become known) and make it in time for the Brothers Landreth, missing the first 75 minutes and Sonny Landreth, the Del McCoury Band and Jerry Douglas! It was impossible to find the running order online and it was only the fact that the person I was sitting next to took a photo on his phone of the display on the screen that I at last knew what was going on.
Imagine an arena at least 30% larger than Melbourne's Rod Laver Arena and you have an idea of the size of this massive venue. My seat in the nose-bleed section truly induced fear of falling until I managed through sheer good fortune to get an upgrade closer down to the front.
As you would imagine, the sound struggled to overcome the space and it was not nearly as good as previous events that I have been to in Dallas and New York. The large main stage is revolving, enabling quick changeovers and a smaller stage at the front right caters for briefer acoustic performances which tonight included Taj Mahal and Sheryl Crow.
Not having seen Dave and Joey before and interviewing them both earlier this year it was good to catch them and even better when they performed the song they wrote for Bonnie Raitt, 'Made Up Mind.' This started what was to be six and a half hours of guitar-oriented music which had few lulls and plenty of surprises. As I write this, I am also getting ready to enjoy (or endure, depending on your point of view) another eight hours of guitars on the second day of the event. So, some impressions of the first night.
Singer songwriter James Bullard was introduced on the smaller stage by fellow-Texan Gary Clark Jr and confessed to being incredibly nervous. In front of 20,000 people for the first time ever, surely not? He acquitted himself well. Albert Lee brought on Peter Asher for a performance of 'World Without Love' which sounded fine but sat adrift amongst other classics such as 'Luxury Liner'. Eric Gales was impressive and then lifted the energy level by bringing on Samantha Fish for a rousing 'I Put A Spell On You' and then Christone 'Kingfish' Ingram came on for a powerful rendition of Don Nix's 'Going Down.'
For some reason unknown to me, when Joe Bonamassa won a Blues Award in Memphis when I was there some years ago the audience booed. Tonight, this audience applauded, and so did I, when he brought on the great John McLaughlin for a tribute to Jeff Beck and then added Eric Gales for a tribute to Albert King. McLaughlin looks majestic and his playing is the same.
Taj Mahal took the small stage for a brief three song set that included 'Catfish Blues' and 'Nobody's Business' prior to Jimmie Vaughan and band, replete with horn section, for some rollicking Texas blues and an 8-song. Gary Clark joined in for 'Texas Flood' and then Clapton sauntered out, looking extremely fit and healthy (good news) for Elmore James' 'Early One Morning' and then a blistering rendition of Elmore James' 'Sweet Home Chicago.'
Sheryl Crow's visit to the small stage for two songs was all too brief but maybe she will be given a longer set tomorrow. This preceded The War On Drugs which was the highlight up to then with a powerful three-song set of 'Strangest Thing', 'Under Pressure' and 'Occasional Rain.' They build a fantastic guitar-based groove that is mesmerising, although the guy next to me complained at first that they weren't blues. He later begrudgingly admitted that they were 'very good'. High praise indeed from a die-hard blues fan.
Gary Clark Jr's brief set on the small stage made way for Jakob Dylan & The Wallflowers, introduced as that in what turned out to be the evening's high point. After a '6th Avenue Heartache' and 'One Headlight' Dylan performed a tribute to Tom Petty with 'The Waiting' and then brought on Roger McGuinn for 'Turn. Turn, Turn,' 'So You Want To Be A Rock 'n' Roll Star' and then 'Eight Miles High' with Clapton prior to introducing Stephen Stills for 'Bluebird' and 'Questions' which featured Dylan and Clapton swapping lead vocals. Fabulous. I noted later that Jakob's father was on stage across the country at Farm Aid, at possibly the same time, performing three of his songs with The Heartbreakers!
I took a drinks and food break when John Mayer came on but shouldn't have. The solitary hot dog, bereft in a stale bun, cost US$13.50 but I got some sachets of ketchup and mustard. I hadn't eaten all day due to travel, that's my excuse. My spirits were lifted immensely when I returned to find that Mayer's trio also consisted of Steve Jordan on drums and Pino Palladino on bass! Their version of Jerry Garcia's 'They Love Each Other' was terrific.
The evening was closed by ZZ Top, with their new bass player who looks like he had to pass a hirsuteness test to get in the band. The set was predictably loud and rocking but nice to hear some classics.
Oh, special mention to MC Bill Murray whose off the wall wacky intros set the tone for the good vibes.
The second day begins soon. At least no-one has ever been hospitalised because of over-exposure to guitars, have they? I am about to find out.