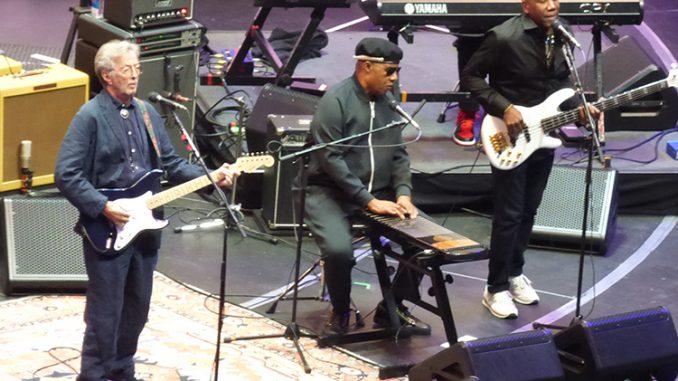 Review by Brian Wise.
Eric Clapton's Crossroads Guitar Festival
Crypto.com Arena, Los Angeles, Sunday September 24, 2023
It's possible that I could have been suffering a severe case of FOMO (fear of missing out) this week. Friends went to see Neil Young at the 50th anniversary celebration of the Roxy
Theater in Los Angeles mid-week and then Bob Dylan pops up at Farm Aid on Saturday playing with the Heartbreakers! I am also going to miss seeing Wilco by not going to Austin on my way home, having already missed Van Morrison in San Francisco on the way over (tickets were way too pricey). When I remarked to one of my friends who did make it to both the Roxy and Farm Aid that "You can't see everything", he simply replied, "But you can try!" (Only if you have the funds, I mused). This is what is known as a first world problem.
While another eight hours at the Crossroads Festival didn't quite erase my feelings, I did get to see the man they used to call 'God' playing a full hour set with his great band and guesting with others across both days. As well as that he was looking great and playing superbly in outshining just about every other guitarist at his own event. Like a golfer winning his own celebrity tournament. Mind you, this is nearly 50 years after a tour of Australia in which he played with his back to the audience and 35 years since he overcame his addiction. This festival is a tribute to Clapton and his ability to help others overcome the same sort of addiction.
The cavernous Crypto.com Arena is home to the LA Lakers and the venue is probably better suited to basketball than music. Today, seated about mid-way around the arena but on the third level, the sound was fine but nowhere near as good as Melbourne's smaller Rod Laver Arena. (With one exception, which I will note later). There were numerous alcohol and food stalls but my sole purchase on Sunday was a small bottle of water at A$6.58! There appears to be almost nothing even vaguely healthy to eat, which normally wouldn't worry me, but coupled with the sinking Australian dollar it makes a small hot dog in a bread roll about A$21! (Once bitten, as they say).
I arrived early to make sure I caught as much of the show as possible, a good move considering how long it takes to walk around the venue, which is really enormous. There was also a festival village outside the main hall which featured performances from some of the artists on the main bill and others such as steel guitar and Dobro supremo Cindy Cashdollar. You can arrive even earlier and enjoy this as well, if you have the stamina and the appropriate devotion to guitars.
Robert Randolph kicked off the day with a set that included a version of Hendrix's 'Red House' and then Jeff Beck's 'Freeway Jam' with Joe Bonamassa before closing with 'Foxy Lady' with the addition of Eric Gales. Beck's name was mentioned often on the weekend and highlighted, along with Robbie Robertson, by Clapton.
Ben Haggard shares a surname that is hard to live up to, but I have to say that he acquitted himself really well. You can't miss the name of his father Merle because he carved it on Ben's guitar. There was a great reading of his father's classic 'I Think I'll Just Stay Here and Drink'.
Brazilian acoustic guitarists Daniel Santiago and Pedro Martins offered a change of pace on the small stage. Kurt Rosenwinkel and his band were joined by Marcus King and then Clapton himself strolled on for a blistering 'Get On Out.'
After several of his own songs – 'Perpetual Blues Machine' and 'Government Cheese'- Keb Mo' was joined by Taj Mahal for 'Wild About My Lovin'' and 'Diving Duck Blues'. It was apt given their collaborations together. The now 81-years-old Taj is moving slowly but sounding fine, which is good news for blues fans. I was hoping that Ry Cooder might have popped in for a guest spot but that was not to be.
Eric Gales made a brief appearance for 'The Storm' and The Blue Oyster Cult's '(Don't Fear) The Reaper' before Marcus King played a longer set on the main stage, culminating in 'Lie, Lie, Lie' which followed a duet with his wife. King can certainly hold his own with most of the other guitarists on the bill and was joined by John Mayer for his finale.
After her appearance on the side stage yesterday, Sheryl Crow got a longer set with her band on the main stage and was really impressive with 'If It Makes You Happy', 'Real Gone' and 'Cross Creek Road', while 'My Favorite Mistake' featured John Mayer as guest and the closer was 'Everyday Is a Winding Road.' Too brief a set, which prompted me to think of other women who could be added to the bill at the next iteration. Bonnie Raitt, Chryssie Hynde, Nancy Wilson, Susan Tedeschi to name just a few.
Citizen Cope appeared on the small stage and was joined by Robert Randolph for the song 'Sideways' before MC Bill Murray introduced local Californian H.E.R. (Gabriella Sarmiento Wilson). I have to admit that this wouldn't have excited me at all, and I couldn't name one of her songs. However, this 25-year-old guitarist, singer and songwriter is incredibly talented and with her large band somehow managed to transcend any sound problems to offer one of the best sounding sets of the entire event. After introducing her father, also a guitarist and singer, she added John Mayer for 'The Journey' and then closed with Lenny Kravitz's 'Are You Gonna Go My Way'. I might never play any of H.E.R's recordings on my radio show but I hope I can still recognise talent when I see and hear it. I imagine thousands of youngsters will be inspired to take up guitar when they see her too.
Molly Tuttle and Sierra Hull brought a touch of bluegrass to the small stage and were both exceptionally impressive on Ricky Skaggs' 'Memories of Mother and Dad' and then 'Over the Line' from Tuttle's latest album with her group Golden Highway. Remember Molly from her Australian tour four years ago when she was young and a bit nervous, well here is an artist now brimming with confidence and even more talent.
Los Lobos is one of my favourite bands of all time and they took the stage minus sax player Steve Berlin whose absence was not explained. As usual the band mixed their traditional roots into the set, adding 'Cumbia' and 'Mas Y Mas' to 'Don't Worry Baby', and 'The Neighborhood'. They were joined by Jimmie Vaughan for Howlin' Wolf's 'Three Hundred Pounds of Joy' and then 'La Bamba,' which remains a crowd favourite. Celebrating their 50th anniversary the band sound as fabulous as ever.
Gary Clark Jr is, as Bill Murray pointed out, the future of modern-day blues and it is apparent that he has the charisma and talent to lead the genre into the future even though by now, at the age of 38, he is almost a veteran! I recall seeing him at Austin's Continental Club when he was half this age playing an afternoon gig, selling his indie CDs which his father would bring in the boot of his car. Even then you could tell he was something special, but I don't think he has even reached anywhere near his peak. The thing that struck me about this short four songs set – which included 'The Healing', 'Our Love', 'Pearl Cadillac' and 'When My Train Pulls In' – was how great his falsetto voice is. As he left the stage, I mused that surely, his masterpiece is yet to come. The blues certainly needs it.
After a brief interlude with Argentinian Gustavo Santaolalla playing a version of Paul Williams' 'The Apology Song' and then closing with 'Valley of Last Resort' the stage was set for the festival's host introduced in unique style by Bill Murray: "Eric Clapton has been called many things, son of a bitch being one of them," before adding that 'God' was the other tag Clapton had received.
Clapton started with a tribute to Robbie Robertson who had played this event in 2013 at Madison Square Garden. With Nathan East on bass, Andy Fairweather Low on guitar and Chris Stainton on keys, along with Katie Kissoon and Sharon White on backing vocals, they were able to give full meaning to 'The Shape I'm In' and 'It Makes No Difference'. Hopefully, Clapton might be inspired to record these as he made them sound as though they were written for him, ironic given the fact that he broke up Cream after he heard The Band.
After 'Key to the Highway' and a great 'I'm Your Hoochie Coochie Man' he followed with Bob Marley's 'I Shot the Sheriff', then acoustic versions of 'Nobody Knows You When You're Down and Out', 'Layla' (which I wish he still play with electric guitar) and 'Tears in Heaven'. Stephen Stills arrived for his own 'Love the One You're With' and after Robert Johnson's 'Little Queen of Spades' Clapton closed his set with a rousing version of Johnson's 'Cross Road Blues' with Stevie Wonder joining in on the harpeji. (Thought they might play 'Superstition', but I guess things were running late).
Given Clapton's health scares in recent years it is great to see him out on tour looking so fit and playing so beautifully. There is something about his fluency and tone that makes his sound unique and, unlike a lot of other guitarists, he doesn't have to play a lot of notes to impress. Hopefully, he'll make it back to Australia soon.
"The show is not over!" shouted Bill Murray many times as some of the audience scattered and others waited for Santana. After the opening of 'Soul Sacrifice' at almost midnight, the show was over for me as I had to get up the next morning to catch an Uber to LAX at 6.30am! Apparently, I missed Carlos playing 'A Love Supreme' with John McLaughlin and 'Black Magic Woman' and 'Roadhouse Blues' with Clapton. Pity. You definitely can't see everything, but I gave it a good shot.
Who knows if there will ever be another Crossroads Guitar Festival. I hope so. The charity it helps is commendable, the array of talent awesome and the playing often inspiring. If we might disagree with Clapton over some of his views, we could never question the merits of his involvement here. Well done Eric.