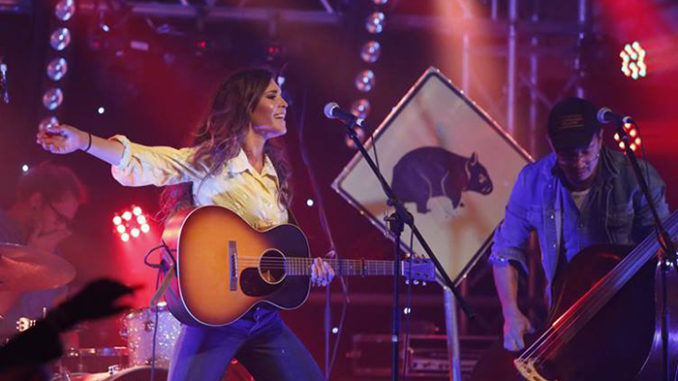 The 49th Country Music Association of Australia awards were held in Tamworth at the Regional Entertainment Conference Centre on Saturday night, January 23, despite the cancellation of the Tamworth Country Music Festival itself due to the coronavirus. Restrictions meant that spectator numbers had to be limited.
Fanny Lumsden dominated with 5 awards including album of the year for Fallow; alt country album of the year, female artist of the year, single of the year, and video of the year for 'Mountain Song/This Too Shall Pass'.
The album was made with Lumsden's husband Dan Stanley Freeman at their home property in the Snowy Mountains.
The sister trio the McClymonts earned two Golden Guitar nods for their album Mayhem To Madness, being named group of the year and contemporary album of the year.
Melody Moko was named the year's best new talent.
Album of the year: Fallow, Fanny Lumsden, Producer: Matt Fell
Alt Country Album of the Year: Fallow, Fanny Lumsden, Producer: Matt Fell
Contemporary Country Album of the Year: Mayhem to Madness, The McClymonts, Producer: Andy Mak
Traditional Country Album of the Year: There in Ochre, Luke O'Shea, Producer: Luke O'Shea
Male Artist of the Year: Travis Collins, Wreck Me
Female Artist of the Year: Fanny Lumsden, Fallow
Group or Duo of the Year: The McClymonts, Mayhem To Madness
Vocal Collaboration of the Year: Amber Lawrence, Aleyce Simmonds, Kirsty Lee Akers and Dianna Corcoran, 'True Blue'
Bush Ballad of the Year: 'Six decks to Darwin', Dean Perrett, Songwriters: Dean Perrett, Kelly and Marion Dixon, Ryan Garland
Heritage Song of the Year: 'Happy Australia Day', Luke O'Shea & Kevin Bennett , Songwriters: Luke O'Shea, Kevin Bennett
Instrumental of the Year: 'Prelude', The Weeping Willows
Bluegrass Recording of the Year: 'Finger Picking Good', Kristy Cox, (feat Tommy Emmanuel CGP)
New Talent of the Year: Melody Moko, Like Hank Would
Song of the Year: 'The High Price of Surviving', Shane Nicholson, Songwriters: Shane Nicholson, Leyon Milner
Video of the Year: 'Mountain Song/This Too Shall Pass', Fanny Lumsden, Directors: Fanny Lumsden and Dan Stanley Freeman
Single of the Year: 'Fierce', Fanny Lumsden