Now rolling into its fourth year – and with critically acclaimed sell-out events in 2015 and 2016 – A festival called PANAMA is excited to announce its return along with the first line up of artists appearing exclusively in Tasmania March 10th, 11th, and 12th, 2017.
Previously hosting stellar international and local acts such as Courtney Barnett, Charles Bradley, Haitus Kaiyote, CW Stoneking, Slum Sociable, Sharon Van Etten, Big Scary, and Seun Kuti, A festival called PANAMA gives it's guests the opportunity to see bands you've never heard of playing alongside international cult heroes while camping in the pristine forests of Tasmania's North East.
Also once again featuring wild late night cabarets, featuring a cast of living wonders performing beneath the hallowed canvas of the Bedouin Club, and storytelling from one of the worlds most celebrated radio producers set on the stage of a tiny wooden bar overlooking a forested mountain range.
Feast on delicious local produce from a crew of local food stalls and drink Tasmanian wine, whisky and ales or try our very own Lone Star Cider pressed and hand bottled on site, just for PANAMA. Get lost on the dance floor as the hours grow small and the some of the best vinyl DJs play just the song you wished you could remember.
For three short nights, just 1400 people will have the opportunity to experience an event like no other.
We are PANAMA.
Featuring:
Kurt Vile (USA)
Margaret Glaspy (USA)
D.D Dumbo
Koi Child
Gabriella Cohen
Jack Grace
Tinpan Orange
The Stitch
A. Swayze & The Ghosts
The Memory Palace (podcast)
(with more to be announced)
Tickets will go on sale November 22nd with previous attendees and mailing list subscribers given first preference to secure themselves a spot.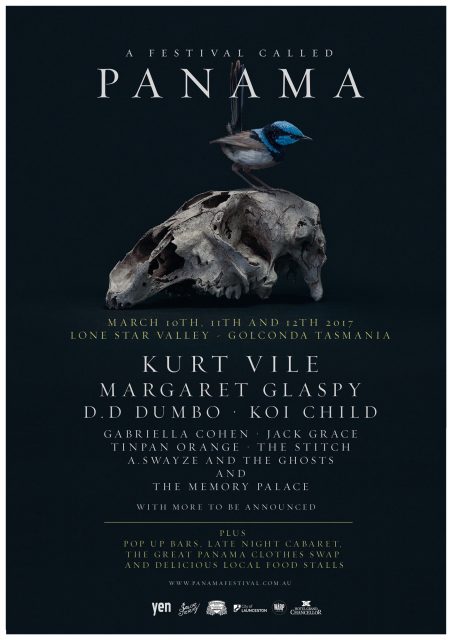 Via: Title Track