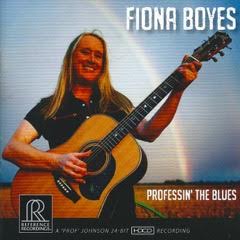 Fiona Boyes
Professin' The Blues
Blues
Reference Recordings
Sixteen tracks in a new release from Bay area label Reference, show-casing the evidently earthy, considerable talents of Ozzie picker Boyes, Professin' The Blues  is an outstanding offering allowing full free-rein to Boyes who moves effortlessly from resonator, to the ever-popular resurrected cigar-box slide and straight acoustic formats with barely a shrug.
Boyes has a strong, searching voice and tackles a variety of blues genres without missing a beat, skipping lightly from a strong Texan, Lightnin' Hopkins opener through ragtime rhythmic drive and reggae-inspired numbers that also include light jazz touches and some absolutely top quality fretwork. This is an album that is immediately gripping from the very off and hi-lights Boyes' own song-writing strengths, with only two covers in the mix, one being he ever-popular "Baby Please Don't Go."
Recorded by 'Prof' Keith Johnson with his usual no-nonsense, crisp clarity and no overdubs as a live studio take, the album features the simply top-dollar support of highly respected sidemen Jimi Bott on drums and Denny Croy on bass. The overall result is an album that genuinely stands out from the blues crowd.
Boyes has been on the road for quarter of a century now, so knows her way around the music. She has earned no fewer than five blues awards in four different categories from the Blues Foundation in Memphis and this marks her thirteenth release to date, so this is a blues-lady worthy of note.  Professin' The Blues is an album that carries her power forward with total mastery and confidence, a wonderful offering.
By Iain Patience