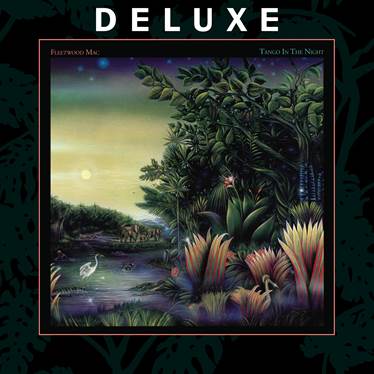 Fleetwood Mac released the second-best selling record of their career in 1987 with Tango in the Night, an album that's sold more than 15 million copies worldwide. The album is certified 4x platinum in Australia and has sold 300,000 copies since its release, scoring major hits everywhere with Big Love and Little Lies.
Following the recent deluxe edition of Mirage, Fleetwood Mac continue to reissue their classic albums with the new Tango In The Night: Deluxe Edition. The collection, timed to coincide with the album's 30th anniversary, expands on the original with a selection of rare and unreleased recordings, newly remastered sound, plus several music videos. Available on March 10 in three formats:
–        Deluxe: Three CDs, DVD and LP. Original album with remastered sound on CD and 180-gram LP, rare and unreleased recordings, 12" remixes, plus a DVD with music videos and a high-resolution version of the album.  Pre-order now.
–        Expanded: two CDs. Original albums with remastered sound, plus rare and unreleased recordings. Pre-order now.
–           Remastered: One CD. Original album with remastered sound. Pre-order now.
–           Also available digitally
After topping the U.S. charts in 1982 with Mirage, Fleetwood Mac returned five years later with Tango In The Night. It currently stands as the final studio album released by the quintet of Lindsey Buckingham, Mick Fleetwood, Christine McVie, John McVie and Stevie Nicks. The album sent four singles into the Billboard Top 20: Little Lies (#4), Big Love (#5),Everywhere (#14), and Seven Wonders (#19).
The deluxe and expanded editions of Tango In The Night both include a disc of rare recordings. Among those 13 tracks are unreleased gems like the alternate version of Mystified, a demo for the album's title song, plus the rare b-sides Down Endless Street and Ricky.
Tango In The Night: Deluxe Edition includes a third disc that compiles more than a dozen 12" mixes. Dub versions of Seven Wonders and Everywhere are featured along with an extended version of Little Lies remixed by John "Jellybean" Benitez. The collection also comes with a DVD that contains videos for five singles: Big Love, Seven Wonders, Little Lies, Family Man, and Everywhere. Also included in the deluxe edition is Tango in the Night as a 180-gram vinyl LP.
TANGO IN THE NIGHT: DELUXE EDITION TRACKLISTING
Disc One: Original Album – 2017 Remaster
1.     Big Love
2.     Seven Wonders
3.     Everywhere
4.     Caroline
5.     Tango In The Night
6.     Mystified
7.     Little Lies
8.     Family Man
9.     Welcome To The Room… Sara
10.  Isn't It Midnight
11.  When I See You Again
12.  You And I, Part II
Disc Two: B-Sides, Outtakes, Sessions
1.     Down Endless Street
2.     Special Kind Of Love (Demo)*
3.     Seven Wonders (Early Version)*
4.     Tango In The Night (Demo)*
5.     Mystified (Alternate Version)*
6.     Book Of Miracles (Instrumental)
7.     Where We Belong (Demo)*
8.     Ricky
9.     Juliet (Run-Through)*
10.  Isn't It Midnight (Alternate Mix)*
11.  Ooh My Love (Demo)*
12.  Mystified (Instrumental Demo)*
13.  You And I, Part I & II (Full Version)*
*Previously Unissued
Disc Three: The 12" Mixes
 1.     Big Love (Extended Remix)
2.     Big Love (House On The Hill Dub)
3.     Big Love (Piano Dub)
4.     Big Love (Remix/Edit)
5.     Seven Wonders (Extended Version)
6.     Seven Wonders (Dub)
7.     Little Lies (Extended Version)
8.     Little Lies (Dub)
9.     Family Man (Extended Vocal Remix)
10.  Family Man (I'm A Jazz Man Dub)
11.  Family Man (Extended Guitar Version)
12.  Family Party (Bonus Beats)
13.  Everywhere (12" Version)
14.  Everywhere (Dub)
Disc Four: The Videos (DVD)
1.     Big Love
2.     Seven Wonders
3.     Little Lies
4.     Family Man
5.     Everywhere
Plus a High-Resolution Stereo Mix of the Original Album
Tango In The Night (Vinyl)
 Side One
1.     Big Love
2.     Seven Wonders
3.     Everywhere
4.     Caroline
5.     Tango In The Night
6.     Mystified
Side Two
1.     Little Lies
2.     Family Man
3.     Welcome To The Room… Sara
4.     Isn't It Midnight
5.     When I See You Again
6.     You And I, Part II