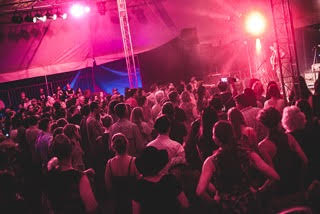 The National Folk Festival is delighted to make its first announcement for the 2017 51st Festival with an exciting new edgy initiative, 'FringeWorld' supported by Events ACT.
FringeWorld will be a festival within a festival, a whole new world skirting around the borders of the Festival precinct, dedicated to the weird and the wonderful, a space were music genres collide. There you will find a circus arena, dynamic interactive spaces, a chill-out zone and village green plus a new concert venue, The Borderland showcasing out-of-the-box performances, fresh quirky content, engaging discussions and immersive experiences.
Program planning is now underway and with concepts like 'Flip! The Other Side of Folk', the Human Chess Challenge, Down the Rabbit Hole, Big Kids' Carnival, Choose Your Own Adventure and The Night of Endless Possibilities, patrons should get ready to be wowed, wooed and, to expect the unexpected.
There's just 6 months to go now till the 51st National Folk Festival. Across 5 fabulous days in the National's Capital at Easter  – 13-17 April 2017 – the best priced Early Bird Discounted Tickets are now available until 30th September. First major artists will be announced in October. Keep up with all the latest Festival news and announcements at www.folkfestival.org.au or on Facebook or Twitter pages. @natfolkfest #ournff #5daysinaperfectworld
www.folkfestival.org.au  //  www.facebook.com/folkfestival  //  www.twitter.com/natfolkfest