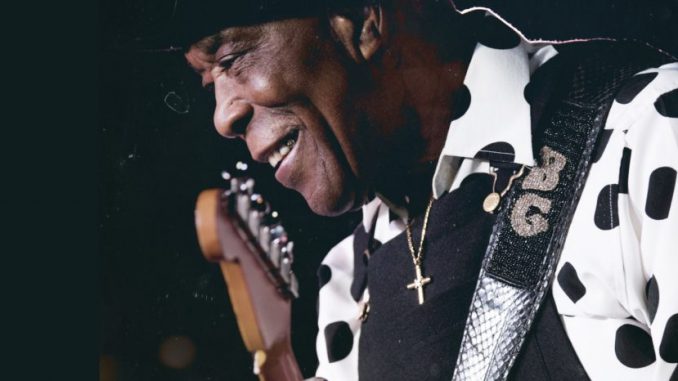 By Brian Wise
Blues legend Buddy Guy, who turns 86 on July 30, is returning to Australia next April for a tour and a possible appearance at Bluesfest. The following feature appeared in Rhythms prior to Guy's 2008 tour and Bluesfest shows.
ONE OF THE LAST GREAT BLUESMEN IS VISITING OUR SHORES. MISS HIM AT YOUR PERIL.
"Perhaps the most rewarding relationship I have had with any of these great players has been with Buddy Guy," writes Eric Clapton in his recent autobiography when discussing the great blues players he has met. "In all the years that I have known him he has never really changed, and we have remained great friends.
"In the musical sense, it was he who showed me the way forward, by example. The combination of wildness and finesse that his playing encompasses is totally unique and has enabled players from the rock genre to approach the blues from an unfettered perspective. In other words, he plays free, from the heart, acknowledging no boundaries."
Earlier in the book, Clapton recalled how seeing Guy at The Marquee in London had made him realise the power of the trio and inspired him to leave John Mayall's Bluesbreakers to form Cream with Jack Bruce and Ginger Baker.
It is high praise indeed from the man who came to be known as 'God' back in the 1960s for his own guitar playing, but it acknowledges the debt so many players owe to Guy and his Chicago colleagues, most of whom are no longer with us.
Last year Buddy Guy appeared as the closing act at Clapton's Crossroads concert in Chicago (now available on DVD) and Clapton has returned the favour by appearing on Guy's just finished new studio album, recorded in Nashville.
"I appreciate him saying that," says Guy when I relate the passage from Clapton's book. He is on the line from his home in Chicago and is in remarkably good spirits and as talkative as you could ever wish an interviewee to be.
"I got to know him the first time I went to England in February 1965," recalls Guy of Clapton, "and he said him and Jeff Beck slept in some raggedy van and they didn't know people played the blues on the Strat [Fender Stratocaster] 'til he saw me play it. Every time I see them they remind me of that. I wasn't aware that they didn't know it because that's the kind of lead Guitar Slim played and, as a matter of fact, BB King used to play a Strat when it first came out. It was like the rap music that's out now to the music that we play. It was something new but everybody was loving this.
"So, Guitar Slim – he was a genius – he came up with this guitar with this amazing tone: you could bend the notes and just be that solid and that clean and that good. I just fell in love with it, and I went there and I didn't know that they hadn't realised that because they told me that they thought it was just used to play the country and western."
Guy has also been paid tribute to by the Rolling Stones, who insisted that he appear in their recent Martin Scorsese-directed concert documentary Shine A Light, shot at New York's Beacon Theater, which premiered to rave reviews in early February at the Berlin Film Festival.
"Mick wanted me to come out," explains Buddy. "He wanted me to do this Muddy Waters song, 'Champagne and Reefer'. It's always a pleasure when they invite you to come on, 'cause they really don't need nobody to come on with them as famous as they are and to invite me to be a part of that is always will be exciting."
I suggest that the Stones' music in their early days was based on the blues and players like himself, Muddy Waters, Howlin' Wolf, Chuck Berry and many of the other artists who recorded at Chicago's famous Chess Studios.
"Well, that's what they say," he says, "but we all got something from somebody. Those British guys just had taken the music and played it like we were playing like in person. A lot of record companies like Chess Records, they didn't want their music to be distorted and loud like we played it but the British guys they just say go for it and that's what time it was. Then Chess Records was kind of disappointed that they didn't let us do that because they talked about it before Leonard passed away."
I suggest to Guy that it must have been amusing at times to watch these young English white boys playing the blues and emulating him and other African American players.
"No, but it helps us more than it hurts us," he admits, "because a lot of the whole world didn't know who Muddy Waters or Howlin' Wolf was or B.B King until they played it and told the world that it really wasn't new music. They were calling themselves The British Invasion here, they kept saying …..this music is already here, you just don't know you got it!"
The recognition from Clapton and The Stones is a fitting tribute to Guy's talents, and well deserved, given the fact that the life of most blues players is not an easy one. Guy's career is a perfect example of how many musicians have to scrap and fight for what they believe in.
"I tell young people right now if you're not ready to go through some of the worst times of your life," Guy responds, "because, unless you are a success overnight, it's not easy! It's mind boggling because you don't know what the next day is going to bring. That's a fact! When I first came down in Australia it was 1972, I had never met Arthur Crudup who is one of the great old blues players. They don't care how good you are – only five per cent are going to make it – and I think that's true."
George 'Buddy' Guy's story starts not in Chicago, where he established his reputation and where he runs his famous Legends club, but in small town Louisiana. Born 71 years ago [July 30, 1936] in Lettsworth, northwest of New Orleans, he was one of five children, and he made his first guitar at the age of seven from a piece of wood and his mother's hairpins. Later, his first 'real' guitar arrived in the shape of a Harmony acoustic (now in the Rock and Roll Hall of Fame in Cleveland). 
After working as a custodian at the Louisiana State University in Baton Rouge and playing in various bands there, Guy was persuaded by a friend returning from Chicago that he should go to the Windy City to pursue his music. The attraction of being able to go and see blues greats playing in the clubs there proved enough to encourage him to pack his bags.
"I knew Muddy and Wolf was here," he says of his decision to go to Chicago, "and I knew if I get me a job at the university I could go out at night and listen to them play."
On September 25, 1957, Guy stepped on to the train in Hammond, Louisiana bound for Chicago. He soon got a residency at the 708 club (for his first appearance he had to follow Otis Rush). Then, on the verge of going back to Louisiana, he met Muddy Waters who fed him and became his mentor.
"When I came to Chicago as a youngster and they found out I could play the blues," recalls Guy, "they used to come and get me out of bed and say, 'I want you to make this record with me tomorrow because you were playing like I want I to be playing. A lot of guitar youngsters were saying if, 'If I get a chance to play with Sonny Boy, I'm going to show them, I'm going to explore. I didn't ever feel like that. When I was playing with them I was at school. I was a student and I would just sit back there and listen and learn."
"Somebody found out I could play Jimmy Reed," he continues. "I wasn't thinking about being no lead guitar player but they found out I could do that and I wound up playing at Chess making several records with them. Then the next thing they give me a little 45 and I just kept going away at it because I was loving every minute of what I was doing. But I didn't see no future the way things happened. Later in my life I can kind of relax and I've got a place to stay now and I'm kind of successful enough not to cry any more. I didn't see that [then] – it just happened."
By 1958, Guy had secured a record deal and started recording for Cobra Records' subsidiary label Artistic with the first single 'Sit And Cry (The Blues)' backed with 'Try To Quit You Baby.' Then he was signed to Chess Records where he became one of the label's principal sidemen for years – working with Waters, Wolf, Little Walter, Sonny Boy Williamson and others – and also got to record his own work. Unfortunately, Leonard Chess didn't want Guy to replicate his wild live sound on record and Guy himself feels he lacked the freedom to record the way he really wanted to.
"When I came to Chicago, matter of fact 50 years ago last year," remembers Guy, "most bands had the upright bass and in the small blues clubs you couldn't turn the amplifiers up. When I came in and finally turned mine up, they would run me out, saying, 'That's too loud.' Until the British guys got it.
"Willie Dixon used the big bass and we couldn't afford big buses and stuff like that. We were travelling round from club to club in a car and you almost need a truck to carry the bass and Willie Dixon was almost as big as the van himself. So, it was kind of hard to make a gig with him. I'll never forget I made my first record with Cobra Records and they booked me in a studio in New York and he went and bought a 1954 Plymouth. It was full of us, and I had to go from Chicago to Syracuse and I had to ride in the back seat under the bass because we had to put it inside the car across the top of the seat. He was doing the driving so you can imagine how much room was left in the car!"
By the end of the '60s Guy had released I Left My Blues In San Francisco (1967) for Chess and seven albums, including A Man And The Blues (1968) for Vanguard and Delmark. During the decade he was also beginning to make his mark with his live shows, inspiring another generation of players (including Clapton, Hendrix and later Stevie Ray Vaughan).
Guy's best-known collaboration came with Junior Wells, with whom he would tour internationally. They would eventually release seven albums together, including the classic Hoodoo Man Blues in 1965. The regular partnership was ended by Wells' death at the age of 64 in 1998.

Although he released twenty albums in the '70s and '80s – for various labels, including Alligator (for the great Stone Crazy album) – Guy faced the 1990's without a record deal! Then along came Silvertone Records, a UK label run by legendary A&R man Andrew Lauder. Silvertone had released John Lee Hooker's The Healer in the UK and applied the same idea to Guy's label debut. 
Damn Right I've Got The Blues, released in 1991, featured Eric Clapton, Jeff Beck and Mark Knopfler. It put Guy back on the blues map and was followed by Feels Like Rain in 1993 and 1994's Slippin' In – both of which won Grammys.
The Silvertone albums updated Guy's sound and, while there was still plenty of blues, they had him tackling such soul classics as 'Mustang Sally,' and 'Some Kind Of Wonderful,' along with John Hiatt's 'Feels Like Rain.'
Perhaps the most daring chapter in Guy's recent recording history is the 2001 album Sweet Tea, recorded at producer Dennis Herring's studio in Oxford, Mississippi. It is a fabulous tribute to North Mississippi Hill country blues with songs from Junior Kimbrough, T Model Ford and others. While I think it is amongst his very best work, it is an album about which Guy has some ambivalence.
"What hurts the most is," he explains. "Nobody knows about it because they don't play it like they used to do on the AM stations. If they could have played it, I think I could have sold a couple more copies. Now I sell all my records in the club. I've had disc jockeys and record people come in and ask me, 'You haven't had anything out for a while.' I say, 'Yeah, I have. Sweet Tea is out.' 'Well, I never heard of it!'
"That's kind of frustrating to have a CD out and a disc jockey don't know it's out! In the good old days, every disc jockey in the country knew about that record whether he played it or not but nowadays program directors tell that disc jockey what to play and what not to play."
"I would say that that's the roots of about seventy to seventy-five percent of the blues," says Guy of the Hill Country region. "Everybody talks about the Delta blues but we all didn't come out of the delta. You know you got people like Lightnin' Hopkins and myself, Guitar Slim and all those people from Louisiana; some from Texas but majority come out of Mississippi."
"I still have to let people like you tell me that," replies Guy when I tell him that I think Sweet Tea is a great album, "because if I knew what was my best I probably could make a hit record every time I go in the studio. But I have to wait 'til the record comes out and get the response from the fans and they let me know what's the best. I think I've had one of the best write ups in the magazines about that album but it still didn't sell as well as Damn Right I Got The Blues, [which] came out and they still was playing it a little bit on the radio. It was fading away then. You just don't get that album played. If you don't get that album played you just don't sell no records."
Guy's latest studio album, Bring 'Em In (2005) features guests such as Keith Richards, Carlos Santana, Tracy Chapman, John Mayer and Robert Randolph. It also features 'Ninety Nine And A Half Won't Do,' 'Ain't No Sunshine' and even Bob Dylan's 'Lay Lady Lay,' as a further example of Guy's versatility.
In 2006, the superb four-disc box set Can't Quit The Blues was released. Its 51 audio tracks feature recordings going all the way back to Guy's days in Baton Rouge in 1957. There is also an eleven-song DVD with Guy performing at Montreux and Seattle. This is augmented by a 90-minute documentary on Guy's career, which to date has seen him win five Grammys, 23 WC Handy Awards, induction into the Rock and Roll Hall of Fame and the National Medal of Honour.
Maybe because he is not on the promotional trail to talk endlessly about a new album, Guy is more open than I have known him to be in several past interviews. He is a bit more reflective about his career too and, as we talk, I detect his feeling that he has been on a tough crusade to promote the blues.
I also feel like I owe Buddy some kind of apology. I was one of those people at Byron Bay a few years back who kept shouting 'play Buddy Guy' when he went off on several tangents by playing segments of songs from John Lee Hooker, Howlin' Wolf and even Jimi Hendrix and Eric Clapton.
The first 45 minutes of his set was amongst the best blues I had ever heard or seen played live. When he went into songs from his Sweet Tea album – his tribute to North Mississippi Hill Country blues – the set verged on greatness. Then he got side-tracked and the music lost momentum.
Shortly after that event I saw Guy with Double Trouble at the House of Blues in New Orleans and that set was focussed and wonderfully tight. Every time he tried to diverge he was dragged back to the centre, as a few audience members discouraged him from getting distracted.
A few months later, I met drummer Chris Layton in Austin and told him how much I enjoyed the set and he confessed that he and Tommy Shannon hadn't rehearsed a lot of the other blues songs that Buddy might have wanted to play and were able to keep the set focused on Guy's own material. "We just told him we didn't know the songs," laughed Layton.
But now that I have spoken to Buddy Guy about his career, I have a keener understanding of why he wants to pay tribute to other blues and blues rock players during his set.
"I try to mix the songs that led me into being who I am today," he explained. "I'll play you a little Muddy every once in a while – maybe a little T-Bone Walker. Then I love the whole mix of everybody because we all got it from each other. I'll pay the Buddy Guy's and then I'll play a few licks of John Lee Hooker because I'm trying to keep those great blues players alive and their music.
"You know, I don't know about Australia," he continues, "but they don't play much blues on the radio anymore anywhere. So, whenever I come and play I like to show to people who come and see me, where it all came from. I try and keep that tradition like that."
Then what has kept Buddy Guy going?
"I was just so in love with it," he explains. "When I learned how to play, I didn't look up: there was no Eric Clapton, no Stones, nobody making a beautiful living out of playing music – there was just a love of music. And anyone – me, BB King – we all learned how to play guitar and do the blues for the love of the music.
"Now you find a young person wants to play he wants to play for the love of money. I don't know if it's different or not but that's what time it is now, and I can understand that. Nobody wants to be Buddy Guy. Nobody knows who the hell is Buddy Guy. The girl wants to be Britney Spears and the guy wants to be the Eric Clapton or the guitar players who are making millions. So, the blues used to be a little heard more than it is now; but it isn't heard of now at your big radio stations because for some strange reason they don't play it much anymore.
I mention to Guy that when I visited Chicago, I was stunned to discover that there was no 24-hour blues radio station. It didn't seem to make sense that the home of electric blues was not out there promoting it.
"That's what I'd like to know," he instantly agrees. "Not only in Chicago but I don't know why there ain't one in no parts of the world. For the church people we had AM stations. We had them and now that all the big FM stations came in they, like the blues stations, started disappearing and there was no replacements. I still think it might be a good idea if a person came along and would have enough money to go for that. I still think he would have quite a few good listeners."
Back in the early '70s John Lee Hooker became so disillusioned with the record industry that he took three years out of the scene, preferring to tour to earn some money. I ask Guy if he has ever felt the same sort of disillusion.
"No, I guess I don't got that much sense," he laughs. "I just still love it, man. If I can be owning the largest blues club in Chicago and I'll be sitting there……and I could be at home in bed or don't read music. After I finish talking to you I'm going to go and listen to somebody play down there. So, I'll learn something that I never heard and I try and go from that."
"I don't isolate myself from the fans even when I come there," he says of his Legends club. I tell him I saw him there a few years back, watching his brother Phil play, but I was too nervous to approach him. "If I ever get that famous where I'd have to hide from the fans, I don't think I would be happy with my music."
Guy arrived in Chicago at the height of the blues scene when there were literally hundreds of clubs, and the famous Maxwell Street was thriving. Visit that street now and you'll find it virtually deserted, apart from a lone hot dog van catering to an itinerant clientele.
"Well, that's why I own the club now," says Guy. "I would never own one if it was like that then. I didn't need to own one because they had so many here. They just got so many things against it: the first of this month they stopped us smoking in the club. Most cities stop you from smoking and if they are going to stop you from smoking they might as well stop you from eating because they put the same thing in the food as they put in the cigarettes that are causing all these problems.
But all the blues clubs disappeared with the DUI [driving under the influence laws]. You can't drive 30 miles to go and hear a good blues club. Most of the good blues clubs have closed down. Chicago used to have about 5000 blues clubs and 10,000 musicians now there are only about six blues clubs left in Chicago if I'm not mistaken. It might only be about four."
"I'm trying," agrees Guy when I suggest that he is playing a vital role in keeping blues alive in Chicago. "Even The Beatles, the Eric Claptons, The Rolling Stones – you didn't come out on television you played in the blues clubs and people heard about you and talked about you and that led to that and this.
"When I came here, I had to go to the clubs. Ain't nobody walked up to me in the street and said, 'Oh yeah, that'll be Buddy Guy one day he'll be interviewed from somebody in Australia.' Music is like a baby you start crawling before you walk, and I think crawling is the blues club. Then somebody hears you and the next thing you get a recording contract. Then you go bigger places if you're good enough.
"I'm still going, thanks to the work I've done with the great Muddy Waters and thanks to the British guys," he continues. "The Claptons, the Becks, the Stones – those people like that have kept us alive too because they spoke up for us. They told people. Like you say, you read Eric's biography now and he's telling people that and young people in the club will come up and say I've never heard about you, but I heard what Eric Clapton said about you."
"The Stones got famous," he adds. "They were raising the devil and bringing it to America. I saw a television show where they said, 'Okay, we'll come and do the television show if you let us bring Muddy Waters on.' They asked who is that and Mick Jagger got offended. He said, 'You mean to tell me you don't know who Muddy Waters is! We named ourselves after one of his famous records, 'Rolling Stone'."
Guy's as yet untitled new album [Skin Deep] is due out later this year. It was recorded in Nashville and features songs from Sonny Boy Williamson and Jimmy Reed, along with the remainder of new material.
"Sonny Boy did a record called Fattening Frogs For Snakes," he says, "and I say I got to put that on there because I was a good friend." [It actually didn't end up including this or the above two mentioned songs].
"I've been trying to get my record company do this," confesses Guy of the battle to include new material, "and they finally bent over backwards. I think they are still a little afraid. We have them a little worried. We got a couple of guests come in – Eric Clapton. Derek Trucks and his wife Susan [Tedeschi] sang a couple of verses with me and I think we got Steven Tyler singing one of the verses we wrote."
Guy says that one of the new songs, 'Who's Gonna Fill Those Shoes,' pays tribute to all of his blues heroes and features a solo from a young [un-named guitarist].
"You got to wait to hear this, man," he says enthusiastically. "I'm more excited about this CD than I've been in a long time because it's all new material that's got to do with the music we love so well."
Guy says that he might not perform any of the cuts from the new album on his Australian tour. "I just try and keep it a little secretive," he says, but admits that he does respond to audience requests so if we yell loud enough, he might relent.
Now in his early seventies does Buddy Guy ever think of retiring?
"I don't know no blues player that retired," he laughs, "all blues players just drop. I'm trying to keep doing it as long as I can because if I quit who's going to try and influence somebody else we got."
RECOMMENDED
Can't Quit The Blues (Silvertone/Legacy)
Eric Clapton Crossroads Guitar Festival (Rhino)
Bring 'Em In (Jive)
Sweet Tea (Silvertone)
Last Time Round – Live At Legends (with Junior Wells) (Jive)
Damn Right I've Got The Blues (Silvertone) Expanded edition with 2 extra tracks
Buddy's Baddest: The Best Of Buddy Guy