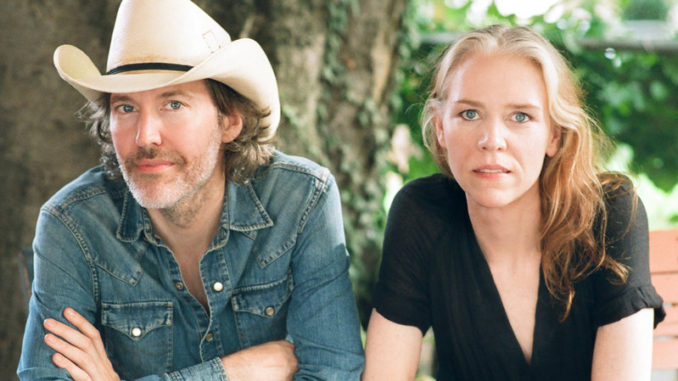 Gillian Welch and David Rawlings won a Grammy for Best Folk Album at the 2021 Grammy Awards on Sunday evening (US Tim) March 14.
All of the Good Times, a collection of covers, won in a category that was arguably of most interest to Rhythms readers. Other nominees in the category were Leonard Cohen's posthumous Thanks for the Dance, Laura Marling's Song for Our Daughter, the Secret Sisters' Saturn Return, and Bonny Light Horseman's self-titled album.
Released in July, All the Good Times was the first of multiple album releases from Welch and Rawlings in 2020, and preceded three albums of archival material issued as Boots No. 2: The Lost Songs Volumes 1-3 during the rest of the year.
John Prine won two Grammy Awards: one for Best American Roots Performance for 'I Remember Everything' as well as one for Best American Roots Song with Pat McLaughlin. The song was performed by Brandi Carlile as part of the live broadcast. The song also appears on the forthcoming tribute to Prine due later this year.
A statement from Oh Boy Records said, "We are beyond excited and grateful to the Recording Academy / GRAMMYS to share that John won the category for Best American Roots Performance for "I Remember Everything" and another win with Pat McLaughlin Best American Roots Song. Thank you to all who made this very special day possible."
Fiona Prine added: "My sons and I thank the Recording Academy for recognizing John's final recording. Brandi's beautiful performance was perfect. We miss John but are grateful too for the incredible legacy he left us songs to enjoy and to learn about his capacity to love unconditionally."
Chick Corea, who passed away last month won two Grammys: for Best Improvised Jazz Solo and Best Jazz Instrumental Album for Trilogy 2, which he recorded with Christian McBride and Brian Blade.
Other notable Grammy winners included The Highwomen for Best Country Song with 'Crowded Table', Vince Gill for Best Coumtry Solo Performance with 'When My Amy Prays,' James Taylor for Best Traditional Pop Vocal Album with American Standard, Kurt Elling featuring Danilo Pérez for Secrets Are the Best Stories and Fiona Apple for Best Alternative Music Album with Fetch The Boltcutters.
BEST FOLK ALBUM
Gillian Welch & David Rawlings – All the Good Times
Other Nominations:
Bonny Light Horseman – Bonny Light Horseman

Leonard Cohen – Thanks for the Dance

Laura Marling – Song for Our Daughter

The Secret Sisters – Saturn Return
BEST COUNTRY ALBUM
Lambert – Wildcard
BEST COUNTRY SOLO PERFORMANCE
Vince Gill – When My Amy Prays
BEST COUNTRY DUO / GROUP PERFORMANCE
Dan + Shay and Justin Bieber – 10,000 Hours 

BEST COUNTRY SONG
The Highwomen – Crowded Table
BEST AMERICAN ROOTS PERFORMANCE
'I Remember Everything' – John Prine
Other Nominations:
Colors – Black Pumas
Deep in Love – Bonny Light Horseman
Short and Sweet – Brittany Howard
I'll Be Gone – Norah Jones and Mavis Staples
BEST AMERICAN ROOTS SONG
'I Remember Everything' – Pat McLaughlin & John Prine
Other Nominations:
'Cabin' – Laura Rogers & Lydia Rogers
'Ceiling to the Floor' – Sierra Hull & Kai Welch
'Hometown' – Sarah Jarosz
'Man Without a Soul' – Tom Overby & Lucinda Williams
BEST AMERICANA ALBUM
World on the Ground – Sarah Jarosz
Other Nominations:
Terms of Surrender – Hiss Golden Messenger
Old Flowers – Courtney Marie Andrews
El Dorado – Marcus King
Good Souls Better Angels – Lucinda Williams
BEST BLUEGRASS ALBUM
Home – Billy Strings
Other Nominations:
Man on Fire – Danny Barnes
To Live in Two Worlds, Vol. 1 – Thomm Jutz
North Carolina Songbook – Steep Canyon Rangers
The John Hartford Fiddle Tune Project, Vol. 1 – Various Artists
BEST TRADITIONAL BLUES ALBUM
Rawer Than Raw – Bobby Rush
Other Nominations:
All My Dues Are Paid – Frank Bey
You Make Me Feel – Don Bryant
That's What I Heard – Robert Cray Band
Cypress Grove – Jimmy "Duck" Holmes
BEST CONTEMPORARY BLUES ALBUM
Have You Lost Your Mind Yet? – Fantastic Negrito
Other Nominations:
Live at the Paramount – Ruthie Foster Big Band
The Juice – G.Love
Blackbirds – Bettye LaVette
Up and Rolling – North Mississippi Allstars
BEST IMPROVISED JAZZ SOLO
'All Blues,' Chick Corea, Soloist Track From: Trilogy 2 (Chick Corea, Christian McBride & Brian Blade)
Other Nominations:
'Guinevere' – Christian Scott Atunde Adjuah, Soloist Track From: Axiom
'Pachamama' – Regina Carter, Soloist Track From: Ona (Thana Alexa)
'Moe Honk' – Joshua Redman, soloist Track from: RoundAgain (Redman Mehldau McBride Blade)
BEST JAZZ INSTRUMENTAL ALBUM
Trilogy 2 – Chick Corea, Christian McBride & Brian Blade
Other Nominations:
On The Tender Spot Of Every Calloused Moment," Ambrose Akinmusire
"Waiting Game," Terri Lyne Carrington and Social Science
"Happening: Live at the Village Vanguard," Gerald Clayton
"Roundagain," Redman Mehldau McBride Blade

BEST REGIONAL ROOTS MUSIC ALBUM
Atmosphere – New Orleans Nightcrawlers
Other Nominations:
My Relatives – Nikso Kowaiks – Black Lodge Singers
Cameron Dupuy And the Cajun Troubadours – Cameron Dupuy And The Cajun Troubadours
Lovely Sunrise – Nā Wai ʽEhā
A Tribute to Al Berard – Sweet Cecili

BEST REGGAE ALBUM
Got to Be Tough – Toots & The Maytals
Other Nominations:
Upside Down, 2020 – Buju Banton
Higher Place – Skip Marley
It All Comes Back to Love – Maxi Priest
One World – The Wailers

BEST GLOBAL MUSIC ALBUM
Twice as Tall – Burna Boy
Other Nominations:
Fu Chronicles – Antibalas
Agora – Bebel Gilberto
Love Letters – Anoushka Shankar
Amadjar – Tinariwen
BEST JAZZ VOCAL ALBUM
Kurt Elling featuring Danilo Pérez – Secrets Are the Best Stories
Other Nominations:
Thana Alexa – Ona

Carmen Lundy – Modern Ancestors

Somi with Frankfurt Radio Big Band – Holy Room: Live at Alte Oper

Kenny Washington – What's the Hurry
BEST LATIN JAZZ ALBUM
Arturo O'Farrill and the Afro Latin Jazz Orchestra – Four Questions
Other Nominations:
Afro-Peruvian Jazz Orchestra – Tradiciones

Chico Pinheiro – City of Dreams

Gonzalo Rubalcaba & Aymee Nuviola – Viento y Tiempo — Live at Blue Note Tokyo

Poncho Sanchez – Trane's Delight
BEST TRADITIONAL POP VOCAL ALBUM
James Taylor – American Standard
Other Nominations:
Burt Bacharach and Daniel Tashian – Blue Umbrella

Harry Connick Jr – True Love: A Celebration of Cole Porter

Rufus Wainwright – Unfollow the Rules

Renée Zellweger – Judy
BEST CONTEMPORARY INSTRUMENTAL ALBUM
Live at the Royal Albert Hall – Snarky Puppy
Axiom – Christian Scott Atunde Adjuah
Chronology of a Dream: Live At The Village Vanguard – Jon Batiste
Take the Stairs – Black Violin
Americana Grégoire – Maret, Romain Collin & Bill Frisell
BEST ROCK ALBUM
The Strokes – The New Abnormal
Other Nominations:
Fontaines DC – A Hero's Death,

Michael Kiwanuka – Kiwanuka

Grace Potter – Daylight

Sturgill Simpson – Sound & Fury

BEST ALTERNATIVE MUSIC ALBUM
Fiona Apple – Fetch the Bolt Cutters
Other Nominations:
Beck – Hyperspace

Phoebe Bridgers – Punisher

Brittany Howard – Jaime

Tame Impala – The Slow Rush
PRODUCER OF THE YEAR, NON-CLASSICAL
Andrew Watt
Other Nominations:
Jack Antonoff / Dan Auerbach / Dave Cobb / Flying Lotus
RECORD OF THE YEAR
Billie Eilish – Everything I Wanted
ALBUM OF THE YEAR
Taylor Swift – Folklore

BEST R&B PERFORMANCE
Beyoncé – Black Parade
BEST POP VOCAL ALBUM
Dua Lipa – Future Nostalgia
BEST RAP PERFORMANCE
Megan Thee Stallion featuring Beyoncé – Savage – WINNER

SONG OF THE YEAR
HER – I Can't Breathe
BEST LATIN POP OR URBAN ALBUM
Bad Bunny — YHLQMDLG
BEST MELODIC RAP PERFORMANCE
Anderson .Paak – Lockdown
BEST POP SOLO PERFORMANCE
Harry Styles – Watermelon Sugar
BEST NEW ARTIST
Megan Thee Stallion
BEST POP DUO/GROUP PERFORMANCE
Lady Gaga and Ariana Grande – Rain On Me
BEST DANCE/ELECTRONIC ALBUM
Kaytranada – Bubba
BEST ROCK PERFORMANCE
Fiona Apple – Shameika
BEST METAL PERFORMANCE
Body Count – Bum-Rush
BEST ROCK SONG
Brittany Howard – Stay High
BEST PROGRESSIVE R&B ALBUM
Thundercat – It Is What It Is
BEST R&B SONG
Robert Glasper featuring H.E.R. & Meshell Ndegeocello – Better Than I Imagine
BEST R&B ALBUM
John Legend – Bigger Love
BEST RAP ALBUM
Nas – King's Disease 

BEST RAP PERFORMANCE
Megan Thee Stallion featuring Beyoncé – Savage 

BEST GOSPEL ALBUM
PJ Morton – Gospel According to PJ 

BEST CONTEMPORARY CHRISTIAN ALBUM
Kanye West – Jesus Is King
BEST LATIN ROCK OR ALTERNATIVE ALBUM
Fito Paez – La Conquista del Espacio – WINNER

BEST TROPICAL LATIN ALBUM
Grupo Niche – 40
BEST COMEDY ALBUM
Tiffany Haddish – Black Mitzvah
BEST MUSIC VIDEO
Beyoncé – Brown Skin Girl
BEST COMPILATION SOUNDTRACK FOR VISUAL MEDIA
Jojo Rabbit – Various Artists – WINNER
BEST SONG WRITTEN FOR VISUAL MEDIA
Billie Eilish – No Time to Die (from No Time to Die)
Other Nominations:
Taylor Swift – Beautiful Ghosts (from Cats)

Brandi Carlile – Carried Me With You (from Onward)

Idina Menzel and Aurora – Into the Unknown (from Frozen 2)

Cynthia Erivo – Stand Up (from Harriet)