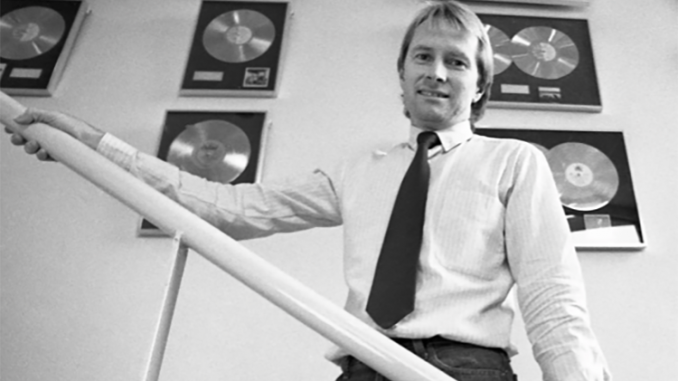 January 23, 1948 – February 1, 2022
Former bass player for the Masters Apprentices and manager of Little River Band, John Farnham and Delta Goodrem has died, aged 74.
Glenn Wheatley, music manager and entrepreneur, has died at the age of 74, after being hospitalised prior to the New Year with Covid-19.
A statement from Wheatley's family read: "On Tuesday February 1, Australian music industry icon Glenn Wheatley passed away, aged 74. Wheatley was surrounded by his wife of almost 40 years, Gaynor, son Tim and daughters Kara and Samantha. The musician, manager, radio pioneer and entrepreneur died as a result of complications caused by COVID. Wheatley, who was double vaccinated passed away after valiantly fighting for several weeks.
"In spite of having achieved so much, there was a lot more he wanted to give. He had an enthusiasm that was unmatched and believed that anything was possible. He gave everything to support projects he believed in, whether they were ultimately successful or not – his immense passion and enthusiasm was an integral part of Glenn Wheatley.
"He treated roadies, artists and fans with the same love and respect, and had time for everyone. He would leave Rod Laver Arena after a John Farnham concert, just to carry my amp into the Espy," his son Tim said, "Everything he did was for his family. He regarded his family as his greatest achievement."
Wheatley began his music career in Brisbane as a member of Bay City Union, a band fronted by Matt Taylor (Chain). In 1968 he joined the Masters Apprentices and was a member for four years, as they enjoyed Top 10 hits with songs such as 'Turn Up Your Radio' and 'Because I Love You'. He was inducted into the ARIA Hall of Fame in 1998 along with the other members of the band.
Wheatley decided to go into management after his experience with The Masters Apprentices and in 1975 took over management of the Little River Band's early career helping them break in the USA and sell over 30 million albums.
Wheatley returned to Australia in the early 1980s, where he started Wheatley Records, releasing acts such as Mark Gillespie, Real Life, and eventually John Farnham. Wheatley famously mortgaged his house to finace Farnham's 1986 comeback album Whispering Jack, which became one of the biggest-selling albums in Australian music history. Wheatley was behind Farnham's huge success for the new three decades, as well as helping to launch Delta Goodrem's career.
In 1980, Wheatley also led a consortium that founded EON-FM in Melbourne, the first commercial FM radio station in Australia. It was sold to Triple M in 1985.
In 2007, Wheatley pleaded guilty to tax evasion after an investigation by the Australian Taxation Office. He spent 10 months in jail and the remainder of his 15-month sentence in home detention. "I'm ashamed of what I have done," Wheatley said at the time.
John Farnham and his family have led tributes to Wheatley, saying that they were "devastated at the loss of our friend. We also obviously feel for his family as well. With his passing so many people have lost a part of their lives."
In a statement posted on their Facebook page, The Masters Apprentices said:
"We are deeply saddened by the passing of Glenn Wheatley. Glenn joined Masters Apprentices in 1968. Glenn recorded hits such as 'Bridgette', '5:10 Man', 'Think About Tomorrow Today', 'Turn Up Your Radio' and 'Because I Love You'. He recognised that the band should be getting much higher fees for drawing huge crowds and fought for a fairer share of concert revenue. After Glenn left The Masters Apprentices in 1972 he went into band management and conquered the world with the likes of Little River Band, Australian Crawl, Moving Pictures, John Farnham and many others. He pioneered FM radio in Australia and organised the Hay Mate fundraiser concert appeals. He has left his mark forever on Australian Music. Glenn would often reunite with The Masters Apprentices, dusting off his bass on special occasions, most recently the Thebarton Theatre 90th Birthday Spectacular in 2018. We will miss him greatly. Our deepest sympathies to his wife Gaynor, son Tim and daughters Samantha and Kara. Always a Masters Apprentice!
With thoughts, memories and love – Brian, Mick, Gavin, Rick, Craig and Bill."
Delta Goodrem said: "Glenn impacted the lives of so many, including mine. I will always remember him calling my family about my music after hearing a demo CD from when I was just 13 years old. What followed was many treasured memories. I am forever grateful for our time together in my early career. May he Rest In Peace. All my love and prayers are with his family at this time."
Kate Ceberano wrote: "Glenn the rock n roller, the rascal, the dreamer, the hustler, the optimist, the manager, the visionary. Deepest condolences to the Wheatley family, Glenn the great!"