With a line up that's the envy of independent self-funded music festivals around Australia,
Global Rhythms
is set to be the closing weekend sensation of the
2016 Sydney Fringe Festival!
"Back in 2013 when we last hosted Global Rhythms the feedback we got was that the line up needed more women. Now, in 2016 with Emily Wurramara, Ajak Kwai, Gamibirra, Grace Barbé and the Miriam Lieberman Trio we've shown that we listen!" says Festival Director Tony Smythe. Special MC for the day will also be Canadian Haitian singer and Queen Kafé presenter Stéphanie Denizard aka Athésia.
Be sure to bring your appetite too as you'll discover carefully selected food providers from different regions in the Middle East. Middle Eats founder Samir Ali explains "We're hoping to showcase cuisine at Global Rhythms that mainstream hasn't had access to before. Middle Eastern recipes that have been passed down through generations where food is an intrinsic part of the culture."
So join us for a unique and environmentally sustainable celebration of diversity and good music at this family-friendly event in the beautiful waterfront Bicentennial Park, Glebe. Complete with amazing views and ample grass areas to sit and enjoy, tickets are only $40 with Teenagers for $10 while Kids 12 & Under are free!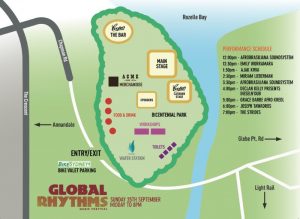 Global Rhythms 2016
#GlobalRhythms
Insta: @GlobalRhythmsSydney
Twitter: @GlobalRhythms10
Facebook.com/GlobalRhythmsSydney
25 September 2016
Bicentennial Park, Glebe, Sydney
globalrhythms.com.au