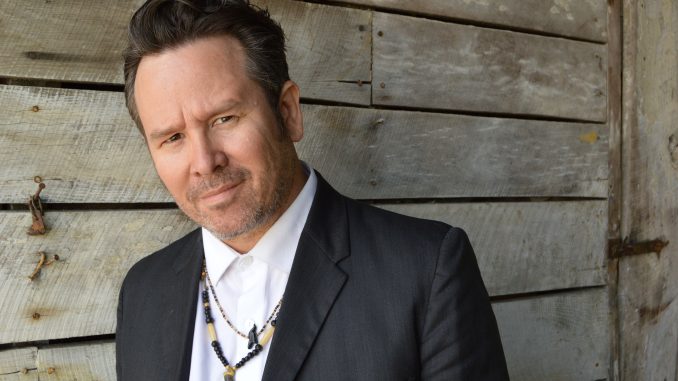 Grant Lee Phillips had only just moved to Nashville when I met him at Americana Festival three years ago. He seemed to have been immediately accepted by the leftfield musical story-tellers at the heart of the Americana scene.
But Phillips is every bit as wise as he looks. He hadn't just uprooted his life in Los Angeles on a whim. He was yearning for a change and had a local ally on the ground in drummer Jerry Roe.
"Yeah, yeah, I think that is important," Phillips says of Roe's assistance and understanding of his music. "And I suppose it helps that I have a long history and because of that there's a sort of model… if I was coming into this town and I hadn't ever gone about it before then maybe I would quickly find myself dog paddling. But it's always a case of just trying to get the music out of my head onto record. I go by instinct largely and I had a good sense that Jerry Roe would suit this album and I could trust his instincts to help me find the other players as well."
The album Phillips refers to is The Narrows, his first made in Nashville. Though, it must be noted, it sounds like Phillips bought his music to Nashville rather than bought Nashville into his music.
"I appreciate that," he laughs. "I feel as though I can't help but have a natural reverence for the roots of American music, but I also have an interest in the branches of American music. And I enjoy exploring how far out on a limb I can take my music.
"In terms of the basic building blocks of songwriting – storytelling, and creating that sort of atmosphere – I feel like the best country songs have always done that. But so have the best soul songs, and the best rock and roll songs. I mean these are pretty close cousins, all of these styles."
Indeed, the music of Nashville, in all its forms, played a seminal role in Phillips' education.
"I grew up with the music of the '60s and the '70s, which of course included the music of Young, The Beatles, Bob Dylan, all that stuff," he reveals. "But my parents were big fans of country music and they had an extensive collection of country music that included Johnny Cash, Merle Haggard, Charley Pride, Charlie Rich, the list goes on and on. And really that was the music that played most prevalently in the household. So I have a bit of a soft spot for that stuff."
Recorded as a trio with Roe on drums and Lex Price on bass at Dan Auerbach's Easy Eye Studio, The Narrows is a largely intimate, contemplative record that comes across as a particularly personal note in his thirty-year career.
"I look at the album as a little road movie," says Phillips. "It probably begins in California where I recently said farewell, and the opening shot is in Tennessee, with the rain coming down (laughs). Then near the end of the album there's a final glance back towards the West Coast and the San Andreas Fault. So yeah it's sort of a map in some ways. But it's a map that's a lot like my tours – it doesn't make any sense when you really set out to drive it. Melbourne by way of Zurich."
Which brings us to Phillips' impending dates as guest of the Melbourne Festival. He's returning to Australia to play two dates only, October 20 and 22, for the first time since, by his own estimation, "the early 2000s."
"I'm not certain how long my show is, I expect I'll find out at some point," says Phillips of his Melbourne sets, "but it's always a case of wanting to share where I'm at right now in terms of new songs. But I'm also eager to dive into anything that jumps out. If it's an old song, if it's a really old song, I will most often take the plunge."
By Martin Jones