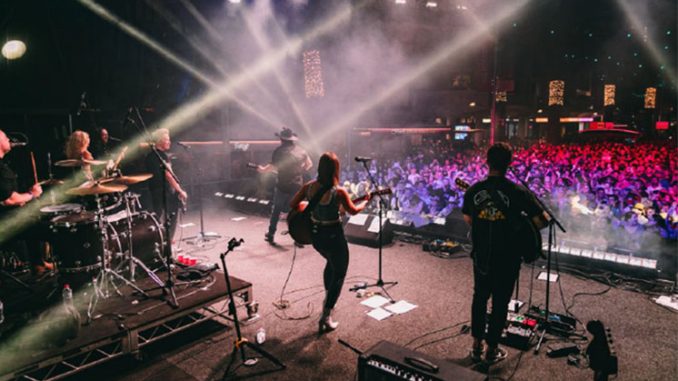 Review by Samuel J.Fell
Groundwater Country Music Festival
Broadbeach, Gold Coast, October 20-22
Broadbeach appears in the middle distance with the lethargic ease of some sort of leviathanic apparition, highrises wreathed in the salt haze that emanates from the endless blue of the Pacific out to the east.
You approach from the west, having come off the M1, easing past the dusty suburbs cut with myriad through-roads, booming six-lane blacktop funnelling from the urban sprawl toward the miniature city that squats like sentient and shiny detritus, one of a handful of glittering glass and concrete islands that surface in the elongated sea that is the Gold Coast, from Southport to the north, down to Cooly on the border, some twenty kilometres south.
You wonder what it's like to be in among it all as you navigate your way closer, as from outside it seems impenetrable and too far away to touch, but then, as sure as night follows day, you're in there, the gargantuan Pacific Fair shopping precinct to your right, the casino and its associated hotels to the left, ribboning waterways like dark green lines of texta delineating it all, the Gold Coast Highway flatlining through the middle, Broadbeach itself pressed up against the sand, the sea.
A short while later, having checked into the hotel and taken stock, I wander over bridges and cross the highway into the shady bustle of town itself. It's cooled by now, the sun blocked by buildings, a slight breeze snaking through the streets and the green spaces, rolling downhill from Kurrawa Park on the foreshore. I navigate the maze and find the Mall and Surf Parade, lined on both sides by soaring apartment buildings and more hotels, their bottom levels airy and open restaurants of any and all stripe, the pavements an ordered litter of tables and chairs. Surf Parade has been closed to traffic and so people wander down the middle, and it is to this end that the seaside glamour that so defines this part of the world gives way to why you're here at this time of year, and it's encapsulated by the muted sound of music that begins to join the usual clamour of any busy beachside community, leaking from doorways and joining the breeze on its downhill meander.
Almost exactly a decade ago, the Groundwater Country Music Festival (initially the Broadbeach Country Music Festival) began as an accompaniment to the rodeo being staged at the nearby Entertainment Centre, and the country fair a little ways south in Mudgeeraba. Mark Duckworth, director of Festivals & Events for Major Events Gold Coast – essentially Groundwater's head honcho – says it made sense to accompany this country scene with music. "And we've outlasted both of those other events," he says with a laugh as we tour the precinct after lunch on Saturday.
For ten years then, country music has entwined itself slowly about this part of the world, adding to a portfolio that, under the auspices of Major Events Gold Coast – "a controlled entity of the Council of the City of Gold Coast", according to its website – includes the likes of Blues On Broadbeach (which has run since 2001); Cooly Rocks On; and most recent addition, Springtime. It's all part of an effort to bring music, culture, somewhat of a scene, to a part of the world that excels in selling itself as somewhere you should come – we've got beaches and glamour, sand and sun-kissed flesh; we also have world class music. And while somewhere as Gold Coast as Broadbeach may seem an incongruous setting for anything as dusty and down-home as country music, the precinct-style of the festival along with an almost universal acceptance among the local businesses and residents sees boots, buckles and big brims meld almost seamlessly with these surrounds and so, after a short while, it doesn't seem to matter where you are.
For Groundwater is, to its core, about the music. The previous evening, Friday night as dusk descended, after I'd wandered the Mall and Surf Parade, observing my surroundings and gathering my bearings, I'd headed to Kurrawa Park and the Big Top that squatted like a big ol' dusty Stetson thrown onto the flattened grass under the pines. I'd procured myself a tin of Queensland's finest, scuffed my boots in the dust, and gotten down to the business at hand. I scoped out the scene, and I opened my ears.
Caitlin Harnett & the Pony Boys are on stage under the Top, sugar-voiced is she, brimming with booted bonhomie are her Pony Boys, a band able to tonk it with the best of them as well as they're able to slip into that melancholic disposition that so defines this genre. They revel in the large space, and when I see them briefly again the following night, show they're also able to embrace the smaller and more intimate rooms, stellar sets both times.
I stick around for part of Rhinestoned, the new project from Kirsty Lee Akers, accompanied by husband Jesse Anderson and guitarist Dan Ebbels, and it promises what it says on the tin – that is, country music, upbeat, performed by a trio plus band who know exactly how to navigate the numerous ups and downs that make up a genre of music known for pulling emotion in the same direction. It's a party vibe under the Top, but I need to move at this point and so wander back into the maze and see a bit of Blake O'Connor who effortlessly moves through a set of poppy rock 'n' roll effected with a bluesy tinge, enough of a twang to keep me there for more than a song or two. He knows his way around a tune, his band are tight – the addition of a small brass section adds a nice element – but ultimately it's not my scene, and anyway, the siren song (albeit a twisted and debauched version of such) is calling, the irresistible lure of the Texas Tonk, and so I wander back out and up the Mall toward the pub, for why wouldn't you? It is Friday night, after all.
Doug Bruce & the Tailgaters are milling about on the small stage at the Broadbeach Tavern, and they're having sound issues. The tech is rushing about trying to sort it and the band eventually start but said issues plague the set which is a shame as Bruce, a Texan expat who's been a local for almost twenty years, with his crack band in tow surely know their way around a rousing set of honky tonkin' country, Bruce's guitar inlaid with the Texan lone star, the songs tough and swinging. Despite the muddy sound, it's a damn good time, makes the beer taste all the sweeter, banishes feeling of tired feet, reinvigorates, makes you wanna dance. I resist the urge however, not many people want to see that sort of thing, and make my way out and down again to see a bit of hometown hero Casey Barnes strut his big stuff on the Surf Parage Stage, and big stuff it is. I wonder to myself who his fans are, which one look around me easily confirms – Bro Country is how a couple of people describe his music over the course of the weekend, the booted, buckled, tuck-shirted and behatted boys from out bush (the boys are back in town) confirming this, no offense intended, naturally. It's a good set, Barnes knows his stuff, but it's not my country bag, and so I turn on my own booted heel and decide to call it, heading back out of the maze and across the highway, over the bridges and home for the night.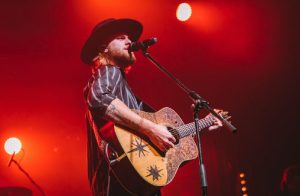 On Saturday, the sun is out. It's almost hot, although the breeze off the ocean keeps things in check. I stand in the shade of pines on the foreshore and listen to the Kix Live At Groundwater Songwriters set, a songwriters-in-the-round sort of thing featuring some of the younger performers on the bill, notably 23-year-old winner of the Kix Start Competition Denvah, whose voice captivates the swelling early afternoon crowd, and Maryland, US, singer/songwriter Jackson Dean, whose deep voice and deft guitar work lay a foundation for his explosive band set later on. I meet up with festival director Mark Duckworth at this point, and we spend the next hour or two wandering around the site, talking about the festival, eating lunch.
He tells me his idea in programming the event is that people who are into the likes of Casey Barnes, The Wolfe Brothers, Amber Lawrence and the like can effortlessly wander about finding their thing, while those into your Doug Bruce's, Pink Stones or Asleep At The Wheels can do the same, without any gaps or clashes. I remark that this seems to be good programming indeed, to which he smiles modestly and we talk about Doug Sahm and Dale Watson instead.
We part ways up at Kurrawa Park and I slip down the side of the Top and find the girls and we sit in the dust and listen to Georgia State Line who glide seamlessly through one of the best sets of the weekend, Georgia Delves' voice just on point, her band ebbing and flowing behind her – they're not afraid to ramp it up, but equally comfortable bringing it down, without bringing it down. Debut album In Colour (September 2021) was a solid beginning (it earned a number of ARIA nominations after all), but live is where this band live, owning the big dark space under the Top, spilling out the sides arresting those merely walking part, compelling them to stop and to listen.
We wander some more. A bit of Caitlyn Shadbolt, who seems intent on ranging across as many genres as possible; Hinterland, a local outfit who do not lack for energy, the good time they were having proving infectious; The Pleasures, the new outfit featuring Catherine Britt and Lachlan Bryan with band, which I was expecting to be somewhat subdued but which proved to be anything but – pulsating and alive, far more rock 'n' roll than I'd thought, lashing of the blues in there too; solid stuff from a pair who know how to get it done, and then some.
At this point, left to my own devices, it seems the time is right to ramp things up somewhat and so I cover what is now familiar ground, from the Surf Parade Stage, up past the Mall stage, or the Oracle Boulevard Stage, depending on where I feel like turning left, Den Devine in there somewhere, up toward the ocean but stepping right toward the Tavern in order to catch The Pink Stones who promise swathes of country rock, and who do not disappoint. Pedal steel and thrumming guitar frame a set which has people up and about, and it's a shame to leave but I need to see some of Melody Moko, whose set under the Top has been talked up all day by those in the know, Moko playing, from start to finish, her recent release, Suburban Dream, which as Duckworth tells me is deep and dark and personal and so while, as such, it isn't getting a great deal of radio play, is one of the country albums of the year. I only catch a bit of the set, however, but Duckworth hasn't been lying about the power in Moko's lyrics, this is true country music in that it's about the real and the raw. I wish I'd been there from the start, for this is one on whom to keep tabs.
But the time has arrived. And time, which has a habit of swiftly moving without regard for anyone or thing, effortlessly careening (or, perhaps, meandering) onward, waits for no man and neither do Asleep At The Wheel and so I almost run down the Mall, joining others doing the same (twice during the day, I'd bumped into musicians I know from my neck of the woods, a few hours south, who weren't on the bill but who had driven up purely to see AATW, and why wouldn't you? I'd have done the same if I wasn't already here on assignment).
The band need no introduction, they merely need your attention. Featuring Josh Hedley on fiddle and Brennen Leigh on acoustic guitar, alongside founding members Ray Benson and Lucky Oceans ("Take it away, Lucky O," Benson gleefully calls numerous times throughout the band's hour-long set, which Oceans does with obvious aplomb), they stomp and swerve through a set and a half, western swing as it should be done, hat-tips to Bob Wills and George Strait, up and down and round about, truly captivating and invigorating, tonic for the goddamn soul and an elixir for whatever ails you and those you love. And by the end, you love everyone, because after music like that, how can anything truly be bad?
I wander, in somewhat of a daze, back to the Top and catch most of Jackson Dean's set with band, which fair sizzles – he's not old-timey (although he's very quietly spoken, deep drawl and all that sort of thing), and he's not glitz and glam; he seems to straddle some sort of mid-point, his songwriting very strong, his band emanating power and passion and it's a set which has you thinking, yes, I'd like to explore some more of this, I surely would indeed. As I think these thoughts, I move across to the Tavern and run into an old mate and so we drink a couple of beers and watch The Dungarees, country / rock veterans out of Canada with a penchant for flashy jackets and ripping guitar lines. I briefly nip back out to see a bit of The Wolfe Brothers (Bro Country at its finest), who are having the time of their life under the Top, as are the crowd who swell and break with the music, befitting a late Saturday night to a tee. I head back to the Tavern and watch the rest of The Dungarees before deciding the night won't be getting any better and so allowing the breeze to gently goad me downhill and out of the maze, across the highway and the bridges (the last of a can of bourbon with a cigarette, perched on the rail outside my swanky digs, watching the casino patrons throng about in their weekend finery), and so to bed once more.
And thus ended (for me, unable to immerse myself in the Sunday lineup due to prior commitments), the tenth Groundwater Country Music Festival. Heading westward around lunchtime, Broadbeach becoming less real in the rear-view mirror, navigating the dusty suburbs on the springtime blacktop toward the M1 and a southward turn home, was to leave behind not merely a musical showcase set amongst anomalous surrounds, but a true and gritty small festival which happens to inhabit a gleaming seaside conurbation – the dissimilar nature of it all ending the second that first pedal steel note is struck, that first chord is strummed, that first country lament is born in throats across a precinct, a weekend, a happening. Any and all roamed the streets of Broadbeach, and any and all left sated, country to their very core.
Samuel J. Fell was provided accommodation by the Groundwater Country Music Festival.