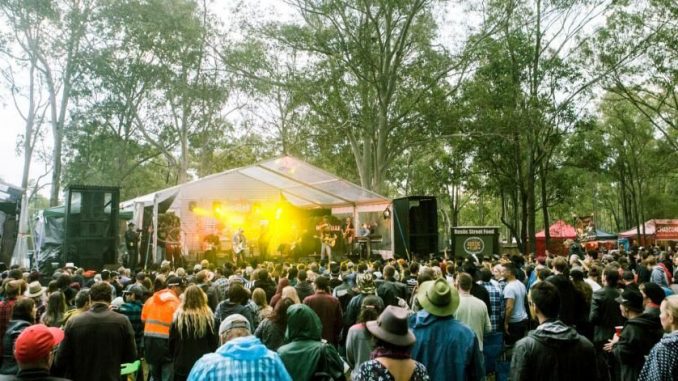 Boutique three-day camping festival The Gum Ball returns for its 12th installment in April 2017 with another eclectic and lovingly crafted line-up of musical acts.
The Dashville team has continued its legacy of thoughtfully chosen acts, both new and legendary, in a mix of genres.
Regurgitator // Tripod

Boo Seeka // Gareth Liddiard // The Peep Tempel

Jack Carty // The Ocean Party // Liz Stringer

The Steele Syndicate // Mick Hart

Africa Entsha // Freya Josephine Hollick
Genre-bending rock band REGURGITATOR return to The Gum Ball in 2017. The evergreen trio have a shape-shifting sound like no other, melding influences as varied as rock, funk, punk, pop, electronica and hip-hop. Over two decades, "The Gurge" has released six studio records and a string of bona fide classic singles, from 'Kung Foo Sing' and 'Polyester Girl', to '! (The Song Formerly Known As)' and 'Superstraight'. There's no doubt Regurgitator is one of the country's best party bands – expect a big show at Dashville.
A trio of a very different kind is TRIPOD, who over the past two decades have become one of the country's favourite comedic musical acts. Through their stint on TV in Skithouse, toappearances at numerous comedy festivals and Triple's J famous "Song in an Hour" segment, these guys have endeared themselves to the masses. Tripod's cheeky sense of humour is what Dashville is all about.
Singer-songwriter Ben Gumbleton is no stranger to The Gum Ball, having performed with band Benjalu. Following the remarkable international rise of his new project, BOO SEEKA, Dashville had to invite the songwriter,along with collaborator Sammy Seeka,back to The Gum Ball in 2017. The duo have had a massive year in 2016, having sold out shows around the world, snagging a hit single in Triple J's Hottest 100 countdown and even appearing at Colorado's famed Red Rocks Amphitheatre.
The bumper first round line-up also includes revered Drones frontman Gareth Liddiard, Melbourne garage rockers The Peep Tempel, powerful songwriter Liz Stringer and her band,soulful folk singer Jack Carty, indie pop band The Ocean Party, 8 piece brass-infused reggae rock group The Steele Syndicate, enduring blues rock artist Mick Hart (accompanied by drummer Simon Gibson), touring African a cappella group Africa Entsha and stirring old-world country songbird Freya Josephine Hollick.
This first round announcement forms just part of the 30-plus artist line-up for Gum Ball next year. The second round announcement will drop in late January 2017.
The Gum Ball is a BYO all age camping festival, that also includes an array of amazing gourmet food and markets, licensed bar precinct, popular late night silent disco, a night time kids crèche, various workshopsand activities, morning yoga, pro skater demosand live artworks.
Tickets are on sale and selling quickly, with tickets for the exclusive extra Sunday night festivities already sold out. Adult, pensioner, teenager, youth and under-6 tickets remain. Full weekend and Saturday only tickets are still available.
The Gum Ball is on Friday, April 21 to Sunday, April 23, 2017.
Find out more: http://dashville.com.au/gumball/