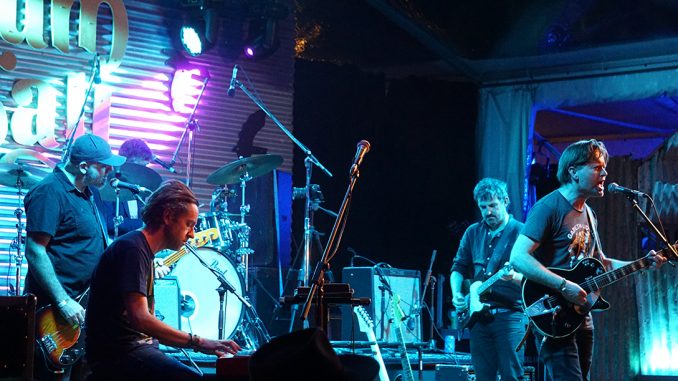 Gumball 2019 – Thursday April 25 – Sunday April 28, Belford, Hunter Valley, NSW
By Stuart Coupe. (Photos by Susan Lynch).
Beware of the brown acid. Music festivals and I don't have a great history. Mainly because I've not been to many – in fact, I went to Narara and Tanelorne in the 1980s, hung out at a Sweetwaters in New Zealand a thousand years ago, worked on a couple of Bluesfest's, and dashed in and out of the Peats Ridge festival, being there just long enough to do a dub reggae DJ set. I don't like camping, don't know the first thing about pitching a tent, and have a tenuous relationship with most things falling under the category of 'nature' or 'roughing it'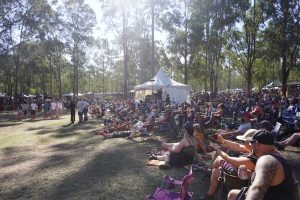 In the light of that, I was a reluctant participant in this year's Gumball Festival which has been held for a lot more years than I realised  in a rather charming farm site near Belford in the Hunter Valley of NSW. The organisers called and asked if I'd give a talk about my Roadies book plus do a Q&A with Van Duren after a screening of the doco about him. I was, of course, keen on both ideas – just so long as they didn't involve tents, portaloos, creeping insects, lousy and over-priced food and all those other things I associate with festivals.
But I went. Yes, a friend offered to drive and so the family unit headed to Gumball. And we had a ball. OK, the tent was already assembled and close to the stage but I noticed that the general camping was in a compact area and with easy and quick access to the festival/music areas.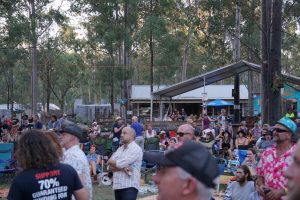 So why did I have fun? Gumball is comparatively small and limited to around 2500 tickets. It's super family friendly, there's no crazy crowds or queues, the food was really really good, there was a complete absence of out of it idiots, good coffee was readily available at 6.30am in the morning (oh yeah!), there were plenty of kids activities, the loos were clean, the showers had hot water – oh, and there was a huge array of music on two main stages.
I didn't get up there for the Thursday (somebody had to go see Little Steven & The Disciples of Soul) but Friday and Saturday were jam-packed with great artists – many I knew of course, and then as with any great event of this nature there were the surprises.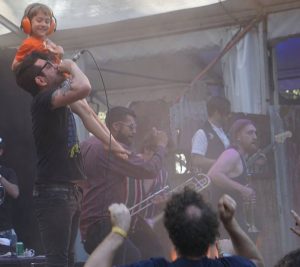 So, of the artists I knew there were great sets from Augie March (who I thought were really something despite their last album leaving me a bit cold), an on fire Magic Dirt, a swaggering Nick Barker & The Heartache State, plus I actually got to see the cult legend that has become Van Duren doing a killer set with his 'oh so sympathetic' Australian band and American backing singer.  Then, on the surprise front, there was an over-the-top killer set from Mexican ska punk band Los Kung-Fu Monkeys whose line-up seemed to be augmented by some Australian members as well. I missed Mojo Juju – kids need to eat – but the sounds emanating from that stage sounded mighty fine. The Magpie Diaries were real cool. In fact, I didn't see one artist that I didn't totally dig – and lamented that I couldn't stay awake for the Silent Disco that ran from midnight till 3am.
Gumball is one of those live music/festival experiences that just seems to get everything right, clearly the result of a number of years of fine tuning since it first started in 2004. The sound from both stages was great, it was easy to move around, performances started and finished when they we scheduled too, the wide range of food options was damn impressive and free of the price gouge that I was expecting. The diversity of music was commendable, and whilst predominantly Australia there was a pleasant smattering of internationals – the aforementioned Van Duren and Los Kung-Fu Monkeys (I just wanted to write that again), along with The California Honeydrops and Allensworth from the States, and Beans On Toast from the UK.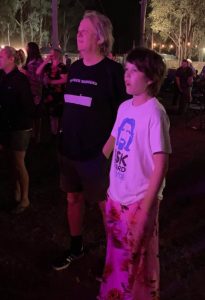 Later in the year, this same site plays host to the more much specifically Americana/alt-country themed Dashville Skyline. Chances are I'll be back as this far too short experience  (we had to leave before Tamam Shud who I really wanted to see) confronted all my reservations about outdoor music festivals and – believe it or not – kinda left me hankering to do it again soon.
And then there was something cool about hanging in the crowd with your favourite 12-year-old who'd woken up in the tent to the sound of Magic Dirt and decided to wander over in his pyjamas to check them out. They're the sort of memories you want to take away from something like Gumball.